PALMDALE, Calif.—With a pulse-pounding flyby, three charter members of American Global Strike Command welcomed a new member to their mission of Global Peace Through Deterrence.
The flyover procession included a B-2 Stealth, a B-1B on afterburners, and the elderly Boeing B-52 Superfortress that still packs a fearsome punch. At the same time as the flyover, Johan Riley, a Northrop Grumman employee working on the B-21, sang the National Anthem.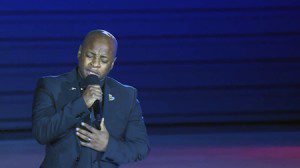 A national audience, swelled in numbers by men and women who created the next generation B-21 Raider leaped to their feet as Kathy Warren, Board Chair, CEO and President of Northrop Grumman, welcomed the new generation bomber that "Changes Everything."
"The Northrop Grumman team develops and delivers technology that advances science, looks into the future and brings it to the here and now," said Kathy Warden, chair, chief executive officer and president, Northrop Grumman. "The B-21 Raider defines a new era in technology and strengthens America's role of delivering peace through deterrence."
The answer to a question of whether the B-21 Raider would be rolled out or unveiled inside the hangar was 'Yes.' As the huge hangar doors opened, the shrouded B-21 was slowly towed forward toward the tarmac as brilliant mood lighting illuminated, crews pulled off the veils and revealed its surprisingly light grey coating.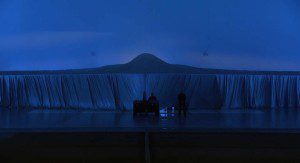 But like a latter-day Gypsy Rose Lee, the B-21 Raider kept her composure and only revealed what builders and the U.S. Air Force wanted to show.
And what they showed was compelling evidence for America and its allies to fully support a new breed of aerospace weapon so powerful its mere existence is a deterrent to war, and at a cost far more affordable than earlier weaponry.
The message for viewers in belligerently aggressive Communist capitols of Mainland China, Russia and North Korea, is cautionary evidence of what they could expect if they provoke a war.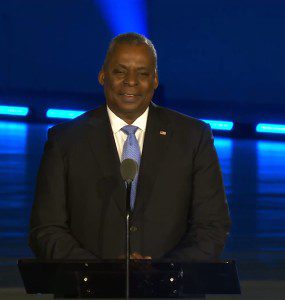 Secretary of Defense Lloyd Austin III praised all of the thousands involved "for getting the big job done" over seven years.
"Despite the long hours, despite the pandemic, day after day, you showed up with determination and drive.
"The B-21 Raider is the first strategic bomber in more than three decades. It is a testament to America's enduring advantages in ingenuity and innovation. And it's proof of the Department's long-term commitment to building advanced capabilities that will fortify America's ability to deter aggression, today and into the future.
Austin went on to say that the "B-21 looks imposing. But what's under the frame and the space-age coatings is even more impressive."
"… the B-21's edge will last for decades to come."
Congressman and House Republican Majority Leader Kevin McCarthy, although in session in Washington Friday, sent a message praising the spirit of American exceptionalism on full display and in community contribution to American security He wrote, "I will always work to ensure that the men and women at Edwards, NAWS China Lake and Plant 42 continue to forge the way in defense and aeronautics advancement."
In exploring the history of regional legislative support for aerospace projects at Plant 42 a long-time associate of former Antelope Valley Congressman Steve Knight told Aerotech News that Knight played a crucial but unrecognized part in stopping defense spending cuts that threatened the B-21 program.
Northrop Grumman's first public unveiling of a new Air Force bomber since the rollout of the B-2 Spirit stealth bomber at the same hangar on Air Force Plant 42 in November 1988, is well timed after 34 years; long enough that the President of the company declares its technology and capabilities make it a Sixth-generation Digital Strategic Bomber.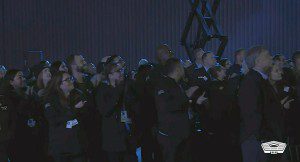 Far stealthier than its predecessors, its advanced technology, new manufacturing techniques and materials ensure the B-21 will defeat anti-access and area denial systems.
Backbone of the Fleet, the B-21 Raider defines the future for U.S. security through air power. In a new era of capability and flexibility through advanced integration of data, sensors and weapons, the B-21 will be the most versatile and effective aircraft in the force, with ability to carry the right warheads for the correct missions. With a broad mix of payloads and delivery systems for stand-off and direct attack munitions, the B-21 eliminates the duplication of aircraft incapable of carrying both conventional and nuclear payloads. Beyond those capabilities, the B-21 can be quickly and inexpensively modified to fulfill interchangeable roles, from strike bomber, to spy plane, to battle space communications, and command center.
"With the B-21, the U.S. Air Force will be able to deter or defeat threats anywhere in the world," said Tom Jones, corporate vice president and president, Northrop Grumman Aeronautics Systems. "The B-21 exemplifies how Northrop Grumman is leading the industry in digital transformation and digital engineering, ultimately delivering more value to our customers."
By employing agile software development, advanced manufacturing techniques and digital engineering tools to reduce risks in production, the six B-21 Raiders in various stages of final assembly and tests at Northrop Grumman's Palmdale plant, development time is saved, along with money and improved quality. Throughout the Engineering, Manufacturing and Development phase, NGC emphasized risk reduction in production, along with calibration testing to further validate the company's digital design capabilities and advanced manufacturing techniques
The first B-21 finished its initial ground tests in May, which included stress tests to verify the bomber's structural integrity. Other tests and steps in the process that followed have included powering up the bomber, testing its subsystems, and applying coatings and paint.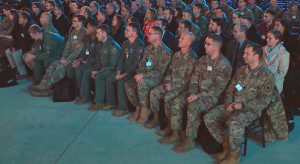 The first B-21 flight from Air Force Plant 42 to Edwards AFB for flight testing is expected around the second quarter of 2023.
Northrop Grumman and the Air Force successfully demonstrated a Cloud development, deployment and test of B-21 data, including the B-21 digital twin to support B-21 operations and sustainment. This robust cloud-based digital infrastructure will result in a more maintainable and sustainable aircraft with lower-cost infrastructure.
One of the welcomed changes from the B-21 program is the introduction of what's called Open Architecture. To meet evolving threats, the B-21 was designed for rapid upgradeability. Unlike earlier aircraft, the B-21 will not undergo block upgrades. New technology, capabilities and weapons will be seamlessly incorporated through agile software upgrades and built-in hardware flexibility. This will ensure the B-21 Raider can continuously meet new and evolving threats for decades to come.
The B-21 Raider will be the backbone of the U.S. bomber fleet and pivotal to supporting the nation's strategic deterrence strategy. In addition to its advanced long-range precision strike capabilities that will afford Combatant Commanders the ability to hold any target, anywhere in the world. It was also designed as the lead component of a larger family of systems that will deliver intelligence, surveillance and reconnaissance, electronic attack and multi-domain networking capabilities.
"The B-21 is the result of deep teamwork at this plant," Austin said. "Our Air Force pilots, maintainers, and DOD civilians have worked shoulder-to-shoulder with their industry counterparts. In fact, they've been on the production line here in Palmdale to assist. So the B-21 is a testament to the best of America's vibrant and diverse industrial base.
" … this sort of advance doesn't just happen. It takes investment. It takes cooperation. And it takes partnership."
The B-21 Raider is named in honor of the Doolittle Raid of World War II when 80 airmen, led by Lt. Col. James "Jimmy" Doolittle, and 16 B-25 Mitchell medium bombers set off on a mission that changed the course of the war in the Pacific.
Economic Impact
On Nov. 28, 2022, the Northrop Grumman Board of Directors declared a quarterly dividend of $1.73 per share on the company's common stock, payable Dec. 14, 2022, to shareholders of record as of the close of that business day. The Dec. 1 closing price for NGC common was listed at $530.30 per share.
Since contract award in 2015, Northrop Grumman assembled a nationwide team, including the Air Force and six major subprime companies to design, test and build airframe and mission systems for the B-21. Leading the list is jet engine builder Pratt & Whitney, which will produce the preselected engines at its plant in Hartford, Conn.
The other six industry partners named March 7 will work on airframe or mission systems" for the new plane. The major subcontractors are: BAE Systems, working out of Nashua, N.H.; GKN Aerospace in St. Louis, Mo.; Janicki Industries in Sedro-Woolley, Wash.; Orbital ATK in Clearfield, Utah and Dayton, Ohio; Rockwell Collins in Cedar Rapids, Iowa; and Spirit AeroSystems in Wichita, Kansas.
Beyond the more than 8,000 people from Northrop Grumman, the Air Force and the seven industry partners, the team brought aboard around 400 suppliers spanning 40 states. The math calculation gets a little fuzzy there, but in a round number WAG, figure 17,000.
And more of what's called economic impact arrived when the Strategic Basing Process was completed by the Air Force in 2019. The 420th Flight Test Squadron, part of the 412th Test Wing at Edward AFB, Calif., will handle flight testing. Ellsworth AFB, S.D., will be the primary formal crew training base, and later an Air Force Global Strike Command base along with operational bases at Dyess AFB, Texas, and Whiteman AFB, Mo.
According to the just published Heritage Foundation's 2022 annual assessment on American defense capabilities, the B-21 Raider is currently programmed to replace all the B-1Bs and B-2s in the U.S. Air Force fleet by 2032. However, conclusions in the exhaustive analysis are based on information gathered in 2021.
Procurement would follow later, with delivery of up to 100 aircraft entering service in the mid-2020s, replacing all B-1s and B-2s in the Air Force bomber fleet by 2032.
Since contract award in 2015, Northrop Grumman has assembled a nationwide team to design, test and build the world's most advanced strike aircraft. The B-21 is a product of Northrop Grumman's pioneering digital engineering practices and advanced manufacturing techniques together with breakthrough stealth technology.
"Northrop Grumman is proud of our partnership with the U.S. Air Force as we deliver the B-21 Raider, a sixth-generation aircraft optimized for operations in highly contested environments," said Tom Jones, corporate vice president and president, Northrop Grumman Aeronautics Systems.
Six B-21 test aircraft are in various stages of final assembly in Palmdale, Calif. Northrop Grumman and the U.S. Air Force confirmed in May that the B-21 first flight is projected for 2023.
From the embattled history of American military aviation, some of most ferociously fought engagements took place not in aerial dogfights over foreign countries, but in political catfights in offices at the Pentagon and in Congressional committee hearings.
As longtime residents of America's Aerospace Valley remember, it was once said, "When the U.S. economy gets the sniffles, the Antelope Valley gets pneumonia." And partisan affiliation wasn't always a reliable indicator of support or opposition or level of support. In some instances, an elected official would deliver a rousing speech in support of an aircraft program on Saturday, and act to gut the defense appropriation back in Washington the following Monday.
Based on regional experience, the B-21 is not exempt from verbal missiles hurled at both the Long-Range Strike Bomber (earlier name for the B-21) and the B-2. The late antagonist was Republican Senator John McCain, R.Ariz., Chairman of the Senate Armed Services Committee. During the late 1980s and 1990s, Congress slashed purchase of 132 B-2s to 21. In 2008, a B-2 crashed shortly after takeoff. The crew ejected safely. So did Congress, leaving the Air Force with 20 B-2s, expected to defend the nation until 2032, when the B-21 Raider is expected to replace them.
In addition to a total B-2 program cost averaging $2.13 billion per plane in 1997, the passing parade of geopolitical drama raised unrealistic expectations with terrible timing. The Cold War was winding down. The USSR became the USS-Was, and many people thinking about penetrating Russian airspace were capitalist invaders in business class seats of AEROFLOT Tupolev TU-144 SSTs. Few people considered North Korea a threat. China was selling Americans shiploads of cheap products, while buying expensive property in the USA.
Threats and promises
According to analysis published in National Interest, China has a massive stockpile of ballistic and cruise missiles, including more than one hypersonic missile platform. Hypersonic missiles are a growing source of the latest arms race, with China, Russia, the United States, and Japan rushing to field missiles capable of achieving sustained hypersonic speeds in excess of Mach 5.
The speeds Chinese missiles like the DF-17 and CM-401 can achieve make them nearly impossible to intercept and even without a warhead, the massive transfer of kinetic energy transfer upon impact could demolish a warship.
While the CM-401 is considered a short-range anti-ship cruise missile, the DF-17 boasts hypersonic speeds and a range that could extend out to 1,000 miles from Chinese shores and disputed islands in the South China and Philippine seas. China has fielded a supersonic drone to provide accurate targeting data for ships.
Many of the ships at risk are US Navy vessels, including Nimitz and Ford-class super carriers loaded with thousands of Sailors, Marines, and dozens of aircraft, including F/A-18 Super Hornets and F-35C Joint Strike Fighters, both with a combat radius of about 500 miles.
While the Pentagon brass ponders alternatives, including extended range versions of the radar vulnerable fighter-bombers, the Northrop Grumman B-21 Raider, is expected to enter service in the mid-2020s and promises to be the most advanced stealth bomber ever. The authors of the article note that it's fairly safe to assume: this new bomber will be able to avoid detection, will have global-strike capabilities, and would likely lead the way in a high-end conflict.
Leverage
While obviously valuable for its survivable and effective combat capabilities, the B-21 provides a peacekeeping role through the velvet-gloved "Big Stick" practice of diplomatic leverage.
As the article writers put it, "Without the big stick, speaking softly to diplomatic opponents doesn't tend to get very far, but with a big stick like the B-21 Raider on hand, America's enemies are forced to listen, lest they run afoul of the "big stick ideology" and are met with the fighting end of it."
By establishing the B-21 Raider as a platform that can neutralize China's hypersonic anti-ship arsenal, China will be left with two options: calling America's bluff and going to war, or acknowledging the strategic advantage America's new stealth bomber offers, and staying seated at the negotiating table.
And finally, because so much of the global economy is reliant on Chinese and American markets, neither nation stands to benefit from war, but both benefit from posturing about it. China's anti-ship weapons give it the leverage it needs to be forceful when negotiating with or disregarding the complaints of foreign powers. The B-21 Raider could redistribute that perceived power more evenly between opposing forces and mandate a greater level of cooperation.