LANCASTER, Calif. — If there was one thing the World War II veteran was looking forward to, it was his 100th birthday. The birthday had everything, a mariachi band, patriotic hula dancers, a jazz saxophonist and a salute from a congressman who also served his country in military aviation.
Louis E. Moore, late-in-life author and veteran of World War II who became a prominent figure in the Antelope Valley veterans' community has died a little more than a month past his 100th birthday.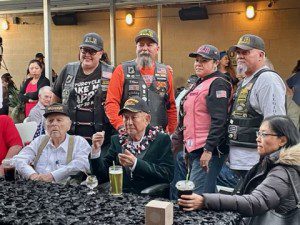 The birthday, it was something else. A crowd of more than 200 admirers, veterans and friends packed into the local patriotic crossroads, Bravery Brewing Co. in Lancaster on Oct. 30, just five weeks before his death at 100 from natural causes.
Moore passed peacefully on Dec. 7 after a brief decline attended to by his caregiver, Gabriella Salas, and members of his family of military-connected friends. Rep. Mike Garcia plans to fly a flag in his honor at the U.S. Capitol, his veterans' field deputy Christine Ward said.
"We were honored to be of service to this great veteran," she said.
Moore, born Oct. 30, 1922, served in Europe during World War II, assigned to a weather squadron with the U.S. Army Air Force. He had trained briefly to be a fighter pilot, but a training accident prompted his re-assignment to ground forces.
"It probably was the luckiest thing to happen to me," Moore said in a recent interview. "Many of the people I trained with to be a pilot were killed."
In 2021, at Veterans Day, Moore was among the Chinese American World War II veterans who were awarded the Congressional Gold Medal, the nation's highest honor for service. Such medals have been awarded to groups such as the Tuskegee Airmen, the Women's Air Service Pilots, and Lt. Gen. Jimmy Doolittle's Tokyo Raiders.
In the last 18 months, the Antelope Valley veteran community embraced Moore. He was a regular at Coffee4Vets and the honoree of the 2021 Veterans Military Ball.
"He was a major presence," Coffee4Vets President Juan Blanco said.
He was inducted for life into the American Legion at Post 348 in Palmdale, and the Auxiliary embraced him, including the group's vice president Marcy Naungayan Velador, and its president Linda Madison Jeffrey Hayes. During the October ceremony, Moore told his fellow veterans and military family members that his greatest fear as an Asian-American in World War II was to be "mistaken for being Japanese, and shot."
Moore died one day before the anniversary of the attack by Japan on the U.S. Naval Fleet at Pearl Harbor, the event that plunged the United States into World War II. That event also prompted Moore's path into uniform with 16 million other mostly young Americans.
"I was not a hero," he said. "Like many of us, we were afraid when we left New York harbor and passed the Statue of Liberty, that we would not be coming back.
He added, "I am glad I survived to come home. I'm proud to have served my country, and proud to be an American."
His survival and return to the United States after service in the campaign in Europe to defeat Nazi Germany meant that he would meet the love of his life, Nellie Hatsumi Mayeda, who would become Nellie Moore.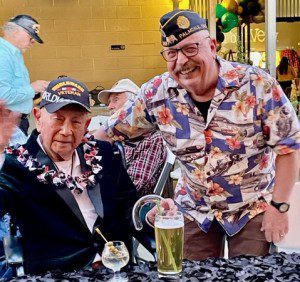 Moore first encountered his bride-to-be in the chorus at the "China Doll" nightclub in New York. He had just returned home after the end of World War II.
"I was smitten," he said. "There was no other girl in the world for me."
A chance encounter with her at New York's famous Automat diner led to a courtship that lasted one week, and then they married for the long haul.
His 74-year marriage to Nellie became a memoir he wrote at the age of 98, following her death in October 2020. The book, "Eternal Love," recounting their long marriage, became a brisk small press seller on Amazon book sales.
Friends of Moore, including local restaurateur Michael Burroughs of the Broken Bit, educator and social worker Stacy Alvey, and publishing executive Robin Blakely helped him see the book through to publication at age 99.
"Lou was a natural writer, storyteller, showman and entrepreneur," Blakely said. "He loved his dear wife Nellie more than anything on Earth."
She added, "I am so proud of Lou for having the courage to become an author at 98. He did it because his love for Nellie had to be shared."
Blakely described him as "An indomitable spirit," possessed of "an incredible ability to always make me laugh."
Moore was Chinese American. Nellie was Japanese-American. After Japan's attack on Pearl Harbor, Japanese immigrants, and Japanese Americans, were rounded up and held in "relocation centers," internment camps. Nellie, a high school valedictorian, spent two years in the camp at Gila Bend, Ariz.
Upon release, late in the war, Nellie migrated to New York. Her family's California property seized. The Supreme Court later concluded the roundup of Americans was unconstitutional. No Japanese American was ever convicted of disloyalty.
Memorial services were pending.