The living history panel was called "Going Downtown: The Air War in Vietnam."
For a few choice years before the COVID-19 pandemic swept in like a Grinch on a bombing run against fun and the free life, we had the Los Angeles County Air Show.
We had cutting edge fighter aircraft. We had vintage planes. We had skydivers, and commemorative history demonstrations like "Tora Tora Tora!" re-enacting a slice of a shadow of the attack at Pearl Harbor. We had aerobatic exhuberance. And in a little tent, we had a room visited by giants.
One of the perks of living in the Antelope Valley is our access to heroes, legends and icons. No offense to rock stars, but we are talking about the rock-solid real deal kind of heroes. Joe Kittinger was the real deal. He was fearless, and laugh-out-loud funny.
By Col. Joe Kittinger's account, there was nothing worth reviewing about a hotel he lodged at during a stay before his retirement from the Air Force more than 40 years ago. He took a detour on his way home from "Going downtown."
"The 'Hanoi Hilton?' All I can tell you is it was a terrible hotel. No room service and the food was lousy. There was just nothing to recommend it."
Joe, retired legend, was on a panel at the Los Angeles County Air Show about five years ago. In a tent packed with admirers, were others from the small club of combat pilots of the Vietnam War.
With Kittinger was renowned around-the-world-on-one-tank-of-gas adventurer Dick Rutan, and Jimmy Doolittle III, grandson of "Thirty Seconds Over Tokyo" Jimmy Doolittle, and a combat flier in his own right. Doolittle III was commandant at the Air Force Test Pilot School and a vice commander at Edwards AFB.
Kittinger was at the air show to share about an exploit of his younger years before the three Vietnam combat tours. On his first tour in Vietnam, he flew A-26 Invaders, twin-engine bombers with the Air Commandos. He might as well have been on a sweep in World War II. But he was not stranger to the big stuff.
In order to help early "Right Stuff" era astronauts develop space suits and safety systems, a young Capt. Kittinger stepped out of a balloon at a jaw-dropping 102,800 feet, and then he parachuted to Earth and on to the cover of Life magazine. In one of those heart-breakers that is the stuff of competition in the "Right Stuff" fraternity, Joe was probably in the free fall program just a little too long to compete for a seat among the "Mercury Seven" astronauts.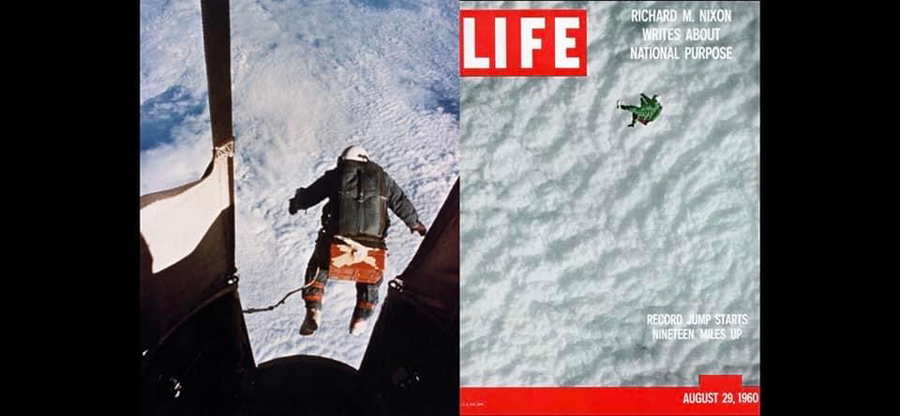 Not long after, he was booked on a flight for Vietnam.
If you are in the small number of free fall parachutists who have jumped from high altitude, say 12,000 feet, you know it takes about a minute measured in strangely long seconds to get to rip-cord pull time. So, a ten-minute plus free fall from ten times that height is historic. Kittinger's record stood from 1960 to 2012 when Red Bull sponsored the "Free Fall from Space" by Austrian daredevil Felix Baumgartner that got a jillion live and streaming views in 2012.
Antelope Valley inventor Art Thompson recruited Kittinger at age 84 to coach on the Red Bull project and be communicator with the Red Bull capsule that Thompson designed and built. Kittinger maintained radio contact as Baumgartner ascended.
At the Vietnam history panel in 2017, Rutan shared about getting shot down on a final Vietnam mission with air-sea rescue bringing him home. There was something about a search for a downed comrade and bucking the chain of command to do the right thing the Rutan way. Doolittle shared an account of getting grounded for an attack mission when the aircraft turned on him on a night mission "darker than the inside of a water buffalo." He was angry that he had to sit it out while they fixed his plane.
The pilots on the history panel were old school warriors, fast, funny, and fearless. Or if fearful, they did their job anyway. For the rest of us. Just like that.
Kittinger shot down a MiG over North Vietnam, then got shot down himself on his third combat tour. As a colonel, late in the war, Kittinger was head of the "FNGs," the "funny new guys." It's a funnier word but not for newspapers. Kittinger kept his bearing, and his sense of humor. Rutan quoted Adm. Jeremiah Denton, dean of Vietnam POWs. Like Denton, Rutan said he considered himself "fortunate to be able to serve his country in difficult times."
Kittinger died Dec. 9, "A true hero. He had an amazing life and did so much in his 94 years," Thompson said.
Sometimes veterans and troopers call out to each other, "Until Valhalla." Silver Star, Distinguished Flying Cross, Purple Heart. Free fall from space. POW survivor. Dinner raconteur. You don't have to be a giant to enjoy meeting one.
Joe Kittinger was a giant. He lived in Florida until Valhalla. And he dropped in to visit with us for a spell at the Los Angeles County Air Show that was sponsored by Aerotech News and Review.
Editor's note: Dennis Anderson is a licensed clinical social worker at High Desert Medical Group. An Army paratrooper veteran, he was a free-fall parachutist with several high-altitude free falls. Appointed by Supervisor Kathryn Barger, he serves on the Los Angeles County Veterans Advisory Commission.