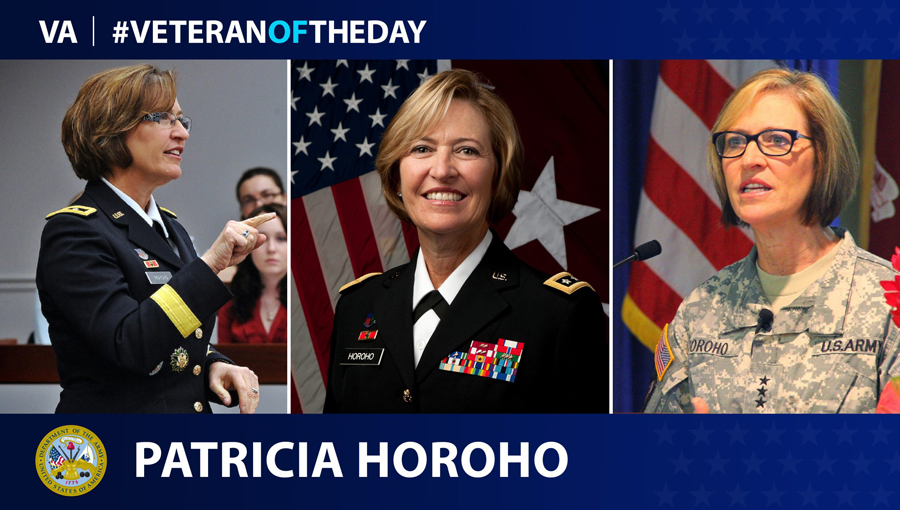 Patricia Horoho joined the Army with hopes of seeing the world and traveling; over time, it became a passion and life long career to serve as a nurse and leader in times of danger.
Horoho grew up in Fayetteville, N.C., with the military just another part of life. Her father was an Army officer, but she never considered how the military would fit into her own life until she graduated from the University of North Carolina at Chapel Hill with her Bachelor of Science in Nursing. She continued her education, pursuing a Master of Science in Clinical Trauma and Master of Science in National Resource Strategy.
Horoho began her service as an Army staff nurse in 1982 but moved up into new leadership positions. Between 2004 and 2010, she served as commander of the DeWitt Army Community Hospital in Virginia, as well as at Walter Reed Health Care System, Madigan Army Medical Center and the Western Regional Medical Command in Washington, D.C. Horoho served as commander until deployed to Kabul, Afghanistan, with the I Corps as a special assistant to the Commander at the International Security Assistance Joint Command. After returning to the U.S., she was nominated by President Barack Obama as 43rd Army Surgeon General in the Pentagon. She was the first woman and first nurse to be in command of the U.S. Army's Medical Command and serve as surgeon general of a military department.
Horoho has noted that two events solidified her role as a leader throughout her extensive service. While working as head nurse in Womack Army Hospital's emergency room in 1994, she experienced the effects of the Green Ramp Disaster. This left 24 dead and hundreds injured as two aircraft from Pope Air Force Base collided in a landing field where 500 paratroopers were training. The emergency room surged with patients in critical condition, leading Horoho to set up makeshift triage units around the hospital.
The second event was Sept. 11, 2001. While working in the Pentagon as the U.S. Army assistant deputy for Personnel and Health Management, she evacuated her building and rushed to the impact site to witness people "starting to come down who were injured, burned, with smoke inhalation, or dazed and cut." While the FBI monitored for further air threats, Horoho treated patients by addressing burns and starting IVs.
Since these events, Horoho has persevered, holding every level of leadership in Army Medicine. She has been awarded the Distinguished Service Medal, Legion of Merit, Bronze Star Medal, Meritorious Service Medal, Army Commendation Medal, Army Achievement Medal, Armed Forced Expeditionary medal, Afghanistan Campaign Medal and other various service and unit awards. In 2016, she was inducted into the Army Women's Hall of Fame.
Horoho retired from her position as 43rd Army Surgeon General in December 2015 and now works as CEO of OptumServe, which seeks to optimize the U.S. health system to provide health services and address challenges in health care. She serves on the board of the Wounded Warrior Project, along with other board positions focused on solving health inequities for Veterans and other U.S. residents.
Horoho continues to serve as a CEO, public servant and mother in McLean, Va., with her family.
We honor her service.