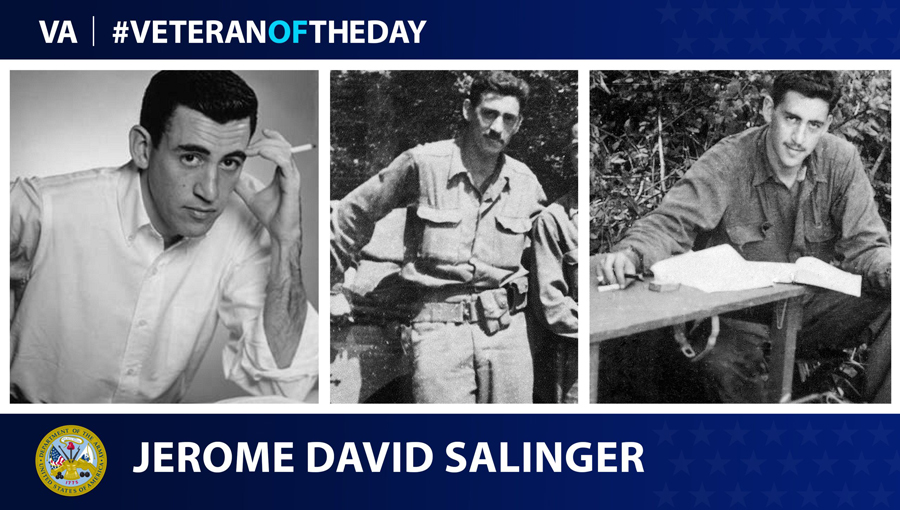 J.D. Salinger was born and raised in the hustle of New York City. Born in January 1919, he grew up going to many schools, including the Valley Forge Military Academy with ambitions originally in drama and theatre. After graduation from Valley Forge, he pursued higher education and sought different tracks in writing, between New York University, Ursinus College and Columbia University. He dreamed of having his writing published in "The New Yorker." However, his writing career was forever changed when drafted into the Army in spring 1942.
Salinger served as a Counterintelligence Agent in the 4th Infantry Division. He had proficient language skills in both French and German that he used for communications and interrogating prisoners of war. His first day of combat was landing on Utah Beach with and with other U.S. troops participating in the invasion of Normandy, France, on D-Day. His unit entered with approximately 3,100 soldiers, but walked away with only 600 by the end of the month.
Other notable battles were his participation in the Battle of the Bulge and the liberation of Kaufering, a sub-camp to the Dachau concentration camp system in April 1945. Amidst the trials of war, his friend, Ernest Hemingway, encouraged him to keep writing. Salinger met Hemingway in his few days in France for the Liberation of Paris. Between combat he would carry his typewriter in his jeep, finding moments of peace to write. These stories and essays contained the character Holden Caulfield, which would later be attached to his most famous work "The Catcher in the Rye."
Salinger served in a total of five campaigns. After Germany was defeated, Salinger was hospitalized for a few weeks before leaving the military due to "combat stress reaction" or "battle fatigue," which can be compared to PTSD. Once recovered, he signed up for a six-month campaign in Germany to continue serving with the Counterintelligence Corps before finally being honorably discharged and sent home in April 1946.
In an interview, Salinger's daughter, Margaret, commented on how the military remained with him even after returning home. She remarked that, from the clothes he wore to his deaf ear from a mortar shell explosion, the war followed him in all that he did and in all his writings. Traces of his experiences could be seen in several of his pieces, making them provoking yet controversial at the time. His novel sold over 68,000,000 copies worldwide. Two years after it was published, he became a literary recluse, moving to Cornish, N.H., to separate himself from his newfound fame and attention in the public eye.
Salinger continued to write until his death, but his last piece was formally included in "The New Yorker" in 1965. He wrote many other stories, but did not publish them, again wanting his work to not increase his growing fame.
Salinger died in January 2010 at the age of 91 at his home in New Hampshire.
We honor his service.