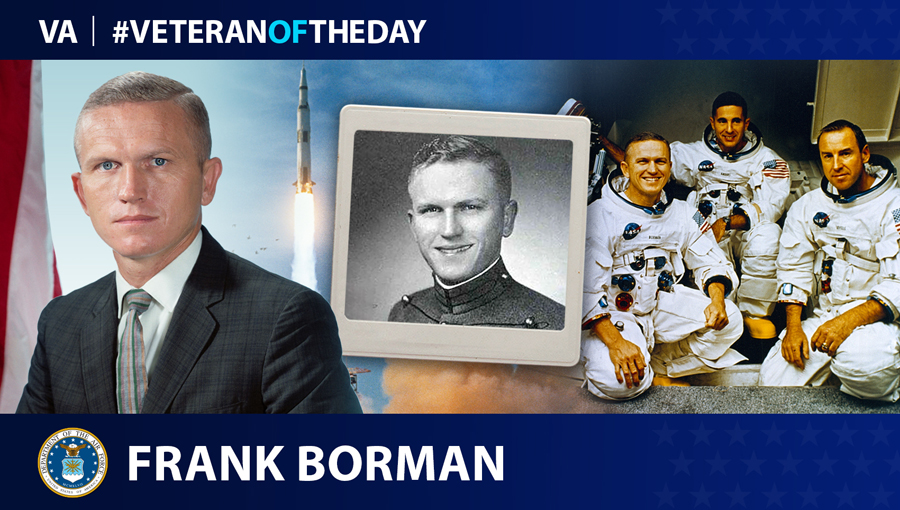 Frank Frederick Borman II was born in March 1928 in Gary, Ind. He attended the United States Military Academy at West Point, graduating in 1950, and earned his Air Force wings in 1951. He also completed basic fighter and advanced fighter training at air force bases in Texas, Arizona and Nevada, respectively. Borman served as a pilot for the 44th Fighter-Bomber Squadron in the Philippines until 1953, and then worked as an instructor of instrument flying at Moody Air Force Base, Ga., and Luke Air Force Base, Ariz.
Borman attained his master's degree in aeronautical engineering from the California Institute of Technology in 1957, and he worked as an assistant professor of mechanics at the United States Military Academy until 1960. After completing experimental flight test pilot school at Edwards Air Force Base, Calif., he served there as an instructor, project officer and test pilot.
In 1962, the National Aeronautics and Space Administration selected Borman for astronaut training. He served as commander on the Gemini 7 mission in December 1965 and Apollo 8 spaceflight in December 1968.
In 1970, Borman retired from the Air Force as a colonel and containued his aviation career with Eastern Airlines. He also served as a special presidential ambassador and took part in an international tour promoting the release of United States prisoners of war held by North Vietnam.
In 1988, Borman published an autobiography, "Countdown: An Autobiography of Frank Borman," with Robert J. Serling. For his service, he earned an Air Force Distinguished Service Medal, a Congressional Space Medal of Honor and a Distinguished Flying Cross; he was inducted into the International Aerospace Hall of Fame and United States Astronaut Hall of Fame. He and his wife, Susan, had two sons, Frederick and Edwin.
We honor his service.