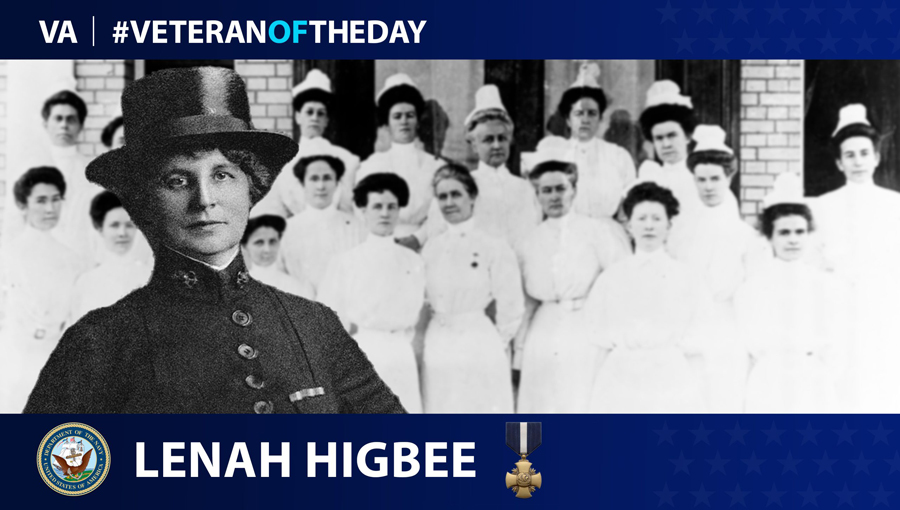 Originally from Chatham, New Brunswick, Canada, Lenah S. Higbee came to the U.S. to study nursing. She completed training at the New York Postgraduate Hospital in 1889 and began working as a surgical nurse for a private practice. During this time, she met Marine Corps Lt. Col. John Henley Higbee. They married in 1899.
After her husband's death in spring 1908, Higbee volunteered for the newly formed Navy Nurse Corps program. In October, she was admitted as part of the "Sacred Twenty:" the first group of female nurses to serve in the Navy.
Based on her skill and experience, Higbee became a chief nurse during the spring of 1909. Then, when the first superintendent of the Navy Nurse Corps resigned in 1911, she was appointed to take her place. She worked with the Bureau of Medicine and Surgery in Washington, D.C., and sought to improve the conditions of her fellow nurses. As superintendent, she lobbied for better pay, military-provided living quarters and more opportunities for fieldwork.
When Europe entered World War I, Higbee appeared on numerous health care committees to prepare for the possibility of U.S. involvement. She also recommended that nurses be assigned to transport ships. When the U.S. entered World War I in April 1917, she oversaw nurse teams deployed to the front lines in France and Belgium, and hospitals in England, Scotland and Ireland. Higbee also worked alongside her fellow nurses to treat sick patients during the Spanish flu pandemic and oversaw the expansion of the Navy Nurse Corps.
By the end of World War I, more than 1,300 Navy nurses had served in hospitals in the United States, the United Kingdom and France. According to a 2020 news article, a contemporary paper wrote in June 1918 that "The most needed woman' is the war nurse … In reality, the war nurse is a soldier, fighting pain, disease and death with weapons of science and skill. […] She goes prepared to share the risks and fortune of war, ready to make any sacrifice." In November 1920, Higbee received a Navy Cross for her work; she was the first female living recipient to get the medal.
Following her retirement in November 1922, Higbee relocated to Winter Park, Fla., where she remained until her death in January 1941 at the age of 66. She was buried beside her husband at Arlington National Cemetery in Virginia.
In 1944, USS Higbee was named in her honor, the first American warship named for a woman. The ship served during World War II and the Korean and Vietnam Wars before being decommissioned in 1979. In 2016, the naming of USS Lenah S. Higbee was announced.
"Higbee's professionalism, leadership and selfless dedication to her nurses and patients reflect on the highest standards of naval service," said Dr. Regina T. Akers in an article on the World War I Centennial Commission site. "Higbee will continue to inspire all who learn of her courage, honor and commitment."
We honor her service.