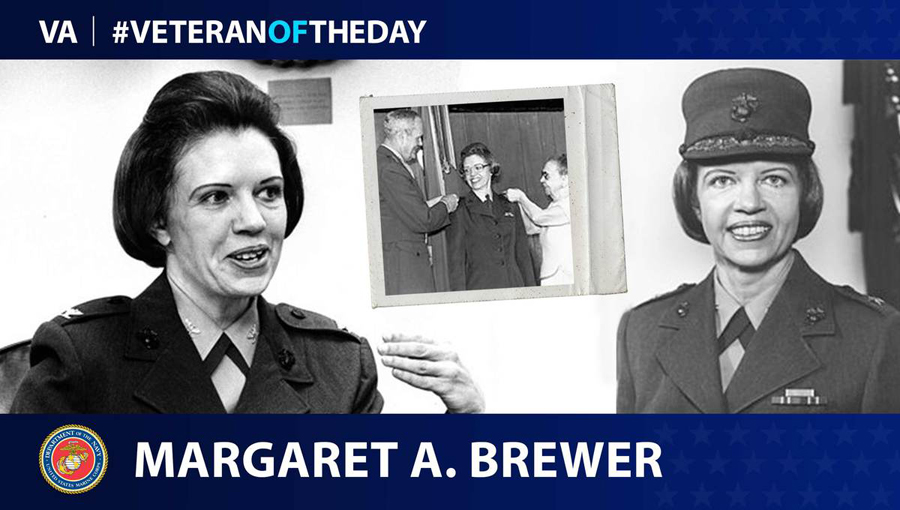 Margaret A. Brewer was born in Durand, Mich., in 1930, and desired to join the Marine Corps at a young age.
After graduating from the University of Michigan in 1952, Brewer completed two six-week training sessions and was commissioned as a second lieutenant in the Marine Corps. She proceeded to serve in California, New York, Virginia and Kentucky in many positions. During her time serving as an inspector-instructor in Brooklyn, N.Y., she established the first women's communication platoon.
In 1961, Brewer was promoted to the rank of major and, a couple years later, became a commanding officer of the Women Officer School. By 1966, she was promoted to lieutenant colonel, which at that time, was the highest rank a woman could hold. She was also transferred to the 6th Marine Corps District in Atlanta and worked there as the public affairs officer.
A year later, President Lyndon B. Johnson signed a law that allowed women to be promoted to colonel. Soon after, Brewer received her promotion to the rank of colonel and served as the deputy director of Women Marines from 1968 to 1971. She helped develop new regulations regarding pregnancy and parenthood for women in the Marine Corps.
One of Brewer's career goals was to establish a strong presence of women in the Marine Corps and help the women better integrate with the men. During her service, she revised and eliminated several policies that transformed the role of women in the Marine Corps, allowing women to take on more career challenges as well as join a pilot program that allowed them to serve in the 1st Marine Division and 2nd Marine Aircraft Wing.
On Feb. 1, 1973, Brewer was selected to serve as the seventh and last director of Women Marines. The organization was soon disbanded, and women were fully integrated into the Marine Corps.
In 1978, President Jimmy Carter nominated her for the rank of brigadier general – a rank that no woman had ever held before. Upon congressional approval, she became the first female general officer in the Marine Corps. After serving a couple of years as a director of Public Affairs, she retired from the military. For exceptional service, she received two Legion of Merit awards.
Brewer spent the rest of her life serving on a board of the Marine Corps Heritage Foundation and the Catholic Charities of Arlington County, Va. She also helped create the National Museum of the Marine Corps and worked with the Women in Military Service for America Memorial.
Brewer died on Jan. 2, 2013, at the age of 82.
We honor her service.