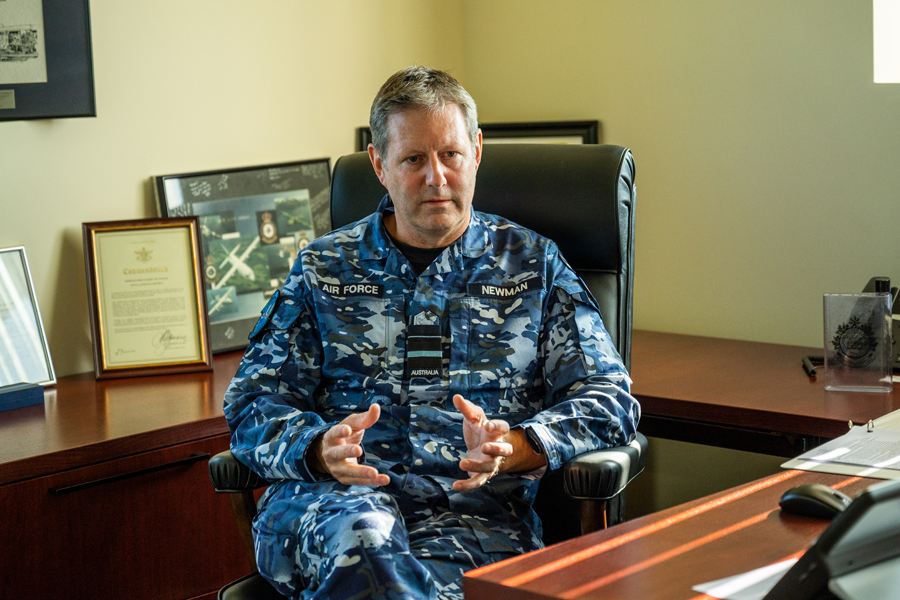 Discovering a love for aviation in high school and desiring to serve something greater than himself, Carl Newman began flight navigator training for the Royal Australian Air Force at 17 years old.
Now, some 35 years later, Newman stands alongside his American Air Force counterparts at the U.S. Pacific Air Forces Headquarters at Joint Base Pearl Harbor-Hickam, Hawaii – as its new Deputy Commander.
As PACAF's Australian Deputy Commander, or DCOM as known in Air Force vernacular, Air Vice-Marshal Newman works alongside U.S. Air Force DCOM counterpart, Lt. Gen. James Jacobson, to assist management of the command and help lead a formidable force of nearly 46,000 people across the Indo-Pacific region.
Newman is charged with advancing specific aspects of the PACAF mission as laid out by U.S. Air Force Gen. Ken Wilsbach, PACAF commander.
"General Wilsbach has given me three focus areas for my tenure here," said Newman. "One is to enhance PACAF sustainment within the theater, ensuring readiness to provide effective responses to security or humanitarian events and execution of PACAF's operational plans. Second, I will work closely with Allies and partners to enhance our combined air domain awareness. Lastly, I'll help to shape effective command and control of Combined Task Force structures that optimize the airpower contributions that PACAF and our joint and coalition partners bring to any fight."
A two-star general officer, Newman is grateful for the chance to serve in this important position, and attributes his opportunity here to the lessons learned from many people throughout his career.
"The real key for me throughout my career has been to listen and learn from everyone I have worked with regardless of their role or rank," said Newman. "Whether they were Air Force aircrew, logisticians, or maintenance personnel, professionals from other services or nations, all have added to my knowledge and made me better at the profession of arms."
While he has served alongside U.S. Airmen many times since his first operational assignment as a C-130 navigator, learning from Airmen in PACAF is one of his initial goals as he steps into the new role.
"I will need to spend time immersing myself in what PACAF does and how we conduct business," Newman said. "Developing a deeper understanding of PACAF business is going to require conversations with a wide range of folks so I can be a more effective deputy commander."
Prior to his previous assignment as the RAAF Air Command deputy commander coordinating the training and sustainment functions of RAAF's operational command, Newman served in many Air Mobility, joint and higher Air Force Headquarter building his knowledge, skills and experience. He credits is time at RAAF Air Command as giving him a deeper understanding of the readiness requirements and application of airpower, further preparing him for this inaugural opportunity at PACAF.
"Being the Air Command deputy commander helped broaden my perspective and further developed the ability to manage and lead in a larger organization," Newman said. "I further saw the full spectrum of what air, space and cyber power can bring to the fight outside of air mobility."
Newman has previous experience working with U.S. forces in an international environment. He attended the U.S. Air Command and Staff College at Maxwell AFB, Ala., as a student in 2004, before undertaking an instructor role for a further two years. Then from 2010 to 2012, he served at U.S. Central Command Headquarters at MacDill AFB, Fla., as the J3 Deputy Operations Plans.
"We [Australia and the United States] are incredibly similar in the way we approach the application of airpower," Newman said. "Our interoperability and close integration come from the deep relationships we've had all the way back to World War II."
With the goal to support greater integration between PACAF and its Allies and partners across the Indo-Pacific, Newman is confident we will collectively be better prepared to respond effectively and decisively to future threats and disasters in the region.
"I'm incredibly privileged and honored to be a part of this PACAF team," Newman said. "I'm ready to get out and discover what the amazing Airmen here at PACAF do, and ways that I can serve them so that our mission to provide unrivaled air, space and cyber capabilities will help us protect the free and open Indo-Pacific. I can't wait to get after it."