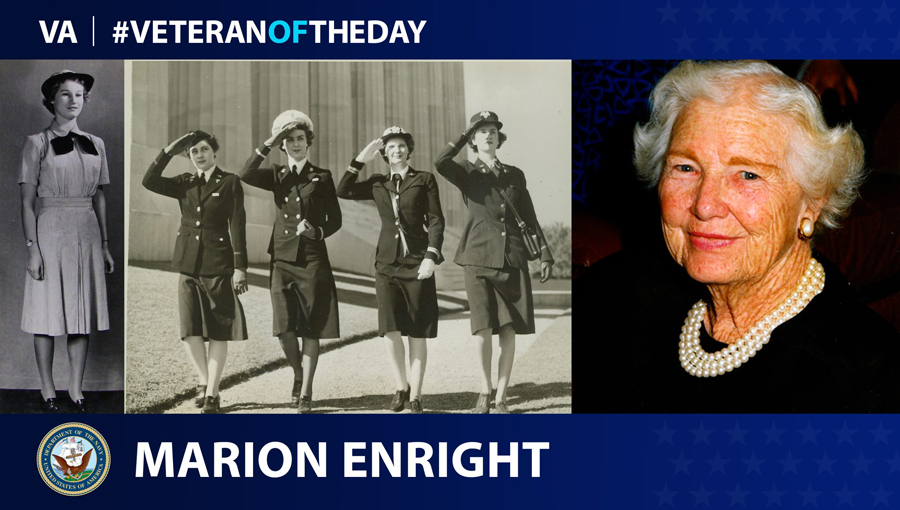 Marion Bench was one of the first women activated for the Women Accepted for Volunteer Emergency Service (WAVES) program in World War II for the U.S. Navy. She was born in Larchmont, N.Y., in 1911, and studied at Manhattanville College, graduating in 1933. Bench began a career in personnel management at a real estate management firm in New York City until a desire to serve her country led her to apply for the WAVES Program.
Bench qualified for WAVES and was one of the first women chosen. She began training in Washington as an assistant to Mildred McAfee, the first commander of the WAVES. Bench was formally commissioned a lieutenant junior grade in August 1942. Within this role, she selected 90 percent of the first 1,000 women who qualified for the Navy's Officer Training Schools. In January 1943, she served as a lieutenant commander liaison officer, organizing appointments and assignments of officers between the Bureau of Naval Personnel, Congress, the White House and the Secretary of the Navy. She was honorably discharged in September 1945 as a lieutenant commander.
After leaving the WAVES, Bench continued working in personnel management and supporting the Navy. In October 1945, barely a month after being discharged, she took a position as administrative assistant to designer Norman Bel Geddes. With Geddes, Bench managed the production of the model photographic history of the Battle of Midway, which was used by the Navy. After this project, until 1949, she worked at an employment agency as a manager, before becoming office manager at the Chadbourne and Parke Law Firm in New York. After retiring in 1957, she became a member of the Law Office Managers Association and began instructing at the Practicing Law Institute, educating others on personnel management. She also became the first woman officer of the New York Personnel Management Association. Her service made her a leader not only of the WAVES program but also in women's advancement in personnel management leadership.
Bench died in 2010 in San Diego, Calif. She was 99 years old, and was buried at Water Mill Cemetery in New York.
We honor her service.