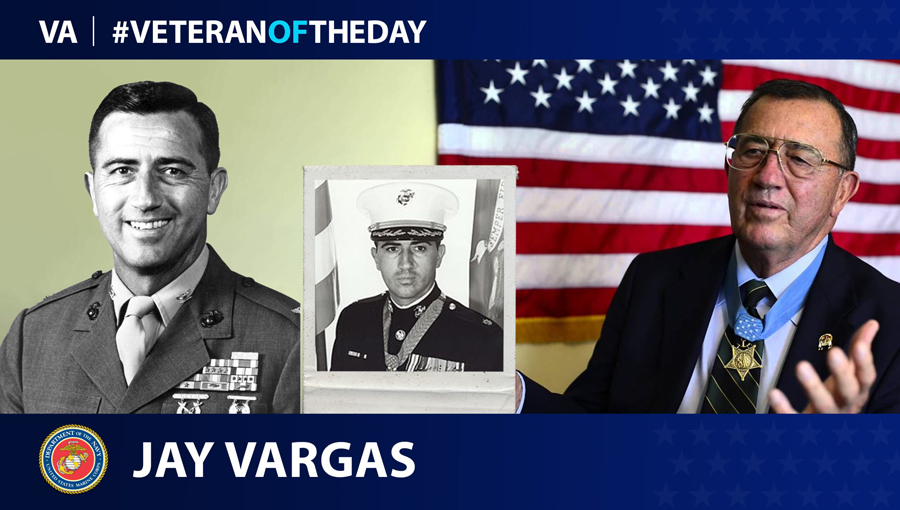 Jay R. Vargas was born to immigrants from Italy and Spain in 1938 in Winslow, Ariz. He grew up with three older brothers who served in the Armed Forces and fought in World War II, Korea and Vietnam.
After graduating from high school, Vargas attended Arizona State University and graduated in 1962 with a bachelor's degree in education. He soon graduated with honors from the U.S. International University in San Diego, California, where he received a Master of Arts degree. Vargas followed in his brothers' footsteps and joined the US. Marine Corps in 1963, despite his mother's wishes that he join the Air Force instead. He later recalled,  "My brother Angelo said, 'You don't go into the Marine Corps, we'll break your freaking legs.'"
After completing The Basic School in Quantico, Va., Vargas was assigned to the 1st Battalion, 5th Marines, 1st Marine Division as a weapons and rifle platoon commander.
In 1968, Vargas deployed to Vietnam and was put in charge of Company G, 2nd Battalion, 4th Marines, 9th Marine Amphibious Brigade. His unit was the last one stationed in the area between North and South Vietnam. Company G was supposed to depart with the assistance of helicopters but was unable due to heavy enemy fire. Vargas led his company back to the main base on foot, but they were soon sent back into battle. His company, along with two others, moved toward the nearby village of Dai Do and engaged in a three-day battle with North Vietnamese forces. He later recounted, "One of my platoons got pinned down by heavy machine guns—in fact, we all got pinned down … I went forward with four Marines and ended up by myself because they were hit immediately, but I [took] out three heavy machine guns and killed 14 North Vietnamese in the trenches, opening us up to continue the attack."
Vargas continued to lead his troops, rescuing his endangered battalion commander despite being hit by enemy fire and operating three phones and radios when his communication specialists were killed. He contacted the Pacific Commander in Chief and helped coordinate an airstrike, resulting in the Marines capturing Dai Do village.
In May 1970, Vargas was awarded a Medal of Honor by President Nixon. Other decorations Vargas received included a Silver Star, a Purple Heart with four Gold Stars, a Meritorious Service Medal, a Combat Action ribbon, a Navy Unit Commendation ribbon, a National Defense Service Medal, a Vietnam Service Medal with four Bronze Star Medals, a Vietnamese Gallantry Cross with Silver Star and Palm and a Republic of Vietnam Campaign Medal. He also received the American Academy of Achievement's "Golden Plate Award."
In 1992, Vargas retired from the Marine Corps with the rank of colonel and proceeded to serve as Secretary of the California Department of Veterans Affairs, and later as the Regional Liaison for the U.S. Department of Veterans Affairs until his retirement in 2009.
We honor his service.