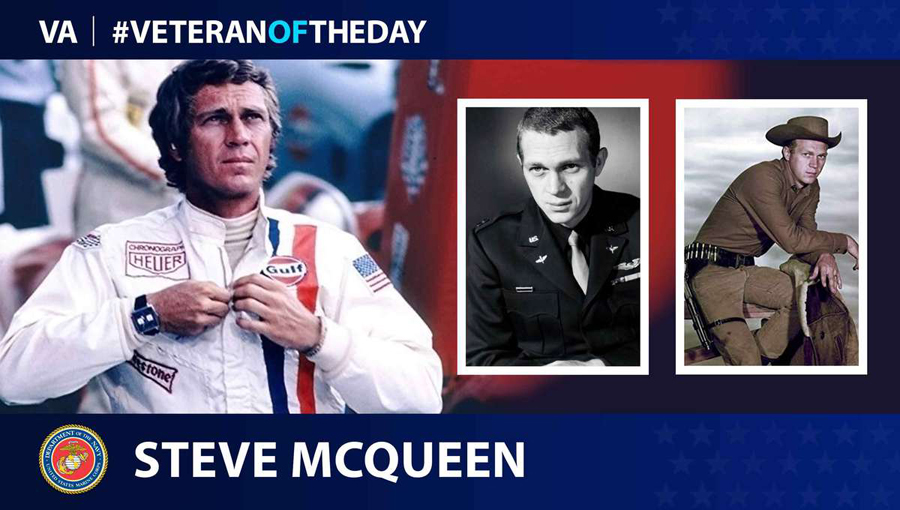 Terrence Stephen "Steve" McQueen was born in March 1930 in Beech Grove, Ind., to Julian Crawford and William McQueen.
With a troublesome childhood and family life, McQueen was often seen as a troublemaker, taking part in gangs and stealing hub caps from vehicles. He was eventually sent to an all-boys school for troubled adolescents called the California Junior Boys Republic, now known as Boys Republic, in Chino Hills, Calif. He joined the United States Merchant Marines for a short time in 1946, then worked various jobs until 1947, when he joined the United States Marine Corps.
Although McQueen completed basic training at Parris Island, S.C., his track record with authority caused him to be demoted to private at least seven times. During an exercise, however, McQueen saved five of his fellow Marines by removing them from a tank before it fell through the ice-covered Arctic sea. Eventually, he was assigned to the honor guard and was tasked with protecting the USS Williamsburg, the presidential yacht for President Harry S. Truman. He also worked as a tank driver and mechanic. He was honorably discharged in 1950.
After his time in the Marine Corps, McQueen used the G.I. Bill, and took acting lessons in New York. In 1952, he studied at the Herbert Berghof Studio through a scholarship. He made his Broadway debut in the 1955 show "A Hatful of Rain," and went on to star in various other works, including the 1958 horror film "The Blob," the CBS Western series "Wanted: Dead or Alive" and the 1960 Western film "The Magnificent Seven." His anti-hero characters led him to be regarded as one of the most popular actors of the 1960s and 1970s and known by fans as "The King of Cool."
Aside from acting, McQueen was passionate about cars and motorcycles. He did some of his own stunt driving in his films, competed in auto and motorcycle races and collected various types of motorcycles. In 1964, he was a member of the first official American team to compete in the International Six Day Trial, now called the International Six Day Enduro, which is an off-road motorcycle competition. In 1971, he was one of the featured motorcyclists in the documentary "On Any Sunday." McQueen has been recognized for his contribution to the automotive racing industry. In 1978, he was inducted into the Off-Road Motorsports Hall of Fame and, in 1999, the Motorcycle Hall of Fame. In 1998 and 2005, Ford Motor Company superimposed him into their car commercials.
McQueen received various nominations and awards during his acting career, including two Golden Globes and a Jules Verne Award. He also received a star on the Hollywood Walk of Fame in 1986.
Throughout his life, he cared for those who were in need. He tried to help everyone he encountered and made various donations to Boys Republic in gratitude for its impact on his life.
McQueen was married to Neile Adams from 1956 to 1972 and had two children with her. He was later married to Ali MacGraw from 1973 to 1978, then to his final wife, Barbara Minty, in 1980. His grandson, Steven R. McQueen, followed in his footsteps in the acting industry.
McQueen died at age 50 in November 1980.
We honor his service.