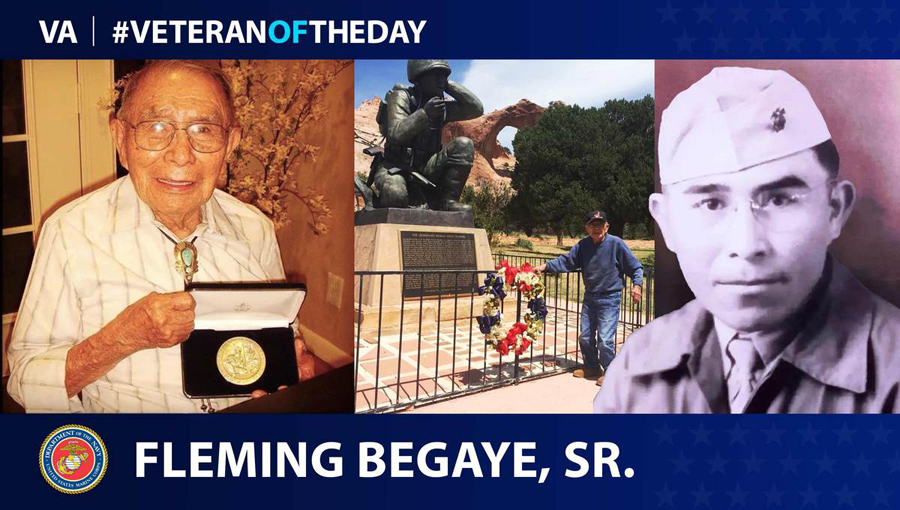 Fleming Begaye Sr. served in the Marine Corps during World War II as one of over 400 Navajo Code Talkers.
The Navajo language, both complex and unwritten, was used by the U.S. military to encode and send messages. The Navajo Code Talkers proved essential for the success of numerous military operations during the war, and their code was never broken.
Begaye was born in the small community of Red Valley, Ariz., in August 1921. While attending school in Fort Wingate, Ariz., he and his fellow classmates were discouraged from speaking in their native language of Navajo. Encouraged, however, from a presentation by the Marine Corps, Begaye enlisted and volunteered to be a code talker.
During his service from 1943 to 1945, Begaye saw action in the Pacific Theater, fighting in the Battles of Tarawa and Tinian. Radiomen were an advantageous target for the enemy and men like Begaye constantly risked their lives to translate and send important messages during battle. Wounds sustained in action sent him to a naval hospital where he recovered for a year.
After the war, Begaye returned to Arizona and settled in Chinle, where he married his high school sweetheart, Helen. In Chinle, he raised a family and opened a gas station and store known as Begaye's Corner, which he operated until 1988. He also raised sheep and cattle, and grew plants and trees in his garden.
Due to the classified nature of their work, Begaye and his fellow Code Talkers were unable to speak of their service until 1968. Their dedication and sacrifice, however, has not gone unnoticed. For their vital contributions during World War II, Begaye and fellow Navajo Code Talkers were awarded the Congressional Gold Medal in 2007 and were honored at a White House ceremony in 2017.
Begaye died in May 2019 at the age of 97.
We honor his service.