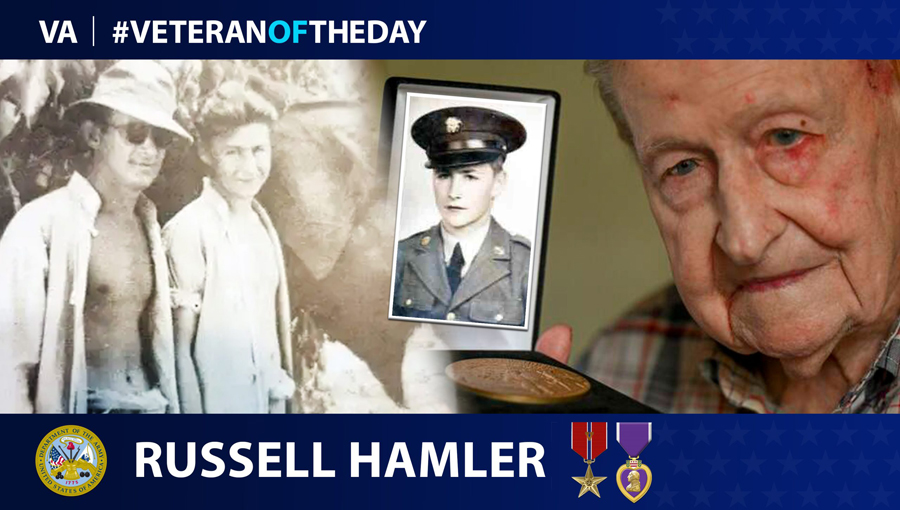 Russell Hamler was born in June 1924 and raised in the townships of Mt. Lebanon and Baldwin, Penn., on the outskirts of Pittsburgh. Growing up, Hamler was no stranger to hard work and took care of horses on several farms in the area.
Following the attack on Pearl Harbor, Hamler left his home on his 18th†birthday in June 1942 to enlist in the U.S. Army. After completing basic training in Fort Riley, Kansas, Hamler was assigned to the 27th Cavalry Troop and sent to Puerto Rico.
In September 1943, President Franklin Roosevelt issued a call for 3,000 volunteers needed for a critical yet hazardous mission behind enemy lines. Few were expected to survive. Undeterred by the unknown and eager to fight, Hamler left Puerto Rico for the Pacific. The men who volunteered were commanded by Brig. Gen. Frank Merrill and organized into the 5307th Composite Unit Provisional, known as†ìMerrillís Marauders.
With their mission still a secret, the Marauders arrived in India in October 1943. Assigned to Blue Combat Team, 2nd Battalion, Hamler and the Marauders undertook a 1,000-mile march through Myanmar to seize a Japanese-held airfield in the city of Myitkyina. During the march, Hamler and the Marauders endured monsoons, malaria and malnutrition.
In late March 1944, the Marauders were nearly overcome by an overwhelming Japanese force. During the battle known as Nhpum Ga, Hamler was wounded in the hip by a mortar fragment. Left immobilized in his foxhole for more than 10 days, he could do nothing but wait until rescue forces arrived. ìWe were surrounded, he stated. We accepted it for what it was.
Starved, sleep deprived and constantly on alert, the Marauders pressed forward toward their objective, defeating Japanese forces and capturing the airfield on May 17, 1944. The 5307th was disbanded in August 1944 after the capture of the city of Myitkyina with only 200 of the original 3,000 members left.
After the Battle of Nhpum Ga, Hamler was evacuated to a hospital in northern India where he spent five weeks recuperating. He was then transferred back to Pennsylvania, where he served as a military policeman until his discharge in December 1945. For his actions during the war, Hamler was awarded a Bronze Star and a Purple Heart.
At just 20, Hamler resumed his life at home and became an aircraft mechanic for Trans World Airlines, a job from which he retired in 1985.
Hamler currently lives in Baldwin Township, Penn. On April 24, 2022, he was honored by his fellow community members with the presentation of the Congressional Gold Medal, which has been awarded to members of Merrillís Marauders for their courage and bravery. Baldwin Township has also declared June 7th†to be the Russell Hamler Day of Appreciation.
Hamler is the last living member of Merrillis Marauders.
We honor his service.