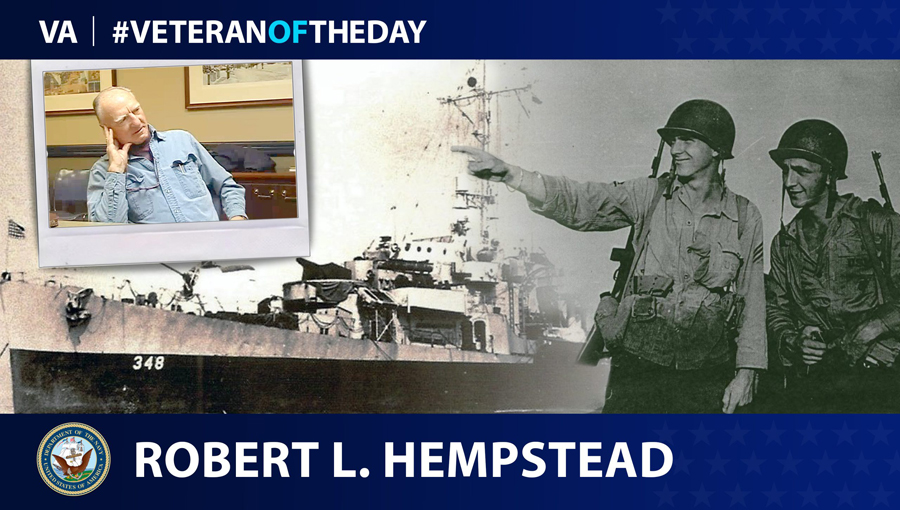 Robert Hempstead always knew he was meant to be on the water. He grew up in Rhode Island, raised by his grandfather who was an admiral in the Navy and shared stories of his time in the military. As a result of his grandfather's stories, he would grow more interested in the mechanics of ships and spend his time reading old manuals his grandfather had kept. The reverence Hempstead had for his grandfather and the Navy led him to enlist just before he turned 17. He reported for duty in February 1944 during World War II.
Hempstead recalled putting on the uniform as the proudest moment of his life. He completed basic training at Sampson Naval Training Station in New York, then sailed on the USS Key in the Pacific Theater. Throughout his Naval career, he served both on the USS Key and the USS General W.F. Hase, experiencing the Battle of Hiroshima, the Philippine Sea Campaign and service in Okinawa.
Hempstead served in several roles, including quartermaster, pharmacist mate (similar to a paramedic) and eventually surgical scrub. He started as a quartermaster by working on celestial navigation, as he had been taught these skills by his grandfather. As a pharmacist's mate, he would help triage those who had been injured; many were often Marines, and he grew close to those he worked with. As surgical scrub, he assisted in small surgeries and helped with maintenance within the operating room.
Hempstead created close bonds with many of the other crew, even though he was often the youngest on board of 216 crew members. However, he remembered the day two of his close friends from training were killed in action. Reflecting on their deaths and the deaths of other enlisted men, he said, "When you lost them, you lost a part of yourself."
His service in the Navy often put him in danger. In March 1946, he was sent to Yokohama to pick up 1,500 Marines and 3,300 nurses and Red Cross service women. After a quick tour of Japan, he and the crew headed back to the United States. Along the way, the ship was hit by a typhoon in what was known as an aquatic minefield left behind by Russian troops. Luckily, they sailed through the storm without hitting any mines; many sustained injuries or were killed from the storm.
Later that year, the ship was decommissioned in San Francisco. From there, Hempstead headed home to Rhode Island, receiving an honorable discharge in 1947. He then enlisted in the Navy Reserve in New Loudon, Conn., serving until 1951.
Even out of the Navy, Hempstead could never be far from water, spending the rest of his life calibrating compasses, sailing contract ships for the U.S. and British Navy and eventually obtaining an unlimited masters license for sailing, demonstrating his skill for captaining in even the roughest waters. As a child, he dreamed of being in the Navy like his grandfather and serving his country. Fulfilling his dream, he said, "I wouldn't have traded the experience for anything in the world."
We honor his service.