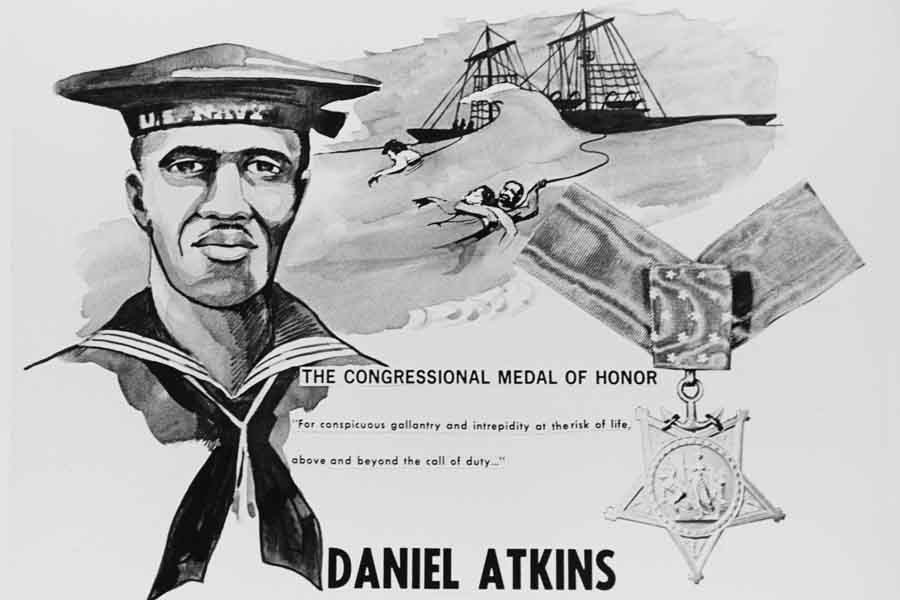 Navy Chief Commissary Stewart Daniel John Atkins was serving on a ship near Cuba during the Spanish-American War when a harsh storm blew one of his shipmates overboard. Despite choppy waters that threatened to consume anyone who went in them, Atkins jumped in to try to save the wayward sailor. That bravery earned him the Medal of Honor.
Not a lot of details about Atkins' life have been published. His birth records show he was born on Nov. 18, 1866, in Brunswick, Va., to Jack and Ann Atkins. However, the record lists him as "John Daniel Atkins." All other references refer to him as Daniel, so it's unclear if the first and middle names were flipped later in life or if they were recorded incorrectly.
Military records show Atkins had a sister named Fanny and that he had considered himself a "laborer" before enlisting in the Navy on Jan. 27, 1888. At the time, the Army was still segregated, but the Navy had always allowed Black men to serve, according to historian and Howard University professor Joseph P. Reidy. So, that's likely why Atkins picked the service.
Atkins entered the Navy as a landsman, but by reenlisting several times, he slowly moved up the ranks. By the time the Spanish-American War broke out in 1898, he had attained the rank of ship's cook first class and was sent to serve on the Navy's first torpedo boat, USS Cushing.
On Feb. 11, 1898, the Cushing was on its way from Key West, Fla., to Havana, Cuba, to deliver stores to the battleship USS Maine, which was there to protect American interests during Cuba's revolt against the Spanish government.
Most of the details of what happened next were told in a letter written by Navy Rear Adm. Albert Gleaves to the father of Ensign Joseph C. Breckinridge, who was the Cushing's executive officer. The letter was published in various U.S. newspapers a few days after the incident that earned Atkins the Medal of Honor.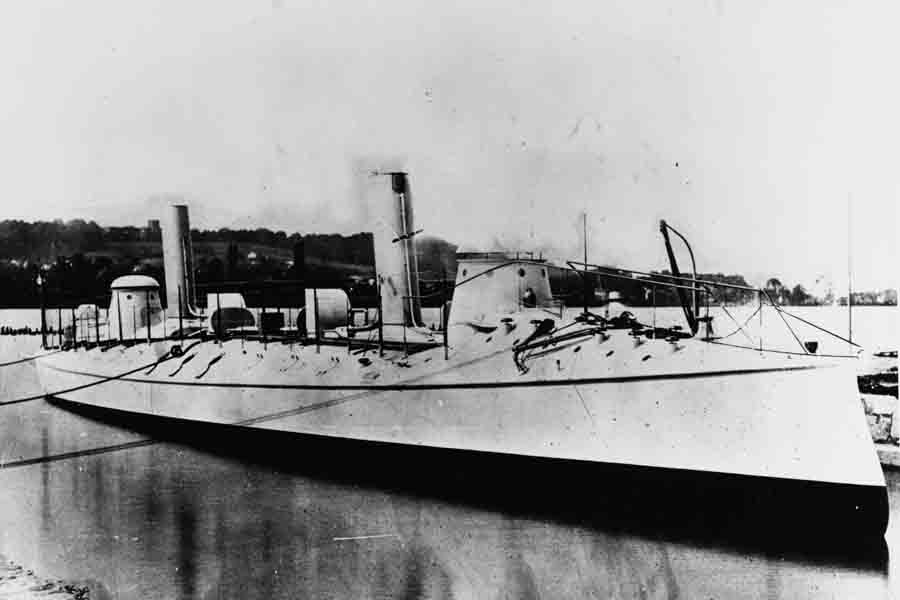 According to Gleaves, the Cushing was close to the Havana shore when the weather suddenly turned dark and the sea became "heavy." Around 1:30 p.m., Greaves said the ship pitched violently, and Breckinridge, who was walking along the deck, was thrown into a lifeline by a huge wave. The lifeline broke, and Breckinridge was swept over the deck into the roiling sea.
The Cushing's sailors jumped into action to try to save Breckinridge, but they struggled. A boat that was dispatched for a rescue flipped over in the thrashing waters, and its two crew members had to be hauled back onto the Cushing, Gleaves said. One of those men was Gunner's Mate 1st Class John Everetts.
According to Gleaves, Breckinridge was only about 30 feet away from the Cushing, so Everetts jumped back overboard, swam through the choppy waters and managed to tie a lifeline around Breckinridge's body.
Seeing that Everetts was struggling with exhaustion, Atkins, who had been part of the rescue effort, knew more help was needed. According to an account of the incident in a 1969 Pittsburgh Courier article, Atkins tied another lifeline around his waist and jumped into the icy waters. When he reached the other two men, he tied ropes around both. One at a time, they were pulled back to the ship.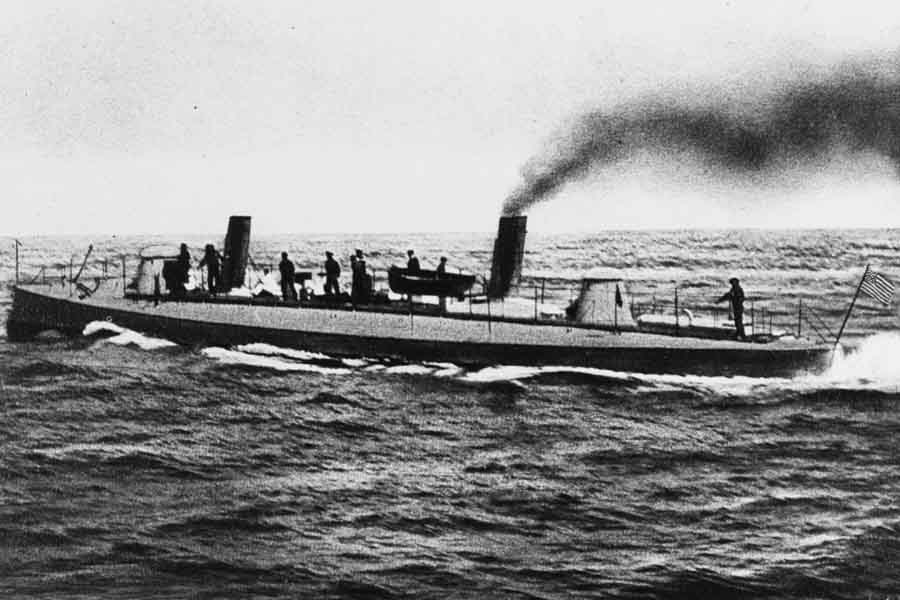 Unfortunately, crews weren't able to resuscitate Breckinridge, who was eventually pronounced dead. In his honor, the Navy named the World War II destroyer USS Breckinridge for him.
Atkins and Everetts were still honored for their valiant efforts in attempting to save Breckinridge's life. Both men were awarded the Medal of Honor, with Atkins receiving his on May 20, 1898. Newspapers at the time reported that each man also earned gold pins from the Life Saving Department Association of New York.
Atkins remained in the Navy for another two decades, serving on several ships. Military records show he was likely married twice: in April 1900, his next-of-kin was listed as his wife, Carrie Atkins. However, by 1904, the records showed he was single and listed his next-of-kin as his sister. By June 1917, records showed his next-of-kin was a different wife, Luvinia Atkins.
Atkins finally retired from service in October 1921 after attaining the rank of chief commissary steward. He lived with his wife in Portsmouth, Va., but unfortunately, his retirement was short-lived. Atkins died of a cerebral hemorrhage on May 11, 1923, at the age of 56. He was buried at the Captain Ted Conaway Memorial Naval Cemetery in Portsmouth.
Editor's note: Medal of Honor Monday highlights Medal of Honor recipients who have earned the U.S. military's highest medal for valor.