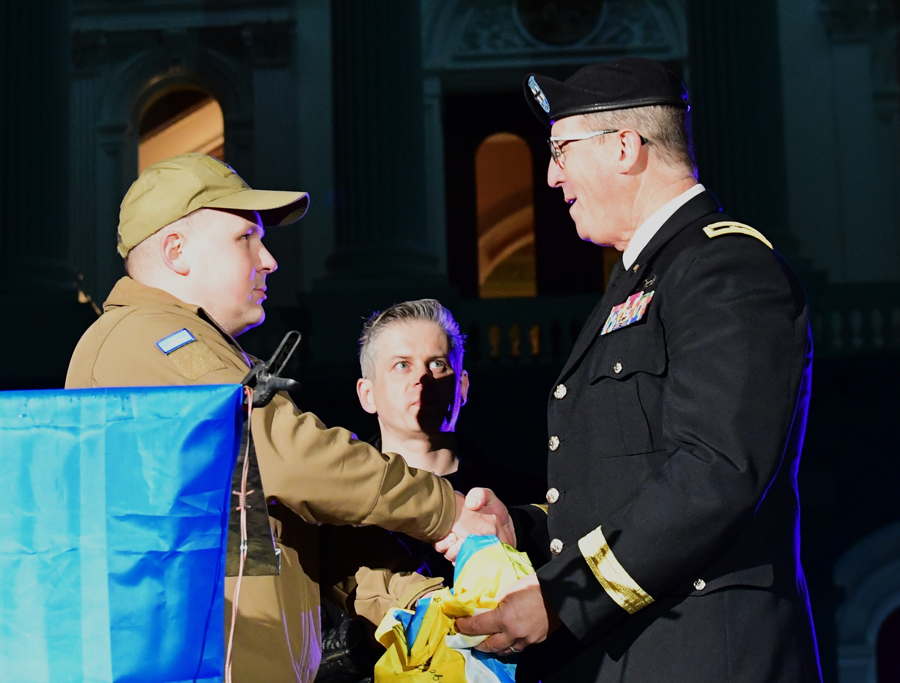 One year ago, Russia invaded Ukraine to try to overthrow the democratically elected government of Kyiv, the capital of Ukraine.
"It's truly a grim milestone," U.S. Army Maj. Gen. Matthew P. Beevers, acting California National Guard adjutant general, said at a commemoration rally hosted by the Ukrainian American House on the steps of the state capitol of California Feb. 24 as Ukraine continues its fight against Russia. "But we also reaffirm our state and nation's commitment to Ukraine."
Throughout the war, the California National Guard has assisted its State Partnership Program partner of 30 years in every way possible.
"We were far ahead of other U.S. government agencies standing up our Ukraine Fusion Cell," said U.S. Army Lt. Col. Fritz Roggow, director of state personnel at Joint Forces Headquarters. "Decades of trust and relationship-building from our top leadership to the Ukrainian counterparts ensured success."
The Guard established the UFC in California within 24 hours of Russia's crossing into Ukraine. Its purpose was to support the Armed Forces of Ukraine with equipment and any other requested aid.
Due in large part to the 30-year partnership between the California National Guard and Ukraine, communication and request for military aid flowed seamlessly. By July, more than 17 tons of body armor/helmets, nine tons of medical supplies and 11 tons of firefighting equipment and humanitarian aid were sent.
Between NATO partners and the CNG, supplemental Ukrainian combat formations were trained and a professional noncommissioned officer corps was developed, said Beevers.
"(Russian President Vladimir) Putin launched his invasion because he thought Ukraine was weak. He launched his invasion because he thought the West was divided, and he launched because he thought he could outlast us," Beevers said. "He was wrong."
Ukraine has a proud history that predates the Bronze Age. From the rebellion of the Cossacks against the Polish-Lithuanian Commonwealth in January 1654 to the dissolution of the Soviet Union in 1991, this country has overcome and endured.
Their struggle for a genuinely democratic government was not solidified until 2014, during the Revolution of Dignity, when President Viktor Yanukovych fled to Russia following several months of protests.
"Our shared values of sovereignty and freedom will persevere. The United States and Europe and the rest of the free world have recently risen to the challenge to enable Ukraine to fight and win," said Beevers.
In addition to the billions of dollars in lethal aid the United States has delivered to Ukraine, the citizens of California have donated millions of dollars in humanitarian and non-lethal assistance.
"Ukrainians remind the world every single day that freedom is priceless," said Beevers. "Freedom is worth fighting for. For as long as it takes, the people of this great state and the United States will stand with the people of Ukraine … for as long as it takes."