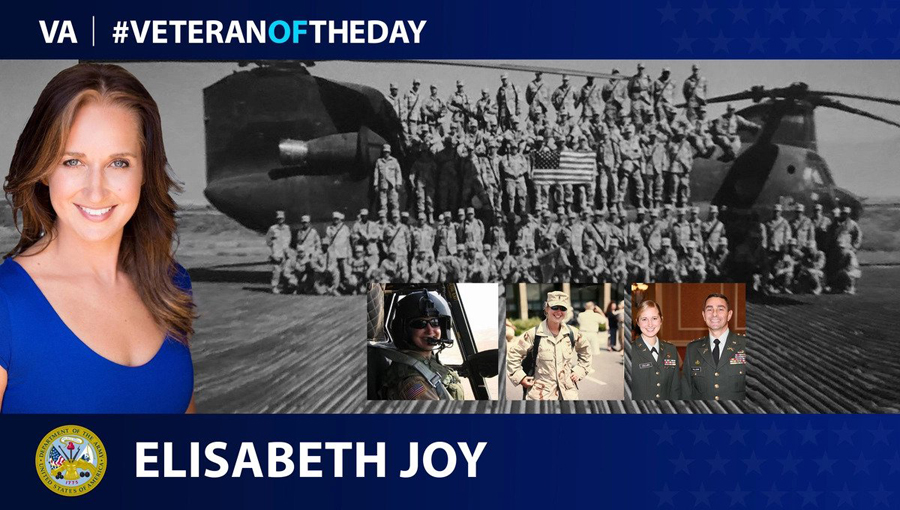 Elisabeth Joy (Collura) dedicated 11 years to military service and continues to serve Veterans through unique integrative therapy approaches. Joy grew up in Shaker Heights, Ohio, attending Hathaway Brown School for high school, from which she graduated in 1996. After graduation, she studied biological sciences at Ohio University while simultaneously enrolling in the ROTC program, where she was a distinguished military graduate. She began active-duty service in 2000.
While in the Army, Joy served as an aviator in the 101st Airborne Division, deploying to Afghanistan in 2002 and Iraq in 2003. During these combat tours, she was promoted to captain and served in company flight operations as a liaison officer, an executive officer and flight platoon leader. Upon completing active duty, she joined the Texas Army National Guard, where she continued her military education and enrolled in the Aviation Officer Advanced Course at Fort Hood, Texas.
After further training, Joy became an instructor with the Officer Candidate School in Texas. She also worked as deputy director of strategic initiatives for the Texas Military Department, coordinating community relations between federal, state and non-governmental organizations. Before leaving the military, Joy finished her military career as commander of the Texas National Guard's aeromedical evacuation company, Company C, 2nd Battalion, 149th Aviation Regiment, known as "Alamo Dustoff."
Though she retired from the military in 2011, Joy still seeks to serve and advocate for the Veterans in her community. Throughout her service in the National Guard, she attained a license in massage therapy and provided advanced clinical massages at the Peak Performance Institute. She also attained a masters in kinesiology exercise and sport psychology from the University of Texas at Austin in 2013. In 2014, she founded her own business in Austin, Texas. LCR Wellness serves Veterans with integrative therapy. One of her goals is to develop movement therapies for Veterans and others struggling with PTSD. She also volunteers with the Commission on Veterans Affairs to advise city council members on behalf of service members and their families.
Joy followed her passion in dance and dance directed with the Austin Veterans Art Festival from 2018 to 2022. Beyond her work with Veterans, she works as an actor and model with Callidus Agency, a Texas entertainment agency, and has appeared in supporting roles in feature films and theater. Currently, she is a licensed massage therapist at Hand & Stone Massage and Facial Spa in Austin.
We honor her service.