It is the ultimate football game in the United States, and this year an estimated 110 million people watched.
Super Bowl LVII saw the Kansas City Chiefs beat out the Philadelphia Eagles 38-35 Feb. 12, 2023, in Glendale, Ariz.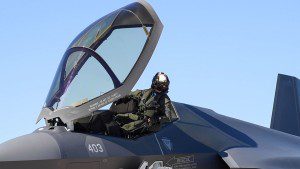 And while football is the main focus of the event, many tune in to watch the commercials and, the half-time show; it was the pre-game events that had a lot of people talking.
This year, the U.S. Navy provided the military aircraft for the pre-game flyover. And to honor the 50th anniversary of the first female Navy pilots to get their gold wings in 1973, all-female crews flew the Navy aircraft featured at the 2023 Super Bowl.
"It's not a feeling I can even put into words," Lt. Katie Martinez, a flight officer assigned to one of the squadrons working on an aircraft in the flyover, said in a statement. "It doesn't get bigger than the Super Bowl, and I am humbled and honored to be able to participate with my friends and fellow naval aviators as part of this once-in-a-lifetime opportunity."
The Navy aircraft were:
An F-35C Lightning II from U.S. Navy Strike Fighter Squadron 97 (VFA- 97), the "Warhawks" from Naval Air Station Lemoore, Calif.
Two F/A-18F Super Hornets of Navy Strike Fighter Squadron 122 (VFA-122), the "Flying Eagles," also from NAS Lemoore, and
One EA- 18G Growler electronic warfare aircraft from Electronic Attack Squadron 129 (VAQ-129), the "Vikings,' from NAS Whidbey Island, Wash.
In an official release, the U.S. Navy said that, "These aircraft represent the strike and electronic attack capability of the Carrier Air Wing of the Future, providing advanced technology and enhanced flexibility to our military combatant commanders."
Additionally, the majority of the logistics and maintenance personnel who traveled to Luke Air Force Base, Ariz., in support of the flyover were also female.
The Navy personnel conducting the flyover were:
Lt. Arielle Ash from Abilene, Texas. Ash is a graduate of Texas Tech University. She flew the F/A-18E/F Super Hornet, Navy Strike Fighter Squadron 122 (VFA-122), and the "Flying Eagles."
Lt. Margaret Dente of North Salem, N.Y. Dente graduated from the University of Southern California. She was onboard an EA-18G Growler electronic warfare aircraft of Electronic Attack Squadron 129 (VAQ-129), the "Vikings." Dente has accumulated 1,300 hours of flight time and was recently deployed operationally on a cruise aboard the aircraft carrier USS Theodore Roosevelt. Dente's grandfather was a U.S Marine helicopter during the Vietnam War and her father is also a pilot.
Lt. Lyndsay Evans from Palmdale, Calif. Evans is a graduate of the University of Southern California. She was onboard an EA-18G Growler electronic warfare aircraft as a member of the elite Electronic Attack Weapons School. She was deployed operationally during 2018 onboard the USS Carl Vinson (CVN-70).

Lt. Lyndsey Evans and Lt. Margaret Dente, both Naval Aviators attached to Electronic Attack Squadron (VAQ) 129, exit an EA-18G Growler after arriving at Luke Air Force Base, Arizona, Feb. 7, 2023, in preparation for their flyover of Super Bowl LVII at State Farm Stadium in Glendale on Feb. 12. The flyover will celebrate 50 Years of Women Flying in the Navy, honoring the legacy of women in Naval Aviation. (U.S. Navy photo by Mass Communication Specialist 2nd Class Aron Montano)

Lt. Saree Moreno of Tampa, Fla., and a graduate of the U.S. Naval Academy at Annapolis, Md. Moreno flies the F/A-18F Super Hornet for Navy Strike Fighter Squadron 122 (VFA-122), the "Flying Eagles.. She has accumulated 1,200 flying hours. Lt. Moreno was deployed aboard the USS Abraham Lincoln (CVN-72).

Lt. Naomi Ngalle of Springfield, Va., and graduated from the U.S. Naval Academy. Ngalle is a member of Strike Fighter Squadron 2 (VFA-2), the "Bounty Hunters." She flies the F/A-18F Super Hornet and has more than 565 flying hours.
Lt. Caitie Perkowski of Albuquerque, N.M., and also a graduate of the U.S. Naval Academy at Annapollis, Md. Perkowski is a member of Strike Fighter Squadron 192 (VFA-192), the "World Famous Golden Dragons.. She has accumulated 602 flying hours and currently flies the F/A-18E Super Hornet.
Lt. Suzelle Thomas of Birmingham, Ala., and a graduate of the U.S. Naval Academy at Annapolis, Md. Thomas flies the F-35C Lightning II for Strike Fighter Squadron 97 (VFA-97), the "Warhawks."
Palmdale native Evans joined the Navy eight years ago. "I joined the Navy to serve my country," she said. "Serving in the Navy means being part of something bigger than yourself."
Eight women became the first female candidates to enter U.S. Navy flight school in 1973, and a year later six graduated to earn their wings. They became known as "The First Six."