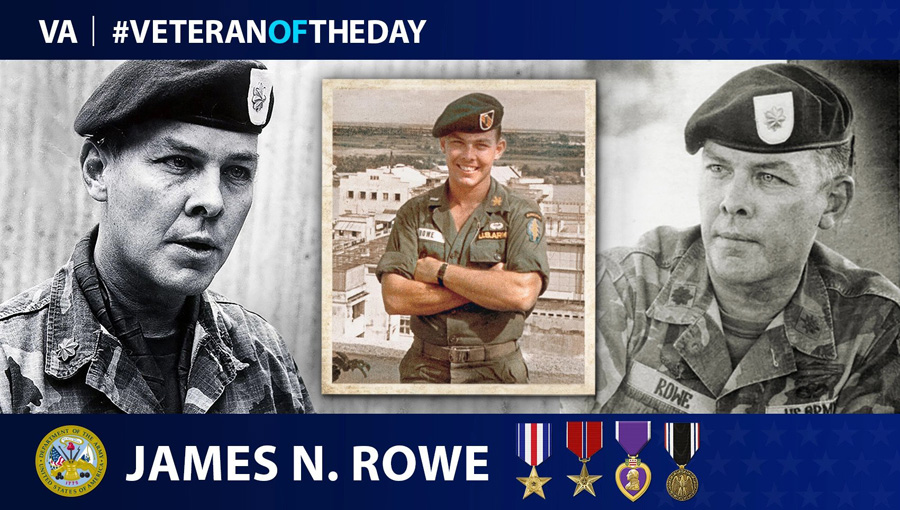 James "Nicki" Rowe was born in 1938 in McAllen, Texas. The untimely death of his brother prompted him to promise finishing his brother's Army journey. He attended West Point and was commissioned as a second lieutenant in the Army after graduation.
Rowe joined the Army Special Forces and deployed to Vietnam in 1963 as an advisor, helping to train Vietnamese civilians.
On Oct. 29, 1963, Rowe, Capt. "Rocky" Versace and Sgt. Daniel Pitzer, a medic, led a small force to Le Coeur, near the U Minh Forest, intending to drive the Viet Cong force out of the area. The group fell into an ambush and the three men were taken captive.
Rowe spent the next five years as a prisoner of war.
Conditions were perilous: If the Viet Cong found out Rowe was a Special Forces soldier, he would have been executed almost immediately. He survived by convincing his captors that he was a drafted engineer.
Rowe was kept in decrepit conditions. He lived in a small wooden cage and was given only two quart-sized cans of rice each day. Facing starvation, he was forced to hunt snakes and rats. He faced psychological torture through forced indoctrination, spent time in solitary confinement, was frequently beaten, and did not receive medical help when he caught diseases.
Rowe attempted but failed to escape on three separate occasions. His situation worsened when his identity as a Special Forces soldier was leaked by American anti-war activists. While being escorted to his death on New Year's Eve, Rowe attempted a fourth escape when American helicopters flying overhead distracted the guards. Overpowering them, he caught the attention of the helicopters, which led to his rescue.
Rowe then worked as a principal planner on the Army Staff for Intelligence for Operation Homecoming, which led to the release of 566 American POWs.
He left the Army in 1974 but returned in 1981. Working at Fort Bragg, N.C., Rowe used his experience as a POW to help develop the Army Special Forces Survival, Evasion, Resistance and Escape (SERE) Course. Also known as SERE School, this course taught soldiers how to evade capture and how to survive if they are captured. In Rowe's words, "We don't want anyone going through on-the-job training."
Today, SERE continues to play a pivotal role in the education of prospective Special Forces members.
Rowe's final assignment took him to the Philippines, where he served in the Joint U.S. Military Advisory Group as its ground forces director. On April 21, 1989, his vehicle was attacked by the New People's Army. He was killed by the ensuing gunfire.
During his service, Rowe received a Silver Star, a Legion of Merit, a Bronze Star with Oak Leaf Cluster, a Purple Heart with Oak Leaf Cluster, a Meritorious Service Medal, a Vietnamese Cross of Gallantry with Palm, a Vietnamese Service Medal with eight Campaign Stars, a Prisoner of War Medal, a Combat Infantryman's Badge and a Master Airborne Qualification Badge.
We honor his service.