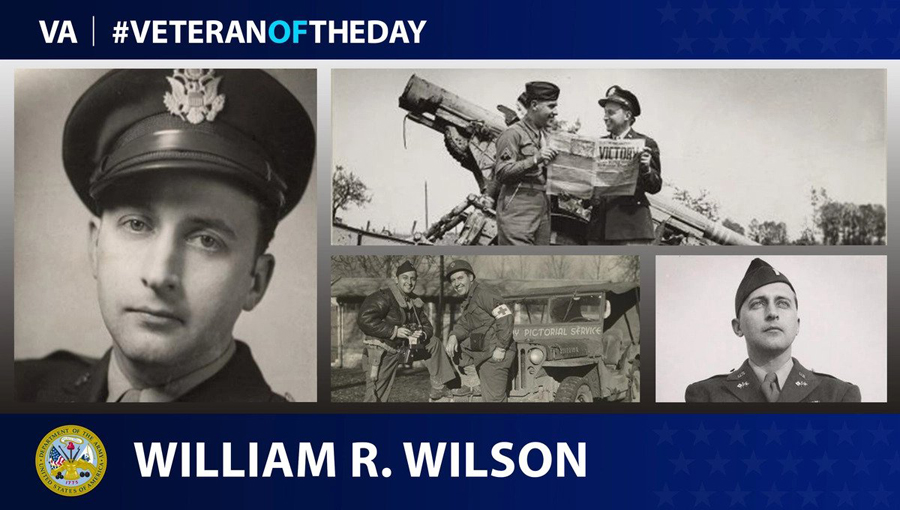 William Robinson Wilson was born in December 1914. As a native of Audubon, Iowa, Wilson attended Iowa State University where he was a member of the ROTC. He used photography to help support himself through college. In ROTC, he took four years of military training courses and, in 1941, graduated and was commissioned as a lieutenant in the Army, specializing in field artillery.
Although he specialized in field artillery, Wilson's photography experience led him to the Army Pictorial Service at Fort Sheridan, Ill., as the photographic officer. When he arrived, he found that there were no longer any photographic units at that station. He worked closely with the signal officer for three months, awaiting new orders.
Wilson was then ordered to report to the 162nd Signal Photographic Company at Camp Robinson, Ark.
While attached to the 162nd Signal Photographic Company, he participated in training and local maneuvers, before his unit was sent to Fort Leonard Wood, Mo. There, Wilson specialized in photographing major events for historical records and stateside news sources. When he returned to his station, his unit received orders overseas and on Sept. 5, 1942, they boarded RMS Queen Mary, sailing to Scotland.
After making stops in Liverpool and London, he attended a brief training session with British photographic personnel. Wilson recalled in an interview for the Library of Congress' Veterans History Project that his unit was gifted 35mm Kodak cameras and a 16mm Kodak movie camera from Col. Darryl Zanuck, a Hollywood film producer, in preparation for their North African deployment. When the unit disembarked near Algiers, they encountered combat immediately. His unit then traveled to Sicily and Salerno, Italy, as well as Dijon, France.
Wilson was transferred out of the 162nd Signal Photographic Company to staff a POW camp in northern France. He was promoted to captain before completing his service and returning home to Iowa. After his military service, he maintained a career in photography. Throughout his military and civilian career, his photos were published in Life Magazine and in Better Homes and Gardens Magazine. He was also featured in the Army's photographic history of World War II.
We honor his service.