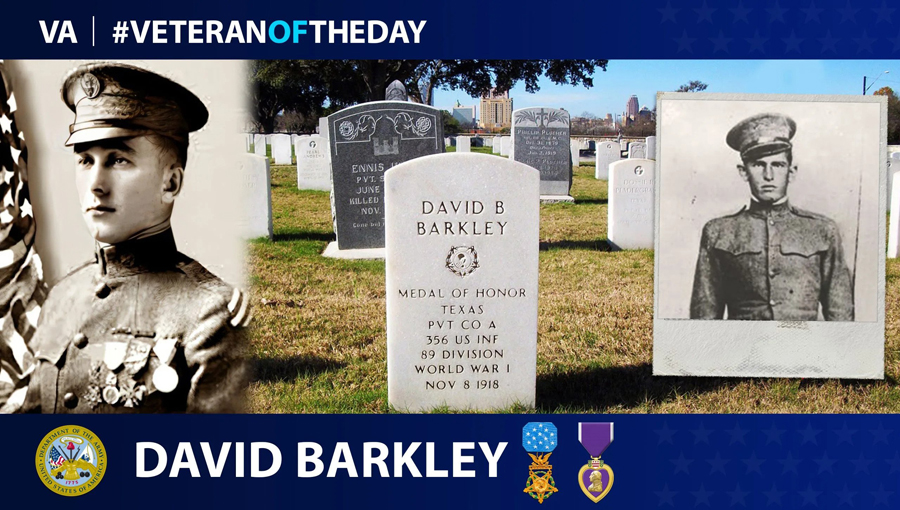 David Bennes Barkley was born in March 1899 in Laredo, Texas. His parents Jose S. Barkley and Antonia Cantu had married in Starr County, Texas, while Jose was stationed at Fort Ringgold, Texas. In 1904, when Jose received new orders, the family moved to San Antonio.
At 17, Barkley enlisted in the Texas National Guard in April 1917, shortly after the United Stated entered World War I. It is believed that Barkley decided to enlist under the anglicized version of his name in order to avoid being placed within a segregated unit.
In August 1918, Barkley arrived in France and was assigned to Company A, 356th Infantry, 89th Division.
Just a couple days before the armistice, on Nov. 9, 1918, Barkley, along with Private Waldo Hatler, volunteered for a reconnaissance mission. This mission entailed swimming across the Meuse River near Pouilly, France, to obtain information on the enemy's position, deployment and strength while scouting behind enemy lines, hopefully returning with drawn maps of the enemy encampment.
On the way back, Barkley's legs cramped and he drowned. The mission succeeded, though, as Private Hatler made it back.
After his body was retrieved, Barkley was honored by being laid to rest in state at the Alamo. He was the second soldier to have received such an honor, and he was later interred at the San Antonio National Cemetery.
Because of his heroic sacrifice, Barkley became the only Hispanic man to earn the Medal of Honor in World War I. He also received a Purple Heart, a French Croix de Guerre and an Italian Croce al Merito di Guerra. He has since been honored and commemorated by many monuments and buildings. In 2002 the David B. Barkley Plaza was named in his honor, as well as to honor 41 other Hispanic soldiers who had received a Congressional Medal of Honor. At this plaza, a statue of David Barkley with an American flagpole was erected. Close by, the Private David B. Barkley Cantu Veterans Memorial Chapel was established as well as historical marker just in front of it in tribute to Barkley.
Barkley's heroic feat will never be forgotten.
We honor his service.