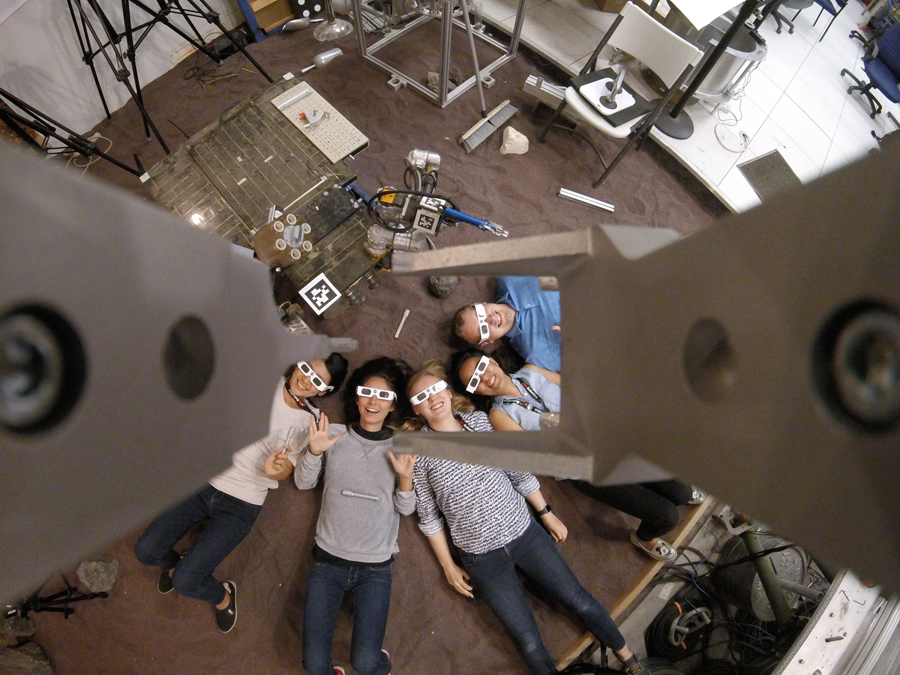 NASA is awarding more than $3.8 million to 21 museums, science centers, and other informal education institutions for projects designed to bring the excitement of space science to communities across the nation and broaden student participation in STEM (science, technology, engineering, and mathematics).
Projects were selected for NASA's Teams Engaging Affiliated Museums and Informal Institutions (TEAM II) program and TEAM II Community Anchor Awards. Both are funded through NASA's Next Generation STEM (Next Gen STEM), which supports kindergarten to 12-grade students, caregivers, and formal and informal educators in engaging the Artemis Generation in the agency's missions and discoveries. The selected projects will engage their communities in a wide variety of STEM topics, from aeronautics and Earth science to human space exploration.
TEAM II: NASA-Based Learning Opportunities
NASA's vision for TEAM II is to enhance the capability of informal education institutions to host NASA-based learning activities while increasing the institutions' capacity to use innovative tools and platforms to bring NASA resources to students. The agency has selected four institutions to receive approximately $3.2 million in cooperative agreements for projects they will implement during the next three years.
The selected institutions and their proposed projects are:
Universities Space Research Association, Columbia, Md.
Virtual Trips to Extreme Environments
Michigan Science Center, Detroit, Mich.
Urban Skies – Equitable Universe: Using Open Space to Empower Youth to Explore Their Solar System and Beyond
Museum of Science, Boston, Mass.
UNITED (Unveiling NASA's Inspirational Tales of Exploration and Discovery)
University Corporation for Atmospheric Research, Boulder, Colo.
Using a Network of Ozone Bioindicator Gardens to Engage Communities on Air Quality and NASA's TEMPO Mission
Community Anchors: Local Connections to NASA
The designation as a Community Anchor recognizes institutions as local hubs bringing NASA STEM and space science to students and families in traditionally underserved areas.
The agency has selected 17 institutions to receive more than $660,000 in grants to help make these one- to two-year projects a reality, enhancing the local impact and strengthening their ability to build sustainable connections between their communities and NASA.
The selected institutions and their proposed projects are:
 St. Anna's Episcopal Church, New Orleans, La.
Communicating Our Future For Education Expansion (COFFEE)
Frontiers of Flight Museum, Inc., Dallas, Texas
Youth STEM Initiative – STEM Leaders in Education
Children's Museum of Indianapolis, Inc., Indianapolis, Ind.
Our Earth From Above
Pacific Science Center Foundation, Seattle, Wash.
Connecting Youth to the Journey of Human Space Flight
National Space Science & Technology Institute, Colorado Springs, Colo.
Mobile Earth + Space Observatory Science Experiences for Engaging Rural Students
Board of Regents of the University of Nebraska, Lincoln, Neb.
Because I'm Earth it: A NebrASkA Experience
Pajarito Environmental Education Center, Los Alamos, N.M.
Exploring STEM Opportunities from New Mexico to the Solar System
Scienceworks Hands-On Museum, Ashland, Ore.
ScienceWorks Robotics in Space Program
City of Manhattan, Kansas
Flying Cleaner and Faster: Connecting Kansas Kids to the Future of Aviation
Northern Kentucky University, Highland Heights, Ky.
Afterschool NASA Production Club
Utah State University, Logan, Utah
4-H Moon to Mars Tetrathlon
New York Hall of Science, Queens, N.Y.
Connecting Communities to Real Time Astronomy Phenomena: Solar Eclipse 2024
Monterey Institute for Research In Astronomy, Marina, Calif.
MIRA la Luna: Igniting Interest in STEM for Middle School Students of the Salinas Valley
Infinity Science Center, Inc., Pearlington, Miss.
Outreach STEM Education: Bringing NASA STEM Education to local communities through local county library systems and INFINITY Science Center
Sierra Nevada Journeys, Reno, Nev.
NASA Family STEM Nights
Union Station Kansas City, Inc., Kansas City, Mo.
Union Station Kansas City Inc NASA Team II Proposal
Eugene Science Center Inc., Eugene, Ore.
Sky's The Limit: Access to Portable Planetarium Experiences for Rural and Title I Schools to Address Disparity in STEM Proficiency
Next Gen STEM is a project within NASA's Office of STEM Engagement, which develops unique resources and experiences to spark student interest in STEM and build a skilled and diverse next generation workforce. For the latest NASA STEM events, activities, and news, visit https://stem.nasa.gov