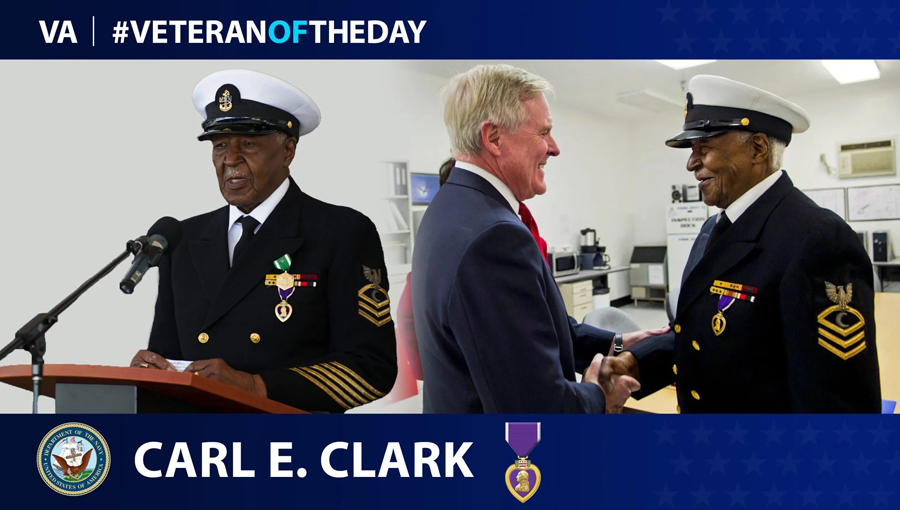 Carl Clark was born in 1916. He joined the Navy in the 1930s, when African Americans were permitted to serve only as mess attendants. Before and during his service in World War II, he experienced segregation while serving on ships.
Stationed on Kaneohe Bay on Dec. 7, 1941, Clark was among many sailors and Marines who were attacked at Pearl Harbor, which was located just minutes from Kaneohe Bay. In May 1945, he was attacked by Japanese planes while serving as a steward first class aboard USS Aaron Ward. Although the attack broke his collarbone, Clark dragged many servicemen to safety and extinguished a fire that would have otherwise destroyed the ship. As reward for his actions, the ship's captain provided him with additional leave and ensured he would deploy to sea again. Because he was Black, however, Clark did not receive any public recognition for his actions. He nonetheless continued his Navy service for another 13 years, eventually becoming a chief petty officer before retiring in 1958.
Despite initially being denied recognition for his actions on USS Aaron Ward, Clark was finally honored 66 years later after Sheila Dunec, an instructor at Foothill College, learned of his story while designing a project on the service of Veterans. She shared the story with Clark's representative, California Congresswoman Anna Eshoo. The congresswoman then worked to obtain Clark official recognition for his actions. The effort succeeded in 2012, when a ceremony for him was held at Moffett Federal Airfield in Mountain View, Calif. In the ceremony, he was awarded a Navy and Marine Corps Commendation Medal with the Combat Distinguishing Device by Former United States Secretary of the Navy Ray Mabus.
Clark died in March 2017 at a Veterans Affairs hospital in Menlo Park. He was 100 years old.
We honor his service.