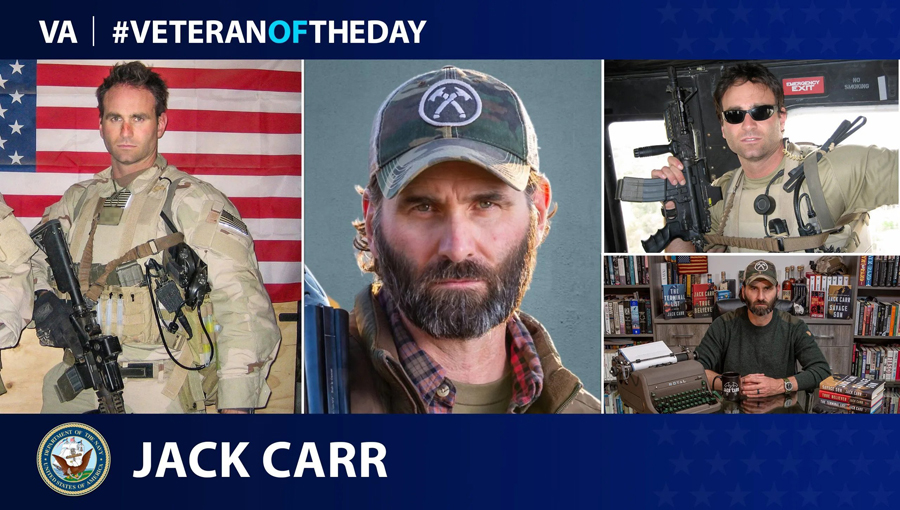 Navy sniper turned New York Times bestselling author, Jack Carr, continues to write new chapters in his inspiring life story.
Prior to his 20 years of service in naval special warfare, Carr felt called to a military career. His grandfather was a pilot in the Marine Corps in 1945, so he grew up with the flag, wings, medals and pictures of him and his squadrons. In an interview with VA News, Carr said, "I didn't wake up one morning and decide I was going to be a SEAL. I've been preparing for it my whole life."
His mother was a librarian, so reading books and watching movies that pertained to the special forces, SEALS, warfare and insurgencies were routine. Carr scoured books by Tom Clancy, David Morrell and J.C. Pollack to learn more about the service he longed to enter. He formed the goal of getting through Basic Underwater Demolition/SEAL training (BUD/S), a goal that he kept through training until getting to his SEAL team.
Carr entered the Navy in 1996. During his career, he led special operations teams as team leader, platoon commander, troop commander and task unit commander. He served as an enlisted SEAL sniper, specializing in communications and intelligence for six and a half years, and deployed as a junior officer, leading assault and sniper teams in Iraq and Afghanistan. Carr then became a platoon commander, practicing counterinsurgency in the southern Philippines. He then commanded a Special Operations Task Unit in Iranian-influenced southern Iraq. He transitioned out of the service in 2016, while putting finishing touches on his first novel, "The Terminal List."
As he turned the page into a new chapter of his life outside of the military, Carr's entrance into the literary world was irregular. It began when his friend from the Navy sat next to a well-known author who recommended that Carr send his manuscript directly to his New York publisher. Since then, he has published "The Terminal List," "True Believer," "Savage Son," "The Devil's Hand," and "In the Blood." His first novel is now an Amazon Prime Video Series, directed by Anton Fuqua, after actor Chris Pratt read the book on a flight to London and decided to option it for a series.
From SEAL training to getting published in New York, Carr pushes himself in difficult and uncomfortable situations. During his service, he learned about taking advantage of every engagement with others to build trust. Above or below on the chain of command, he learned how every interaction, whether brief or long term, is an opportunity to improve trust with those around oneself. He holds to this principle today as he interacts with his audience. In addition to writing, Carr also hosts a podcast and releases merchandise, with 100 percent of the profits going to Veteran-focused organizations. Carr now lives with his wife and three children, preparing for the release of his sixth novel in spring 2023.
We honor his service.