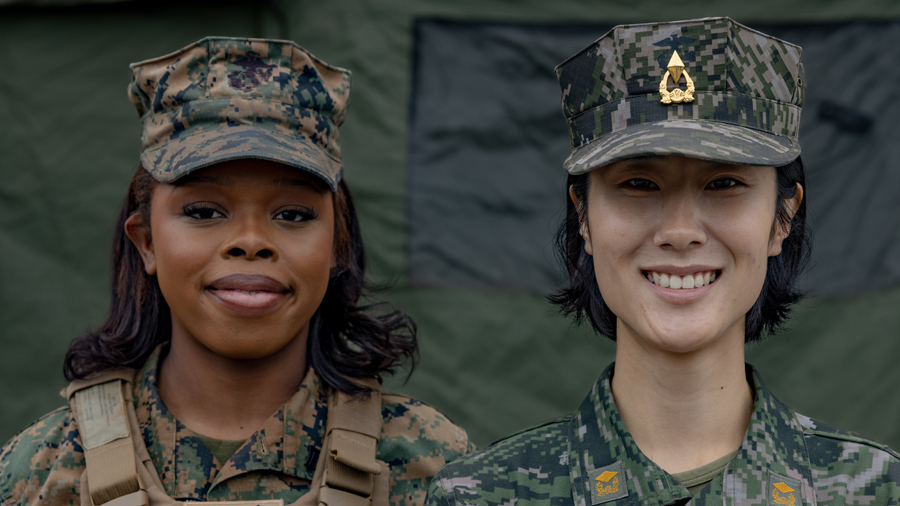 This time last year, two women walked on grounds that separated them by 7,346 miles.
Today they execute the same mission donned with their respective countries eight-point cover, here. The eight-point cover is an utility cap worn on the heads of Marines worldwide.
The yellow footprints at Marine Corps Recruit Depot Parris Island, S.C., and yellow name tags at the Republic of Korea Army Officer Candidate school in Goesan-gun, ROK, training was the beginning of a new opportunity for two women who were seeking to serve their country.
Although their childhoods looked vastly different, Republic of Marine Corps Chief Warrant Officer Kim Sat Byeol and U.S. Marine Corps Kristi Boseman both grew up knowing there was a higher calling. Both women started their journey following in the shadow of a family member and distinguished by their gender.
Boseman, a New Orleans, La., native, joined the Marine Corps after being influenced by her sister, a Marine who served four years as a corporal. Her sister provided the mentorship and guidance she needed to be successful early on in her journey to becoming a Marine.
"We are competitive, I am always looking to accomplish things like her," said Boseman. "She set the example."
Like Boseman, Kim had a family member who inspired her to serve her nation. Kim's father was a career-soldier in the ROK Army. He retired from the army as a colonel after approximately 30 years. Kim recalls vividly what drew her into joining the ROK Marine Corps.
"The Marine Corps is a small group of extraordinary people," said Kim. "I wanted to be where I knew I could help the ROK mission the most."
In the beginning of their careers, both women sought the challenge of becoming a Marine, knowing the first step was to get through entry-level training. Kim, attending the U.S.-equivalent of Officer Candidate School and Boseman who attended MCRD Parris Island, felt that if they were to accept the challenge, they would give it their all.
"I was the only female, but it was my dream to become a service member," Kim said. "I finished at the top of my class."
"At first, I was scared and afraid because I was the only female upon arrival," Boseman said. "After a short time, I realized I was a natural born leader."
Aside from many tangential experiences which brought them to where they are today, both women discovered they shared another thing in common: both have a proclivity for language. Boseman is fluent in American Sign Language and is currently studying Korean, the ROK national language. Kim is fluent in Korean, Russian and English.
"I use my language skills to help bridge communication between the ROK and U.S. Marine Corps," Kim said. "[My job] is the perfect place to be, using language as a tool."
Serving in their respective Marine Corps, both women use their journey as an opportunity to make new friends and expand their perspectives on life. Boseman is passionate about the U.S. Marine Corps because it has given her a space where it is easy to make friends, people are social and go through the same things. Kim values the opportunities given to her by the ROK Marine Corps, which allows her to experience new cultures without intensive studying.
"Being a Marine has taught me mostly about camaraderie, and I have learned from great leaders, how to be a better leader," said Boseman.
Both Marines are currently supporting exercise Freedom Shield 23, where they use their positive attitudes, motivation, and communication skills to create lasting relationships that go beyond the ROK-U.S. Alliance. Boseman and Kim are two of the most seen and heard Marines throughout the exercise. Boseman is supporting FS23 as an assistant noncommissioned officer in charge for security, where every Marine is inspected by her each day. Kim is the senior linguist for the ROK Marine Corps, where she is relied on to help the combined operations planning run smoothly.
"My favorite part of the exercise was working with ROK Marines and speaking Korean," said Boseman. "I looked forward to interacting with everyone each morning."
Freedom Shield is a computer simulated, defense-oriented training event designed to enhance the ROK-U.S. combined defense posture, maintain readiness, and strengthen the security and stability on the Korean peninsula and Northeast Asia.