On April 4, the U.S. Defense Department announced critical new security assistance for Ukraine, including ammunition for a wide range of weapons, a senior defense official said today at the Pentagon news conference.
The U.S. and allies have been stepping up the production of munitions to keep Ukraine in the fight as the country tries to repel a Russian invasion and reclaim its territory from Russia, the official said.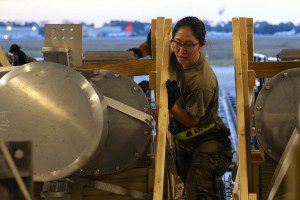 The war is at an important stage. Fighting continues in the east, but there have not been significant recent shifts in territorial control. The front lines are relatively static, with significant exchanges of artillery, but without appreciable ground gains by either side, the official said.
"Our focus is on supporting the Ukrainians to change the dynamic on the ground. We want to help Ukraine advance and hold its positions in what we expect will be a Ukrainian counteroffensive," the official said.
As a percentage of donor nations' gross domestic product, the United States is roughly in the middle of the top 20 nations donating to Ukraine's security assistance, the official said.
Finland, the newest NATO member, is one of the highest contributors to Ukraine, both in percentage of GDP and in total dollars spent on military assistance the official pointed out.
The department is in constant talks with Ukraine regarding its needs, be it munitions or other materiel, and continual adjustments are made based on conditions on the battlefield, the official said.
Besides munitions, the department has expanded training of Ukraine's forces to focus on combined arms and joint-maneuver operations. Also, maintenance and sustainment support are being provided, the official said.
"The substantial resources the United States has committed to Ukraine reflects the American interests and values that are at stake. Judging from the significant commitments that our allies and partners have made, the stakes for Europe and the larger world are widely recognized, as well," the official said.
The capabilities in this military aid package, valued at up to $500 million, includes:
* Additional munitions for Patriot air defense systems.
* Additional ammunition for High Mobility Artillery Rocket Systems.
* Artillery rounds: 155 mm and 105 mm.
* Mortar rounds: 120 mm.
* Tank ammunition: 120 mm and 105 mm.
* Ammunition: 25 mm.
* Tube-launched, optically-tracked, wire-guided missiles.
* About 400 grenade launchers and 200,000 rounds of ammunition.
* Tactical vehicles to recover equipment: 11.
* Heavy fuel tankers: 61.
* Heavy equipment transport: 10 trucks and 10 trailers.
* Testing and diagnostic equipment to support vehicle maintenance and repair.
* Spare parts and other field equipment.
In addition, DOD will provide Ukraine with $2.1 billion in assistance from the Ukraine Security Assistance Initiative funds. Those funds will provide:
* Additional munitions for National Advanced Surface-to-Air Missile Systems.
* Nine counter-unmanned serial system 30 mm gun trucks.
* Mobile counter-unmanned aircraft system, or C-UAS, laser-guided rocket systems: 10.
* Three air surveillance radars.
* Anti-aircraft ammunition: 30 mm and 23 mm.
* Artillery rounds: 130 mm and 122 mm.
* Grad rockets: 122 mm.
* Rocket launchers and ammunition.
* Mortar systems: 120 mm and 81 mm.
* Mortar rounds: 120 mm, 81 mm, and 60 mm.
* Tank ammunition: 120 mm.
* Javelin anti-armor systems.
* Anti-armor rockets.
* Precision aerial munitions.
* About 3,600 small arms and more than 23,000,000 rounds of small-arms ammunition.
* Seven tactical vehicles to recover equipment.
* Eight heavy fuel tankers and 105 fuel trailers.
* Armored bridging systems.
* Four logistics support vehicles.
* Trucks and 10 trailers to transport heavy equipment.
* Secure communications equipment.
* Satellite communications terminals and services.
* Funding for training, maintenance and sustainment.
Unlike presidential drawdowns, Ukraine Security Assistance Initiative is an authority under which the United States procures capabilities from industry rather than delivering equipment that is drawn down from DOD stocks.