If you've seen movie or television scenes with fighter jets zooming through tight canyon terrain, a helicopter flying under a bridge, or astonishing drone stunts, it's likely you are seeing Kevin LaRosa II's pulse-pounding footage.
LaRosa II, an aerial coordinator and stunt pilot, said his work in coordinating and documenting seemingly impossible visuals has similarities to research flights at a recent presentation at NASA's Armstrong Flight Research Center at Edwards, Calif.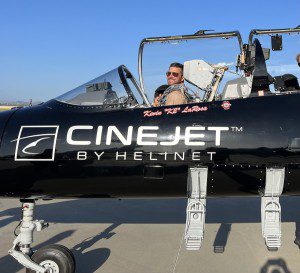 He has a long list of film credits including "Ironman"; "Avengers"; "Transformer 5"; "Top Gun: Maverick"; and "Devotion".
Working safely to deliver results is a common goal, said LaRosa II, a third-generation pilot. Also similar is that both organizations have specialized mission teams, detailed flight planning and safety plans, aircraft crews, and schedulers.
LaRosa II has two other links to the center. He knew former NASA Armstrong pilot Tom McMurtry, who he worked with and learned about military flying from earlier in his career. He also knows NASA Armstrong pilot Hernan Posada, who he first met when Posada flew aircraft for his father Kevin LaRosa's business. Posada invited him to speak at Safety Day.
Landing on moving cars, or boats looks cool on screen, but the process for setting it up is methodical. "It is so far from stunt," he said. In fact, LaRosa II often works with the Federal Aviation Administration to ensure his work complies with established rules.
Another similarity between LaRosa II's work and NASA Armstrong's is that just as NASA employees are expected to identify when they think something is unsafe, he said he must do the same.
Sometimes preparation reveals a proposed sequence is not worth the risk. LaRosa II explained to "Top Gun: Maverick" star Tom Cruise, who is an accomplished aviator, that a planned scene could not unfold as planned.
"Tom flew his own P-51 Mustang to the set," LaRosa II said. "Wing mounted cameras were to be used to film a closing sequence of Cruise and Jennifer Connelly. The aerodynamics disturbance on the aircraft's wing developed poor handling qualities Multiple test flights were performed by a highly experienced P-51 maintenance test pilot and he reported that the aircraft would not be safe in that configuration."
In other words, it wasn't safe and how to shoot the scene needed a new plan.
"I called Tom and reported the results and advised him that the aircraft couldn't be flown with the cameras for safety," LaRosa II recalled.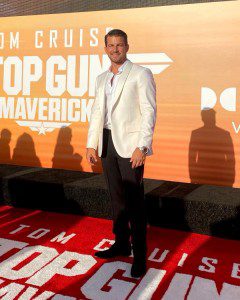 "Tom's response is what you would expect from a professional pilot. He said, 'No problem, how do you propose we move forward?' I proposed that we could shoot this sequence using close formation with the camera jet to accomplish the tight shots of the actors."
The CineJet, which is an L-39 jet with a customized camera gimbal system that is the first of its kind, was used to capture the scene with Cruise and Connelly. The system is maneuverable, stable and permits the aircraft to be in the right position at the right time for some of the hard-to-get footage of the F-18s and P-51 in action, LaRosa II explained.
Pilot training was another key to making the film look authentic. LaRosa II created, under the direction of Cruise, a pilot curriculum of intense training. Included were multitudes of high energy, high-g flying to simulate gravitational forces a pilot endures and flying an F/A-18 from an aircraft carrier.
"We knew exactly what we were going to do before we went to fly it," he said.
People in LaRosa II's world and in the flight research environment can appreciate that statement. Risk is not entirely avoidable, but finding out what those risks are and mitigating them to increase safety is paramount to mission success.