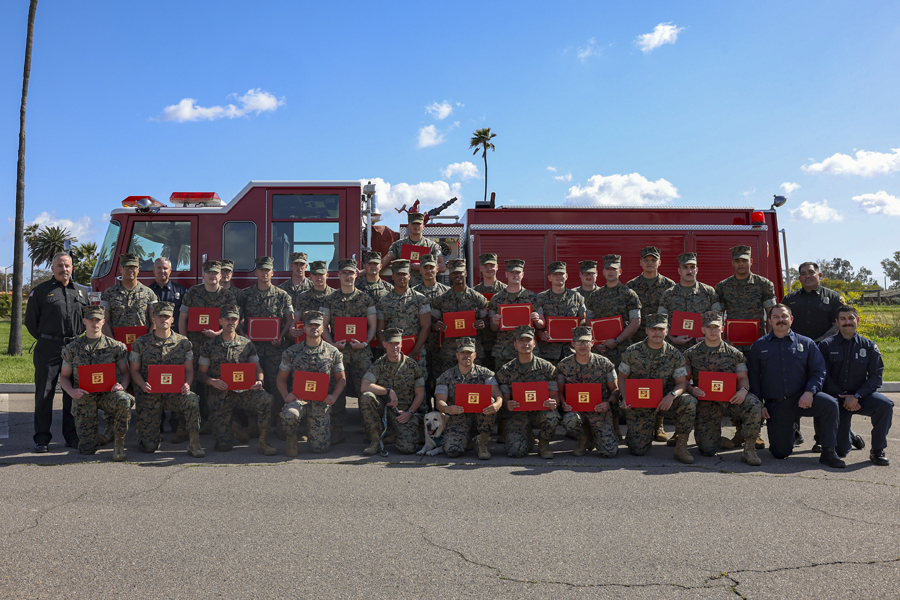 Twenty-nine U.S. Marines stationed at Marine Corps Air Station Miramar in Southern California received certification to form the Marine Corps' first team of wildland firefighters March 24, 2023, according to a fire captain at the MCAS Miramar Fire Department.
According to Chief Brian Cato, the assistant chief of training and safety with MCAS Miramar Fire Department, there has never before been a hand crew, or team of wildland firefighters, comprised primarily of active-duty Marines.
These Marines became certified as wildland firefighters after completing S-130 Firefighter Training through the MCAS Miramar Fire Department. They are now certified through the California Incident Command Certification System, the system used by California to deploy firefighting resources, and are qualified to respond to wildland fires on the air station, Marine Corps Base Camp Pendleton and the state of California during times of crisis.
A few conditions still must be met before the Marine hand crew is fully ready, clarified Cato. The Marines must receive personal protective equipment, which has already been ordered, and more on-the-job training. Once these conditions are met, they can respond to wildland fires when directly supervised by a qualified supervisor from the Miramar Fire Department, he said.
The Marine hand crew is preparing to support Californians who are no strangers to drought, dry weather and wildfires. According to the National Integrated Drought Information System, much of California has been under an exceptional drought status for five of the past 10 years.
California has consistently drawn national attention for raging wildfires that have taken lives and destroyed hundreds of thousands of acres of land. Back in 2021, the Dixie Fire spanned over 963,069 acres, according to the California Department of Forestry and Fire Protection, becoming the second largest fire in California history. A year prior, the August Complex spanned over 1,032,648 acres as the largest fire in the state's history. In 2018, the Camp Fire spanned 153,336 acres and took 85 lives, becoming the deadliest wildfire in California to date.
This year, Californians are experiencing fleeting relief from wildfires as the rainy season, which began in October, continues at an abnormal pace. According to the California Department of Water Resources, precipitation was at 151 percent of the historical average by March 31, snowpack was at 237 percent, and the reservoirs were at 107 percent.
However, Capt. Paul Jacobs, the crew boss for this new hand crew, said the same conditions will lead to larger future fires. He explained that high precipitation produces more vegetation, which becomes tinder during a drought.
In the meantime, the newly-formed Miramar Hand Crew is preparing. Completion of S-130 Firefighter Training was the first step in their development. During this weeklong course, the Marines received training from Jacobs and other firefighters from the Miramar Fire Department, all of whom have instructor level-3 certification through the National Wildfire Coordinating Group. The Marines learned fundamentals of wildland firefighting through classroom instruction and practical application in the use of basic firefighting equipment, the operation and maintenance of tools, the deployment of fire shelters, and how to dig fire lines.
Jacobs said the Marines showed professionalism, respect, integrity, dependability and enthusiasm as they formed a team and learned new technical skills that will help them throughout their lives. Having taught military veterans in his past, he was not surprised with the Marines' work ethic. He saw the reflection of many of his fire station's core values in them.
"I feel very fortunate and prideful to be in this position to help start the first wildland hand crew that the Marine Corps has set off to put together," said Jacobs, who organized the class with assistance from other firefighters in his department. "With the amount of vegetation that's grown this past winter and spring, it's definitely created a threat to the high value target items on this base. So, to have some extra help and to have some Marines that are deployable that way, we can go out and suppress some of these wildland fires. It's going to be a great asset for this base."
Lance Cpl. James Baker, an administrative law clerk with Headquarters and Headquarters Squadron, MCAS Miramar, is one of the 29 Marines who volunteered.
"Since we're in peacetime, if there's an opportunity that I can do something to benefit somewhere else, then I'm all for it," said Baker, who also volunteers at local youth centers as a coach and youth mentor. "That's why I volunteered to do firefighting. It's imperative that we go above and beyond … If there is any opportunity to make a difference, you should!"
U.S. Marine Corps Col. Thomas M. Bedell, the MCAS Miramar commanding officer, addressed the 29 graduates during the March 24 ceremony.
"I've seen exactly what happens when you have a crew who can cut line, and can save property, and can save lives," said Bedell, a former wildland firefighter himself. "Tied for first for being a Marine was being on a fire crew. I have now done both, and now you all will have that experience too."
The Miramar Hand Crew will further their training in June by attending Fire School on Marine Corps Base Camp Pendleton. Meanwhile, the NWCG will tour the Miramar Fire Department April 18 to examine the new hand crew and the efforts that went into its formation, according to Cato.
The Miramar hand crew will meet with Jacobs and the air station fire department on a quarterly basis to continue their training and build on their experience. Jacobs said he hopes to hold training even more frequently – perhaps on a biweekly basis – as the program progresses.