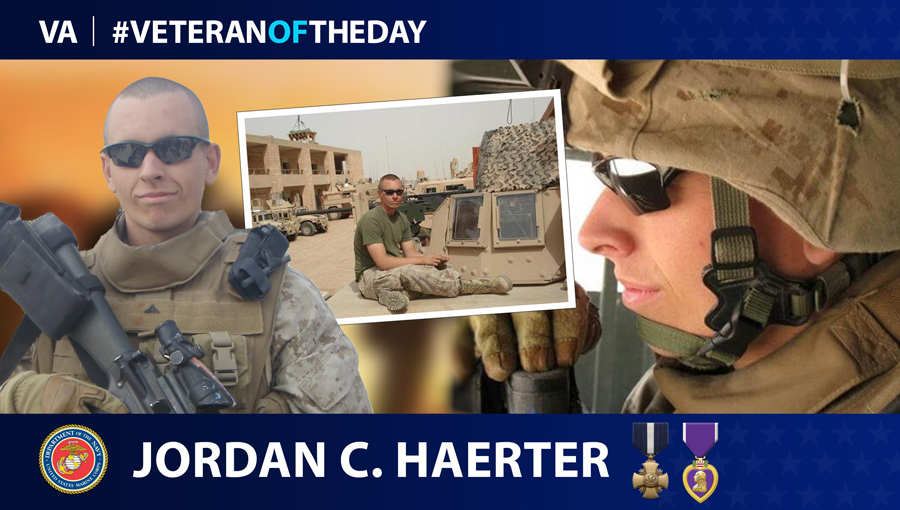 Marine Veteran Jordan Haerter was born in July 1988 to parents JoAnn Lyles and Christian Haerter, and he grew up in Sag Harbor, N.Y. Since his childhood, Haerter possessed a passion for the military and was fascinated with the aircraft carrier Intrepid and the Air Force Thunderbirds. He dressed up as a Revolutionary War soldier and researched at the library to ensure the costume buttons were historically accurate, desiring a precise military uniform.
He attended Sag Harbor Elementary School and Pierson High School, graduating in 2006.
Unlike most teenagers, Haerter flew an aircraft before receiving his driver's license. He began taking flying lessons at East Hampton Airport, flying his first aircraft solo at age 16. He entered the Marine Corps directly after high school, training at Marine Corps Recruit Depot Parris Island in Beaufort, S.C. He was then assigned to the 1st Battalion, 9th Marine Regiment, 2nd Marine Division, II Marine Expeditionary Force and deployed at age 19 to a Joint Security Station Nasser in the district of Ramadi. The 1st Battalion, 9th Marines were assigned to this station and Haerter stood guard at an Entry Control Point with Cpl. Jonathan T. Yale, a rifleman with 2nd Battalion, 8th Marine Regiment, a unit that was approaching the end of their deployment.
On April 22, 2008, the two Marines recognized an oncoming threat of a large truck approaching their entry control point. After the truck ignored all flares and signals to stop, Haerter and Yale stood their ground and opened fire on the truck, creating a 2,000-pound blast from explosives within the vehicle. The explosion killed the two Marines, Haerter aged 19 and Yale aged 21, but their heroic efforts saved 33 Marines, 21 Iraqi police inside the station and several civilians in proximity. Gen. John Kelly stated at a speech later that they "never even shifted their weight […] they leaned into danger."
Haerter and Yale were posthumously awarded Navy Crosses for their actions. During his service, Haerter also received a Purple Heart Medal and Combat Action Ribbon, an Iraqi Campaign Medal, a Good Conduct Medal, a National Defense Medal and a Sea Service Deployment Ribbon. The North Haven-Sag Harbor Bridge was renamed in honor of Haerter as the Lance Corporal Jordan Haerter Veterans Memorial Bridge. To honor the Marines' story, Director Joshua DeFour created a 25-minute film titled, "The 11th Order" in 2019 to tell the story of two young men who acted "without hesitation of concern for their own lives," serving their country until the end. Haerter is survived by his parents, grandparents and girlfriend Nicole Jonat.
We honor his service.