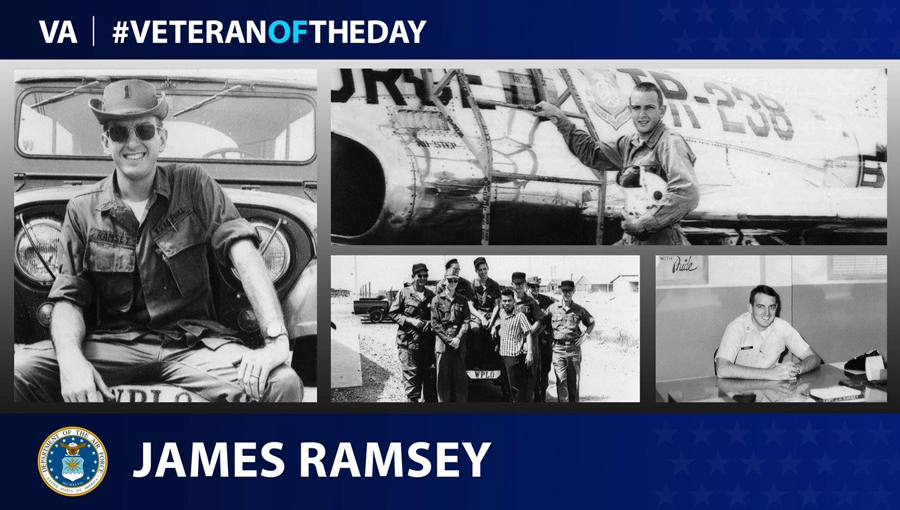 James Harry Wayne Ramsey was born in Indianapolis, Ind., in 1942. From an early age, he was drawn to military aircraft and, at eight, knew he wanted to join the military. With a love of military aircraft and a strong sense of duty, Ramsey planned to join the service straight out of high school. However, his father convinced him to attend college first. In 1960, he attended Indiana University, where he earned his undergraduate degree and, later, an MBA in transportation. While in college, he was a member of the ROTC and earned his pilot license.
In 1965, Ramsey was commissioned as a second lieutenant in the U.S. Air Force. That December, he attended officer training school in Florida at Eglin Air Force Base. He then spent four months in technical training at Sheppard Air Force Base, Texas. There, he was able to practice loading planes and learning the properties of weight and balance, along with the general duties he would be assigned as a transportation officer.
When Ramsey completed his training, he was assigned as the transportation officer at England Air Force Base, La. As the transportation officer, he oversaw the transport of household goods, freight and ammunitions. During his yearlong stint in Louisiana, he was promoted to first lieutenant and received orders to Thailand.
Ramsey's wife accompanied him to Bangkok, Thailand, where she taught at the international school while he served as the transportation officer. Ramsey oversaw the receipt and disbursement of all military goods that were shipped into the Bangkok port. Later in his tour, he assumed duties at the newly built shipping port in Sattahip, Thailand. The position provided considerable autonomy, which allowed him to gain significant experience in his field. While in Thailand, he learned to sail and was able to travel around both Thailand and other countries during his leave periods.
Following his overseas tour, Ramsey was assigned to Beale Air Force Base, Calif., as the transportation officer. Here, he continued to manage base logistics and was promoted to captain. He completed his service and was discharged in May 1969. In an interview for the Library of Congress' Veterans History Project, Ramsey said "I think the military was good to me and good for me." With his education and experience, he went on to work for GM in Kokomo, Ind.
We honor his service.