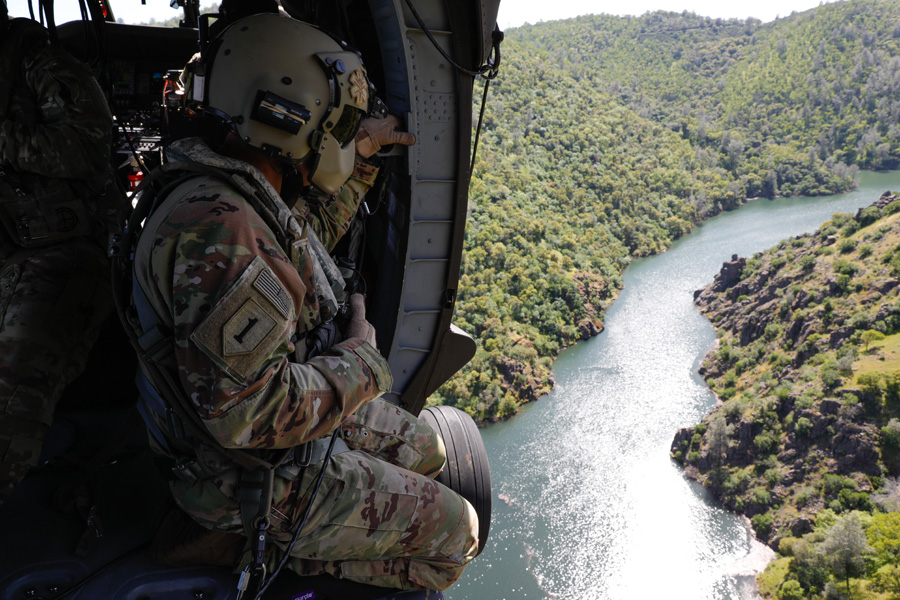 California National Guard members participated in annual wildland firefighting training alongside the California Department of Forestry and Fire Protection near Ione April 23. 2023.
The training, composed of collaborative aerial wildland firefighting tactics and procedures, is part of a longstanding partnership between the California Military Department and CAL FIRE to jointly, safely and effectively combat fires.
"We really rely on the Cal Guard to step up and fill in the gaps in a surge capacity for fighting fires in California," said CAL FIRE Battalion Chief Tim Shiffer, training event cadre lead.
Shiffer said during fire season, CAL FIRE calls on its trusted interagency partner, the Cal Guard, when CAL FIRE's helicopters and other aerial firefighting equipment are exhausted.
During the training, Cal Guard and CAL FIRE crews practiced hoisting buckets to fill and dump water on designated drop sites.
"The training, once complete, allows the Cal National Guard to take firefighters, or military helicopter managers, on their aircrafts as crew members and integrate our military aircrafts into firefighting operations," explained U.S. Army Lt. Col. Daniel Anderson, the state aviation deputy officer.
Across the state, CAL FIRE uses the Cal Guard's CH-47 Chinook, UH-60 Black Hawk and HH-60 Pave Hawk helicopters to help drop water over complex fires and employ air rescue medical evacuation capabilities.
"It started in 1987, and we've been evolving this training ever since," Shiffer said. "It works really well as we both understand our departments' differences and similarities and are able to coordinate our two styles."
The training also qualifies various other positions, such as liaisons and other crucial military personnel, to operate within the fire system and support their civilian emergency service counterparts.
"Without this training, we wouldn't know what the stakes, capabilities, or readiness are, or have those networks and relationships established," said Anderson, who serves in a dual capacity as a CAL FIRE pilot.
This year, National Guard service members from Utah, Wisconsin and Nevada also participated in the exercise to strengthen their interoperability ahead of California's fire season.
"We always have the need for resources, so we took that relationship that we have with the other states and invited them to do the training ahead of time to get the qualifications," Anderson said.
In recent years, the respective states helped fight California's complex fires.
"We all do it for the sake of service and making sure that we as agencies and individuals are here, able and ready to support the needs of the citizens of California," Anderson said.