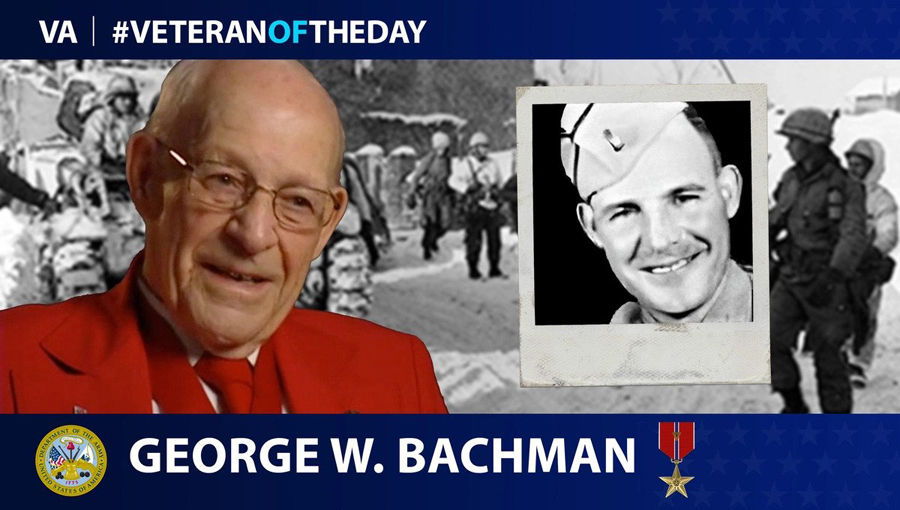 George Bachman was born in Williamston, Mich., in January 1919. He was drafted into the military in January 1941 at the age of 22 and was assigned to the 21st Field Artillery Battalion, 5th Division, with which he served until the end of World War II.
Bachman deployed to Iceland in April 1942, serving in that country for a year and a half. He then served in the British Isles, Northern Ireland and in several locations in France, including Normandy, Saint Lo, Metz and Carentan. During his service, he was a forward observer, a role in which he used a "pair of fuel glasses, a telescope, radio and a phone" to monitor and counter enemy movements.
Bachman's service in the Battle of the Bulge, which spanned from December 1944 to January 1945, was particularly difficult. He saw combat in Strasbourg, France, and Luxembourg City, Luxembourg.
Beyond encountering enemy opposition, Bachman and his unit suffered from hostile weather, including significant amounts of snow and freezing temperatures that often dropped 20 degrees below zero. Bachman described Christmas day of 1944 as perhaps the worst day of his war experience, encountering many attacks from enemy shells and accidental friendly fire from another American unit.
By the end of the war, Bachman had served in Czechoslovakia and had attained the rank of technician fifth grade. Two days prior to returning home to the U.S., he was awarded a Bronze Star for meritorious service during an earlier battle in northern France. He remained in the military until 1972, retiring after a 30-year career.
In his civilian life, he worked for General Motors in Lansing, Mich. He stayed busy in "retirement," taking part in a documentary: "The War: Michigan Voices." He also became mayor of his hometown, Williamston, and was a member of its city council. And he was a volunteer firefighter and a member of several military organizations, including his local Veterans of Foreign Wars branch and the American Legion.
In his later years, Bachman had "been back to [the] battlefields" to visit the areas in which he had seen action. On one occasion, he received medals for his service in northern France from a French mayor as well as a medal for his service in Luxembourg.
In his personal life, Bachman loved to travel and read military history. He was married to his wife, Norma, for 59 years, and the couple raised one son, Mark; a granddaughter, Sara; and great-grandchildren, Zoe and George.
Bachman died in January 2009 at the age of 90.
We honor his service.