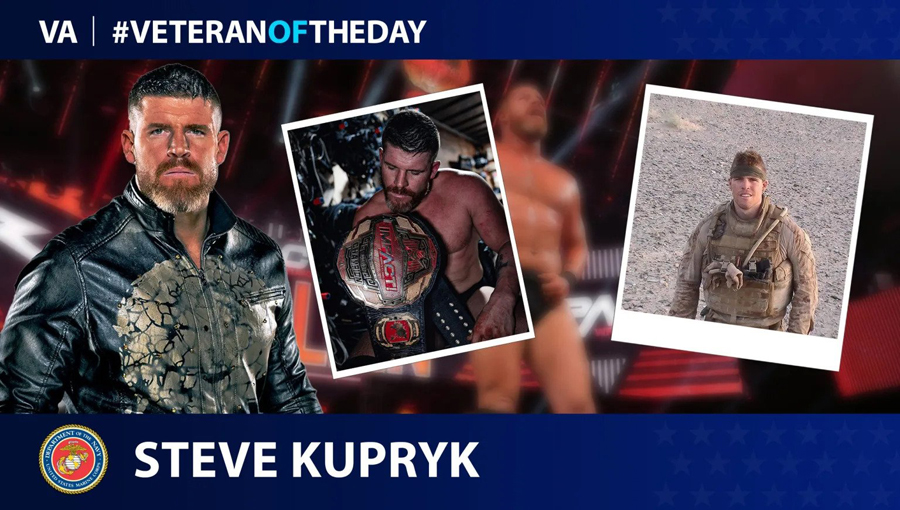 Stephen Kupryk was born on May 26, 1987, in New Jersey. After personally witnessing the events of Sept. 11, 2001, from a parking lot in New Jersey as a freshman in high school, he vowed to serve his country. In 2007, he joined the Marine Corps and served as a machine gunner on two deployments to Afghanistan with the 2nd Battalion 8th Marine Regiment.
After completing his enlistment in 2011, Kupryk pursued a passion for wrestling, seeking training at the Monster Factory in New Jersey, where notable wrestlers such as "The Big Show" and "Sheamus" and many others trained. He gained national recognition in the wrestling world as "Steve Cutler" in WWE, where he was a member of the faction, "The Forgotten Sons." That's also when he got involved with Hire Our Heroes USA, a nonprofit organization that helps Veterans find employment after their military service.
Kupryk later joined Impact, where he wrestled under the name "Steve Maclin," and won the Impact Heavyweight Championship on March 2023. Kupryk's wife, Deonna Purrazzo, also a wrestler, won the Impact Knockouts World Championship on the same night.
We honor his service.