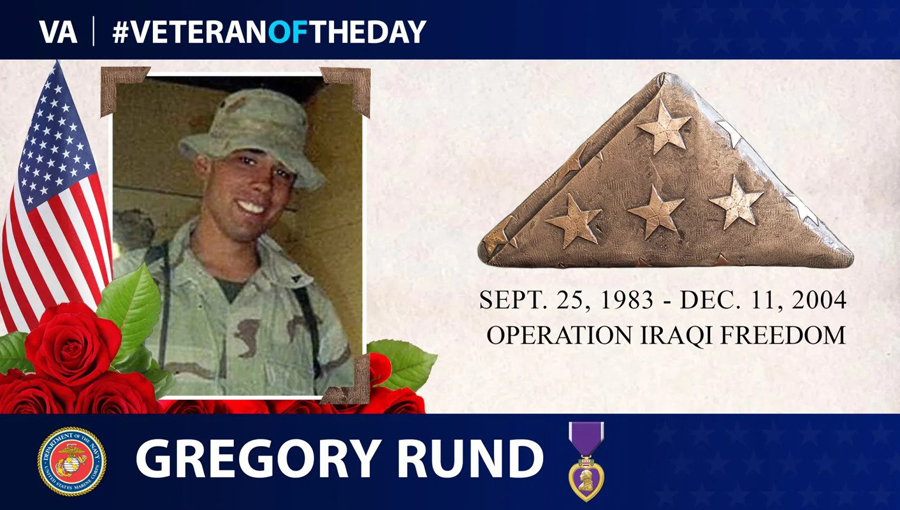 Gregory Rund was born on Sep. 25, 1983, in Denver, Colo., but was raised in Littleton. He was a freshman at Columbine High School when two teenage gunmen killed 13 of his classmates. He enjoyed sports and played on the Columbine High School football team that won a state championship his senior year. After the attacks on 9/11, he enlisted in the Marine Corps in November, but didn't attend recruit training until after graduating high school. He completed boot camp in October 2002, and from the School of Infantry in January 2003. He was then assigned to the "Fighting Fifth," the 3rd Battalion, 5th Marines, India Co, 2nd Platoon at Camp Pendleton, Calif.
Rund deployed to Iraq in 2004, his second tour there. On Dec. 11, his fire team entered a house, and they were immediately engaged in close quarter fighting and hand-to-hand combat. Rund provided covering fire while his team exited the building. He was mortally wounded by small arms fire and died shortly after, according to his memorial website. For his action on that day, he received a Bronze Star and a Purple Heart. He was 21-years old.
"He used to bring my newspapers and mail in," said neighbor Beverly Bell to the Associated Press in 2004. "He always had a big smile." Bell attended a block party in Rund's honor after his first deployment.
Lance Cpl. Gregory Rund was laid to rest at Fort Logan National Cemetery in Colorado.
We honor his service.