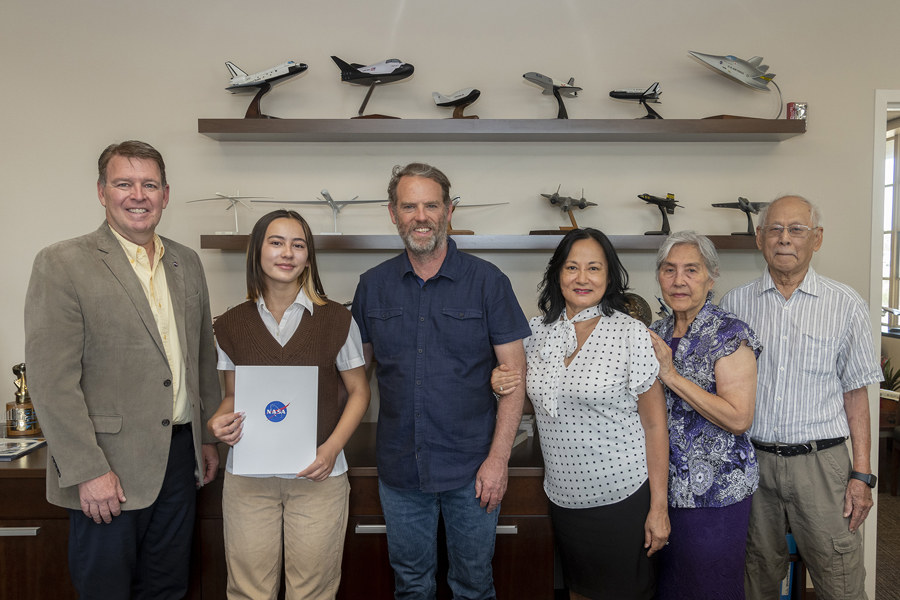 The NASA Armstrong Employee Exchange Council presented the 2023 Harold W. Walker Memorial Scholarship Award to Samantha Redifer on July 26, 2023.
Redifer is a 2023 graduate of Quartz Hill High School in Lancaster, Calif., who plans to major this fall in computer engineering at the University of California, Los Angeles. She earned a 4.0 grade-point average — a weighted GPA of 5.2 – and ranked eighth academically out of a class of 727 students.
The scholarship provides $2,000 per year for up to four years for attendance at a four-year college or university, provided the recipient maintains a minimum grade-point average of 3.0 or higher. Applicants for the annual scholarship must be high school seniors with a parent working at NASA Armstrong.
In addition, Redifer was one of the first from NASA Armstrong selected for the $2,000 a year, for up to $8,000, from the NASA College Scholarship Fund. The scholarship is awarded to NASA employee dependents planning to pursue a science, technology, engineering, or math degree.
Redifer is the daughter of Matthew Redifer, who is the center's X-59 aircraft deputy program manager for integration, and Saynne Redifer, of Palmdale, Calif.
Samantha Redifer posed with the Space Shuttle Endeavour on Sept. 21, 2012, on its host NASA 747 at NASA Armstrong during its stop at the center during its last flight.
It was that event that inspired the then elementary school student's engineering interest. Her father and generations of family engineers provide motivation and advice – do well in school, study hard, and make career and personal connections.
"I want to help guide our planet towards a sustainable future, maybe by working on making future transportation more environmentally friendly," she said. "Engineers can change the world, and I aim to become one of those engineers."
She is a valedictorian, an Advanced Placement Scholar with Distinction, a member of the National Honor Society, and earned California Scholarship Federation recognition. Redifer qualified and competed in California Interscholastic Federation golf events with her high school team for three years and was a key fundraiser. She is also involved in the school's robotics team and related activities.
"Even when she was in elementary school she was involved in science, engineering, and robotics," said Saynne Redifer.
As a member of the school's American Cancer Society Club, she helped raise funds to battle the disease. She volunteered to help with food distribution at the South Antelope Valley Emergency Services in Palmdale during summers, and for the Quartz Hill Chamber of Commerce Food Pantry she helped sort donations and deliver meals.
Matthew Redifer summed up one of his daughter's best qualities: "She has tenacity. If there is a problem she can't solve, or something she doesn't understand, she will put all of her effort into figuring it out."
The 2023 NASA Armstrong Exchange Scholarship is named for Walker, who was chief of the center's Aerodynamics Branch and was associated with the rocket-powered X-15 aircraft, the supersonic XB-70 experimental plane, lifting body aircraft, the supercritical wing plane, and the oblique wing aircraft.
The Exchange scholarships are named for five former NASA Armstrong employees, with honorees selected on a rotating basis. In addition to Walker, the other four people are Thomas Finch, a center engineer who specialized in stability and control; Joseph Vensel, a former director of Flight Operations; Joseph Walker, a chief test pilot; and John Russell, who led the rocket propulsion group. Scholarship funds are raised from council activities.