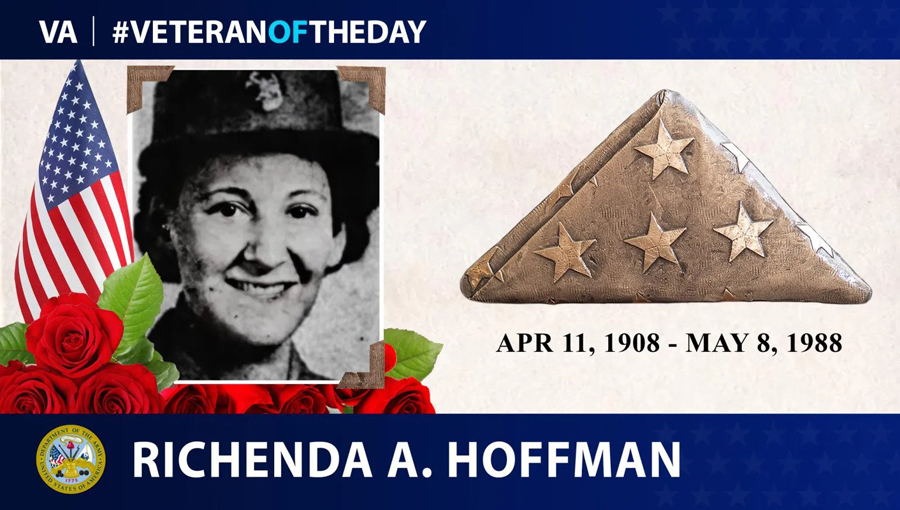 Richenda A. Hoffman was born April 11, 1908, in Dunkirk, N.Y. She was the third of four daughters born to L.N. and Lousia Gansworth. As a young adult, Hoffman worked at Petersen-Harned-Von Maur in Davenport, Iowa. In early 1943, she enlisted in the Women's Army Corps (WAC) and completed basic training at Fort Des Moines, Iowa, with further training at Fort Devens, Mass., and Fort Oglethorpe, Ga.
In July 1944, Hoffman reported that she had been assigned to work in North Africa to oversee what she called a "hospital for mail." The purpose of this "hospital" was to figure out how to get mail to soldiers stationed in the Mediterranean. Each day, she would sort through mail that could not be delivered and then work to determine a way to deliver it.
By August, Hoffman had been transferred to Italy to work with an army postal unit. While there, the WAC postal company was awarded a Meritorious Service Unit plaque for the unit's "superior performance of duty." In October 1945, at the rank of Technician Fifth Class in the WAC, Hoffman was honorably discharged.
Just shy of a year later, she re-enlisted with the rank of Technician Fifth Class, and soon left for Fort Snelling, Minn. In February 1947, Hoffman was assigned to the Army Air Forces and joined an Air WAC unit in Panama.
On March 4, 1950, she married Air Force Sgt. Joseph Hoffman. At this time, Richenda was working at the Pentagon in the Air Force personnel comptroller department. She continued to serve with the Air Force until her honorable discharge at the rank of sergeant in 1951.
In 1962, Hoffman began working as a clerk in the Scott County Recorder's office, where she stayed for several years. On May 8, 1988, she died at St. Luke's Hospital in Davenport, Iowa.
We honor her service.