Airmen from all five California Air National Guard wings came together at March Air Reserve Base and San Clemente Island for the Grizzly Flag exercise, demonstrating Agile Combat Employment at an austere location Sept. 6-12, 2023.
"We replicated a scenario where we are operating out of a main base and receive intel that we need to get out of the location quickly. The participants packed up and shipped out with everything necessary to set up and operate in an austere location," said Col. Aimee Howard, who served as the exercise's commander of the Air Expeditionary Wing.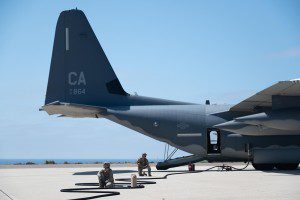 "The idea is to leave the hub, at March Air Reserve Base, and to operate at the spoke, San Clemente Island, without missing a heartbeat. This demonstrates our ability to keep the adversary moving and being unpredictable with where we are going," Howard said.
At San Clemente Island, Airmen established base operations, simulated a contested environment, refueled aircraft, created security perimeters, and completed training objectives across the spectrum of operations.
The 50-member contingent performed their Air Force Specialty Code duties and additional specialties, demonstrating their ability as multicapable Airmen.
Transportation professionals supported medical professionals and all Airmen supported civil engineering, building tents for lodging and space to operate.
As the United States continues to focus on the Indo-Pacific Region, California's Air National Guard units are positioned to defend the nation and meet any challenge.
"Defending the homeland is priority No. 1," said Brig. Gen. Steven Butow, commander of the California Air National Guard. "In this regard, Grizzly Flag was a first step toward exercising the agility of our Airmen in a realistic scenario that strengthens the California Air National Guard's contribution to our national defense."
The ability to operate among all five California ANG wings was demonstrated throughout. That interoperability was displayed when forward area refueling point (FARP) operations were completed with a C-130 and an MQ-9.
FARP is a skill in the petroleum, oils and lubrication career field where Airmen learn to refuel aircraft on the ground when air-to-air refueling is not possible, at austere locations in contested environments.
During the exercise, Airmen from the 335th Logistics Readiness Squadron on a C-130 completed FARP with Airmen from the 163d Attack Wing with an MQ-9.
"We know that the threat is coming with our near-peer adversaries, and we are ensuring we are maintaining a full level of readiness to keep the adversary thinking ó not today," said Howard.
"We will absolutely continue this kind of training. We are empowering our Airmen to think about ways they can solve problems. This prepares our Airmen to think about solving problems in a different way, in a field environment where they may not have all the tools they would expect," Howard said.
Medics from the 163d Medical Group trained others on the signs of cardiac arrest and how to manage it and resuscitate victims.
"The more people we have trained, the more lives we can save, whether it be in a civilian environment or while deployed," said Staff Sgt. Sean Strayer, a medic with the 163d Medical Group.
A fully functional communication system also needed to be established when exercise participants arrived.
"We set up communication fly-away kits to establish communication channels," said Staff Sgt. Jared Haux, 144th Communications Flight. "It was a challenge to set up our equipment at first. There was a learning curve, but once we got it down, we got it down pretty good."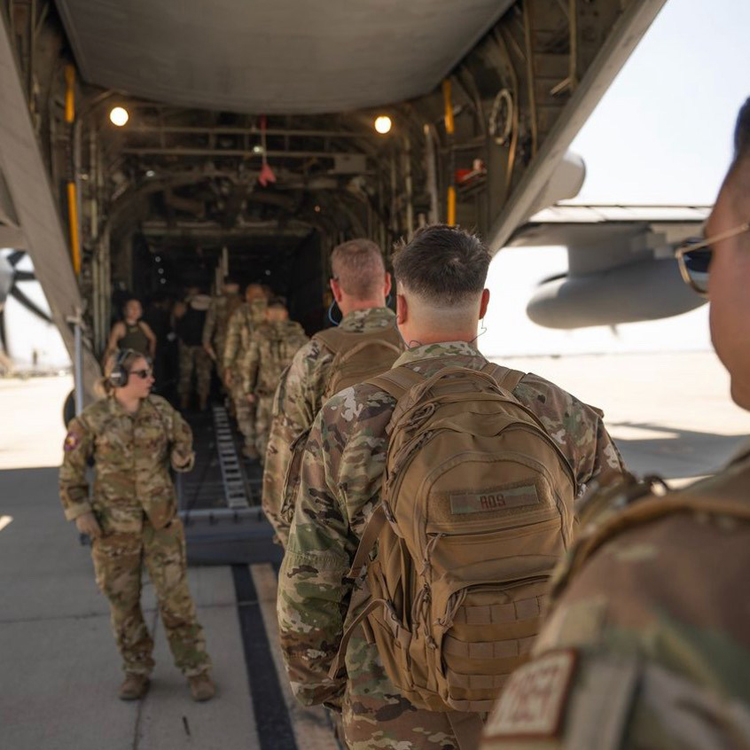 With communications established, Airmen like Haux were able to support other functions.
"I learned a lot outside of my career field," said Haux. "I learned a lot about the jobs and responsibilities of the civil engineers. I learned a lot about radio and radio frequencies. I even got to go into more of my own career field. This whole experience was pretty cool. I'm very interested to see how it progresses in the future."
Keeping the mission moving required providing food to participants as well.
"I'm used to cooking in a traditional dining facility," said Senior Airman David Valdez, 163d Force Support Squadron. "Being out here with limited resources and having to adapt and overcome was a challenge in itself."
The California ANG intends to complete a larger version of the exercise next year.
"The end result for me is everyone working as a team and learning the skill sets from other jobs, how important they are, and how they can add that skill into their own daily role," said Lt. Col. Scott McClellan, who served as the Air Expeditionary Squadron commander for the exercise. "Participants' attitudes have been incredible, work ethic was amazing, and everyone had a lean-forward mentality, striving to get the mission done."
Editor's note: Lt. Col. Tawny Dotson, Staff Sgt. Joseph Pagan, Master Sgt. Charles Vaughn, and Master Sgt. Dave Loeffler contributed to this report.