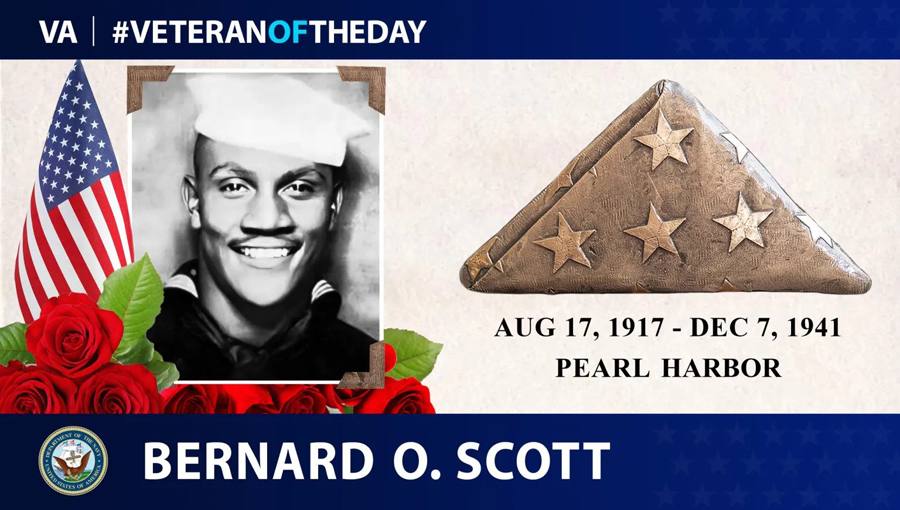 Bernard Oliver Scott was born on Aug. 17, 1917, the second of six children, in Richmond's Church Hill neighborhood, a community with a vibrant African American heritage. His father, Joseph Scott, worked in a tobacco factory and his mother Sadie was a chambermaid at a local hotel.
In 1936, Scott left Richmond to enlist in the Navy at 18. One year later, he joined the crew of the battleship Oklahoma as a Mess Attendant (this rank was later changed to Steward's Mate during World War II). He and other members of what was then known as the Messman Branch were responsible for serving officers, and they were comprised almost exclusively of Black sailors. In fact, white sailors were prohibited from serving in this branch.
Scott re-enlisted in 1940 and was still stationed aboard Oklahoma when it was struck by several torpedoes from the attack on Pearl Harbor. Almost immediately, the ship turned over. According to one survivor: "The manhole covers on the blisters had been removed to air them out in preparation for the inspection … and that was the reason the Oklahoma rolled over instead of sunk. As soon as she took the hits on the port side and started to list … the water just poured in and there was no way the damage control station could have counter flooded the ship to keep her on an even keel. She rolled over in about 10 minutes."
A total of 429 crew members died, Scott among them. His remains were returned home in 1947 and he was interred in the Richmond National Cemetery.
We honor his service.