The U.S. announced Sept. 21, 2023, it will send an additional security assistance package for Ukraine valued at up to $325 million as Ukrainian President Volodymyr Zelenskyy concluded his second visit to Washington since Russia launched its unprovoked invasion.
The package includes additional air defense equipment, artillery rounds, antitank weapons and other equipment to meet Ukraine's urgent needs on the battlefield to counter Russia's ongoing war of aggression.
President Joe Biden unveiled the aid package after meeting with Zelenskyy at the White House.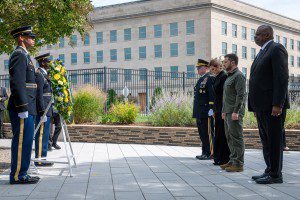 "We're committed to help Ukraine build a force capable of ensuring Ukraine's long-term security, capable of deterring future threats against sovereignty, territorial integrity and freedom, which are underway now," Biden said. "Because that's what this is all about — the future, the future of freedom. America can never, will never walk away from that."
The latest round of assistance marks the 47th drawdown of equipment from Defense Department inventories for Ukraine since August 2021 and reflects the United States' enduring commitment in the face of Russian aggression.
Zelenskyy's meeting with Biden capped the Ukrainian president's daylong tour through Washington, which also included discussions with lawmakers on Capitol Hill and a meeting with defense officials at the Pentagon.
In his remarks ahead of the closed-door meeting at the White House, Zelenskyy said that he came to Washington to "strengthen Ukraine's position to defend our children, our families, our homes, freedom and democracy in the world."
"It's good that our countries are really, truly allies," he said before expressing his appreciation for the "vital assistance provided by the United States to Ukraine to combat Russia['s] terrorism."
Earlier in the day, Secretary of Defense Lloyd J. Austin III reaffirmed the United States' unwavering support for Ukraine during his meeting with the Ukrainian president at the Pentagon.
The two discussed the outcome of the most recent meeting of more than 50 countries at the Ukraine Defense Contact Group in Germany earlier this week. Austin also provided Zelenskyy with an update on U.S. security assistance to meet Ukraine's most urgent battlefield needs.
"The secretary gave his personal commitment to work with our allies and partners to ensure they have what they need," said Pentagon Press Secretary Air Force Brig. Gen. Pat Ryder.
Describing the meeting as warm and engaging, Ryder said it also provided them with an opportunity to discuss Ukraine's longer term capability requirements "and how to support them in the future in terms of deterring Russia."