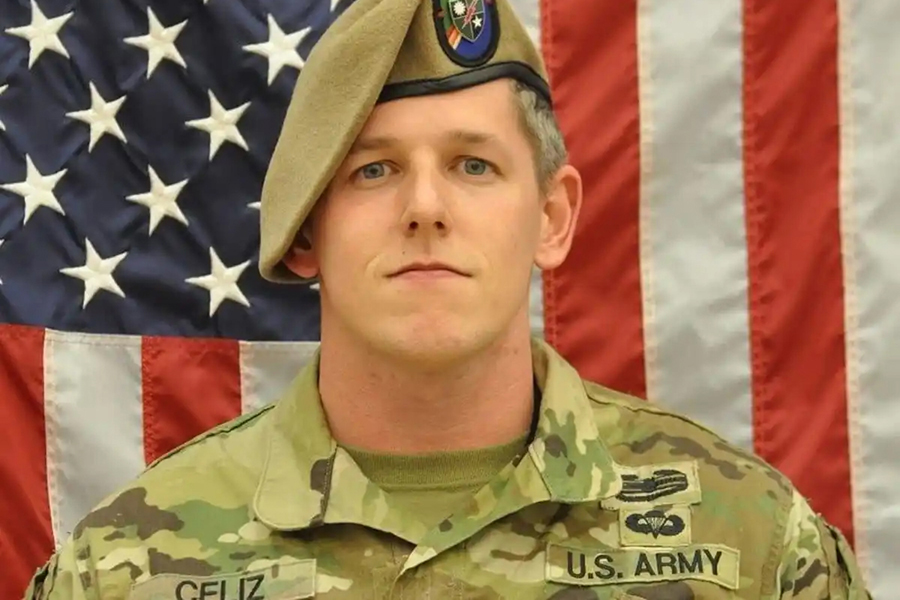 Army Sgt. 1st Class Christopher Andrew Celiz was known among his fellow Rangers to be selfless and determined, so it was no surprise when, during a firefight in Afghanistan, he gave his life to save others. That heroism earned him the Medal of Honor.
Celiz was born Jan. 12, 1986, in Summerville, S.C. He went to Summerville High School, where he took part in Junior ROTC and quickly earned a reputation as a natural-born leader. High school is also where he met his future wife, Katie, although she later told reporters that their paths didn't cross until both worked at a local grocery store.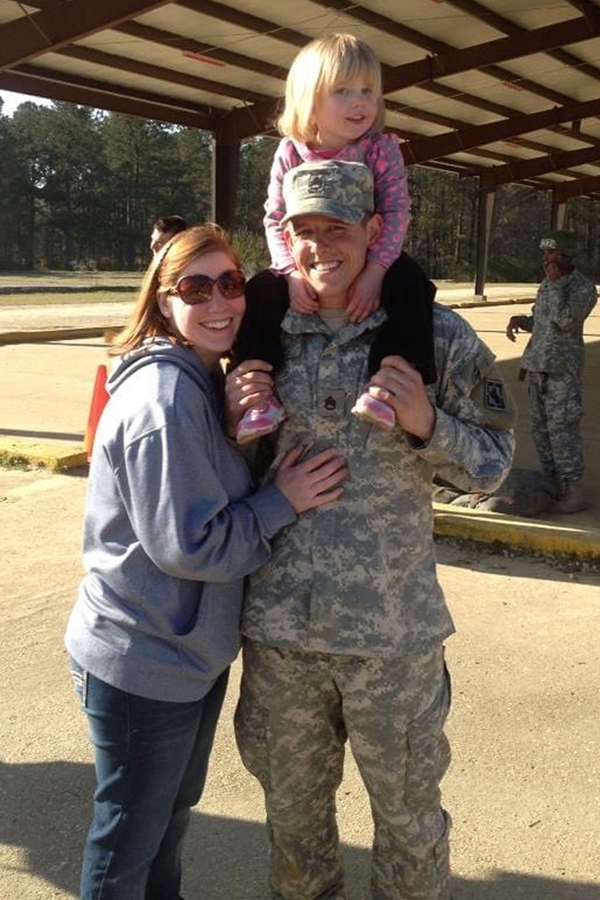 In 2004, Celiz attended the military college known as The Citadel. He stayed for about two years but left in good standing in 2006 to enlist in the Army.
A year later, he and his wife were married. At some point, the couple converted to Judaism. They also had a daughter, Shannon, in 2010. Celiz loved riding his Harley motorcycle and playing guitar. His wife said he loved to crack jokes and relished the time he got to spend with his family.
Celiz was selected to join the 75th Ranger Regiment in 2013, and by 2018, he'd deployed several times to both Iraq and Afghanistan. During those deployments, he was always inclusive of others and known to encourage camaraderie.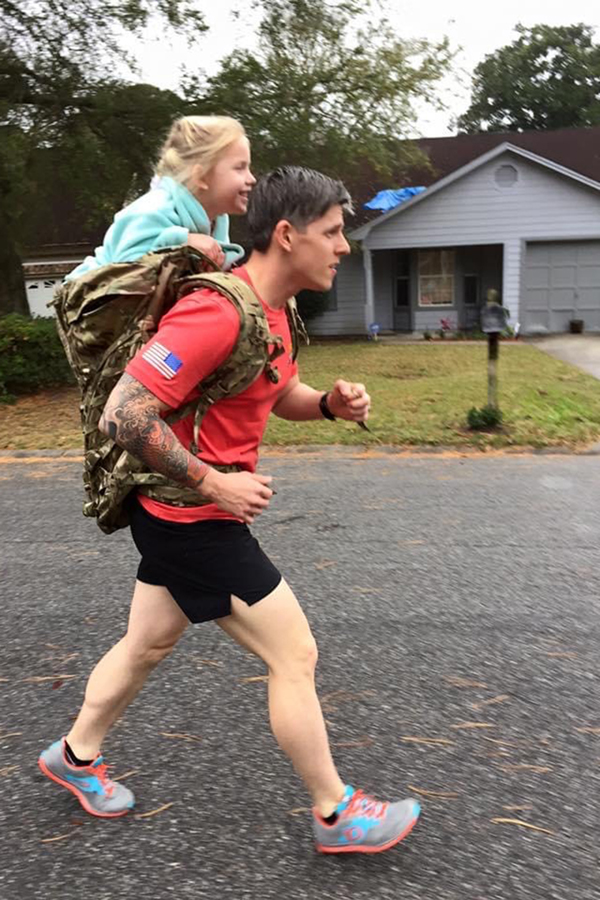 His selflessness was put to the ultimate test on July 12, 2018, when Celiz was leading a special purpose unit that included 1st Battalion Rangers and partner forces in Afghanistan. The unit was tasked with clearing an area of enemy forces in the Paktia Province to disrupt future attacks against allied forces and the Afghan government.
Around 5 a.m., as they came upon the ruins of an old storage shelter, at least 20 insurgents surrounded their convoy and attacked, critically wounding an ally on the team.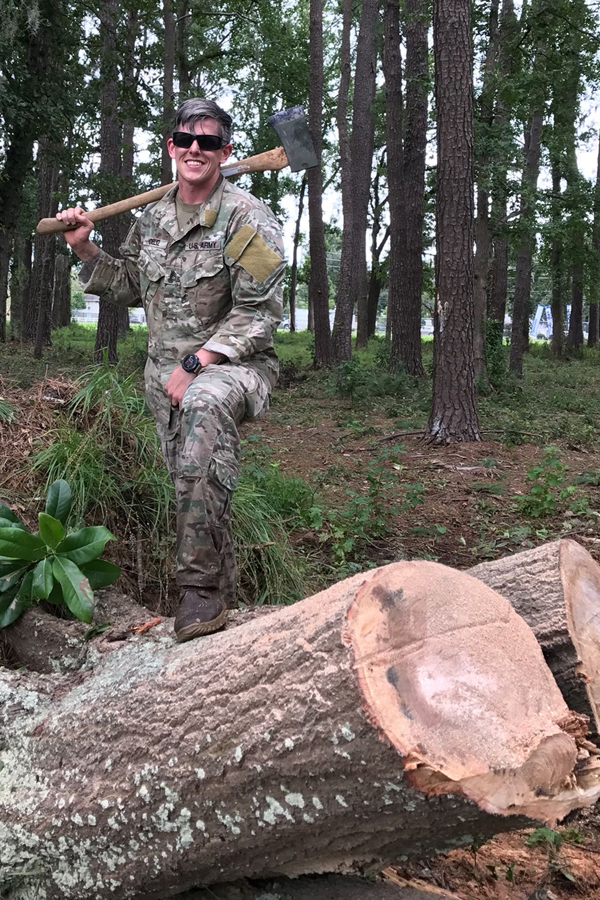 Celiz quickly sprang into action. He intentionally exposed himself to intense enemy fire so he could reach a heavy weapons system, which he turned on the enemy. With the help of his fellow soldiers, Celiz was able to clear a temporary path for his teammates to move their critically injured ally.
As a medical helicopter arrived, the enemy turned its fire to the air. Celiz knew how important it was to get their injured comrade onto the chopper, so he put himself between the evacuation team and the heavy insurgent gunfire.
"He really was selflessly body blocking that litter team and that helicopter crew as they were loading the casualty on the bird under a tremendous amount of fire," recalled 2nd Lt. Garrett White, who was part of the mission that day.
As soon as the injured ally was loaded into the helicopter, the carry team ran for cover, but Celiz stayed where he was to continue acting as a human shield and fire back at the enemy. It wasn't until the helicopter was back in the air that he tried to find cover for himself.
Unfortunately, that's when enemy fire hit Celiz in the chest. As he fell to the ground, he waved to the helicopter crew to get moving, knowing that if it remained, the chopper could crash, and more lives would be at risk.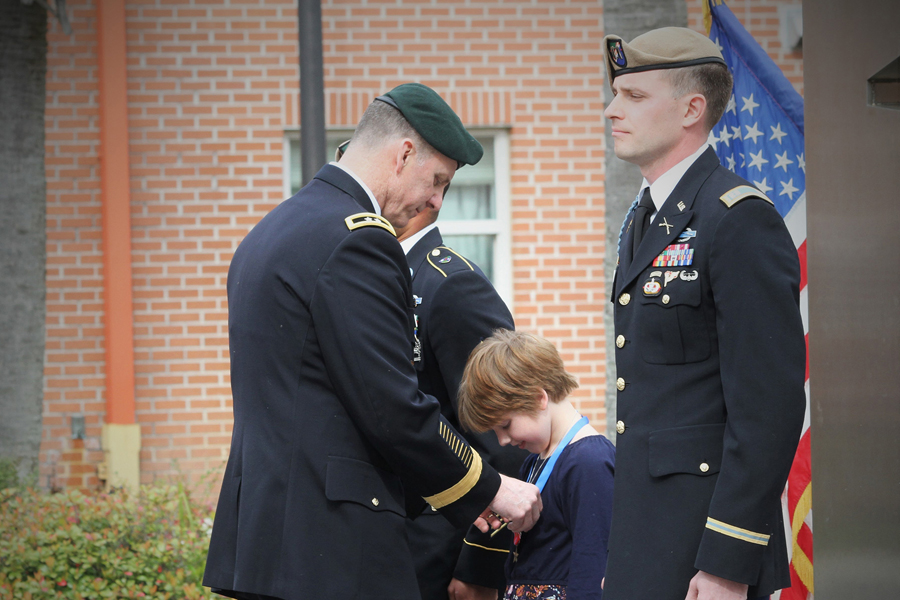 Reports said that Celiz tried to crawl toward his teammates, but he eventually stopped. When they were able to pull him out of range of the gunfire, they tried calling the helicopter back to collect Celiz, but it was too late. The 32-year-old died that day, but his actions saved the life of his injured comrade, and they likely helped prevent further casualties among his unit and the aircrew.
"He put himself last and everybody else first," White told the Army News Service.
Celiz's selflessness earned him the Medal of Honor, which his wife and daughter received on Dec. 16, 2021, from President Joe Biden during a White House ceremony.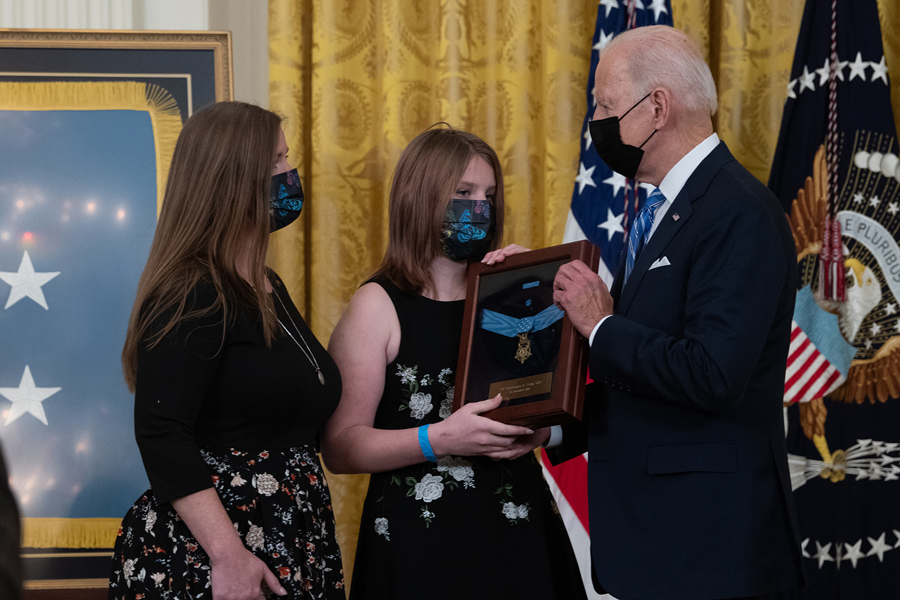 Celiz's memory continues to live on in his home state. On Veterans Day last year, The Citadel, which he attended but didn't graduate from, presented his family with a posthumous degree and a 2008 class ring.
"Chris was the guy who made everyone part of the team. His classmates wondered if he slept. All Citadel alumni knew 'go-to' guys in their company they could always count on. Chris was one of these in spades," said Citadel President Gen. Glenn Walters, a retired U.S. Marine, during the presentation. "He was, by all accounts, everything you wanted in a comrade and classmate."
Celiz's name was also added to The Citadel War Memorial in 2018.
Editor's note: Medal of Honor Monday highlights Medal of Honor recipients who have earned the U.S. military's highest medal for valor.