When Marine Corps 2nd Lt. Robert Dale Reem led his fellow Marines into battle in Korea, he did his best to protect them at all costs – a cost that ended up being his life. He sacrificed himself to save the men around him from a live grenade. That selflessness earned him a posthumous Medal of Honor.
Reem was born Oct. 20, 1925, in Lancaster, Penn., and grew up in nearby Elizabethtown. His parents were Harvey and Irma Reem, and he had three sisters and two brothers. One brother, William, served in World War II and survived the Battle of the Bulge. The second, Harvey III, served with the occupying Army post-World War II.
Reem went to Elizabethtown High School, where he was an outstanding athlete who played football, basketball and baseball. He also spent a portion of his senior year as a page for the state House of Representatives.
His family said he'd always showed an interest in the military, so after graduation in 1943, he joined the Marine Corps. Once he'd completed his training, Reem received an appointment to the U.S. Naval Academy, which he graduated from in June 1948, earning a commission as a second lieutenant.
In April 1949, he married Donna Zimmerli, who was the daughter of a Naval Academy professor.
Reem was sent to the Mediterranean with the 2nd Marine Division in December 1949. But, by the summer of 1950, he was redirected to the Pacific, where he eventually joined the 3rd Battalion, 7th Marines, 1st Marine Division in Korea as conflict there was heating up. His battalion fought during the landings in Inchon and the capture of Seoul, where Reem suffered an injury that required hospitalization, according to an article in the Elizabethtown Chronicle.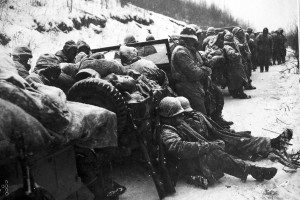 By fall 1950, the 7th Marine Regiment had been ordered to march its way north in an attempt to push enemy forces into China.  They were headed toward the Chosin Reservoir, where one of the most brutal, frigid battles of the war would soon play out.
Before they go there, though, Reem's unit encountered a lot of fighting along the way. On Nov. 6, 1950, Reem was the platoon commander of Company H, which had been tasked with dislodging several enemy infantry units hidden behind well-fortified positions on a ridge near Chinhung-Ni, Korea. Reem moved slowly up the side of the ridge with his platoon but was forced back three times by a hail of machine gun, grenade and rifle fire.
When they got pinned down, Reem managed to rally his men for a fourth attempt, even though they were depleted and disorganized by this time. Just as they were prepared to attack, however, an enemy grenade landed right where the group was standing. Without hesitating, Reem threw himself on top of it to protect others from harm. In doing so, he gave his life, absorbing the full impact of the explosion.
Reem's sacrifice helped his fellow Marines push forward and continue the fight. The effort by the 7th Marines during that time gave the regiment the distinction of being the first American military unit to defeat the Chinese communists in battle.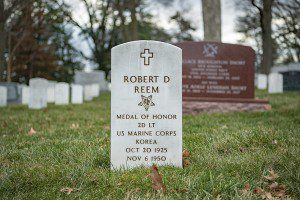 Reem was initially buried in a United Nations cemetery in North Korea; however, his remains were eventually returned to the U.S., and he was buried with full honors at Arlington National Cemetery.
On Feb. 8, 1952, Reem's widow received the Medal of Honor on his behalf from Pentagon officials at a ceremony in Washington, D.C. That medal was later donated to the U.S. Naval Academy Museum.
Reem has not been forgotten. In the 1970s, memorials were set up honoring him at a public library and a community park in his hometown. He's also been honored in many ways at his alma mater, the Naval Academy.
Editor's note: Medal of Honor Monday highlights Medal of Honor recipients who have earned the U.S. military's highest medal for valor.