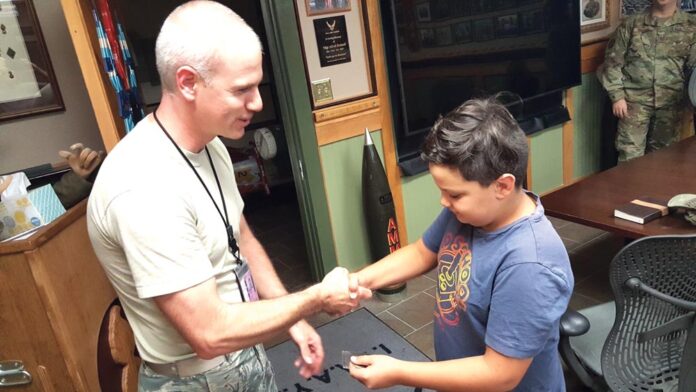 In February 1974, Happy Days, Cannon, and Police Story were popular television shows; Richard Nixon was in the final months of his presidency and the Miami Dolphins were the Super Bowl champions.
During the same month, a young man began a 22-year career in the Air Force as a munitions maintenance specialist.
Meet James Caufield, whose career took him to numerous areas in the Far East and a few duty locations in the United States, including three stops at Luke Air Force Base. He retired with the rank of senior master sergeant.
Caufield, a Minot, North Dakota, native, began his career at Nellis AFB, Nevada, and the subsequent years took him to Korat Royal Air Base, Thailand; and Clark AB, Philippines. His first stop at Luke was from 1979-83. Then it was on to Suwon AB, South Korea, and back to Luke for nine years. A year at Osan AB, South Korea, and a final stop at Luke would wrap up his career.
An event early in Caufield's career is one he considers a highlight.
"While conducting my first certified operation in early 1975, I was loading Mark 24 flares into a SUU 30 dispenser," he said. "There are two flares loaded per tube with a total of four tubes. The process is to put one flare and then to attach plastic adapters and lanyards connecting the first and second flares. As I was loading the second flare, it popped off the adapter and fell.
"I was holding the other end and the fall pulled the lanyard, launching the flare into the building. Our crew remained poised as we fought the fire, which we were able to get it out of the building into a ditch where it burned out as the base fire department arrived. After-action reports resulted in new procedures being installed."
This event resulted in an article in Airman Magazine.
What's more, Caufield's career included attending and graduating from the NCO Academy, Norton AFB, California; NCO Leadership School, Luke AFB, and the Air Force Combat Ammunition Center Combat Ammunition Planning and Production course, Sierra Army Depot, California. He also completed a Senior NCO Academy correspondence course.
Caufield said he had two assignments outside the munitions field, including one during his last tour at Luke.
"I was selected as the NCO in charge of combat plans and mobility for the deputy commander of the maintenance staff," he said. "Upon returning from Osan AB, I was asked to return to the plans function, but this time working for the wing commander as the NCO in charge of wing plans. Our office wrote, reviewed and updated all wing plans to prepare the wing to meet all operational plans or orders we were tasked under."
Caufield, a Peoria resident, didn't slow down after retirement. His three daughters, seven grandchildren and three great grandchildren keep him and his wife Emma busy and promise to keep his military legacy going. One of his daughters served a tour in the Army and his youngest grandson, Connor Casterella, 10, had a special surprise for his grandfather.
Caufield had a profound experience with Connor during a trip to Del Mar Beach at Camp Pendleton, California.
"While there, Connor stated to me that he wanted to be an Ammo troop as I was for 22 years," he said. "I was floored and overcome with emotion at the time, but encouraged him with a smile and high five."
The following week, he planned a trip with Connor to Luke AFB Munitions where Caufield had served three tours.
"I contacted Staff Sgt. Dereck Miller and asked him how I could make it happen," he said. "Sergeant Miller gave me a contact number and soon afterward I took my grandson to the Munitions Storage area," he said.
As fate would have it, Caufield took Connor to the Munitions Storage Area and noticed Staff Sgt. John Howe, who by coincidence had been Caufield's physical therapist after several orthopedic surgeries.
"I asked Sergeant Howe to show my grandson the Heritage Room, which is a large conference room filled with pictures, mementos, trophies, static munitions and numerous coins embedded in a railing around the room."
The highlights of Connor's visit was when Sergeant Howe presented him an Ammo Challenge coin.
"I said to Connor, if you want to be an Ammo troop, you have to have an Ammo coin," Caufield said. "At that moment Sergeant Howe presented it to my grandson."
Caufield said the coin presentation left a lasting impression on Connor as well as him.
"When we got home, I showed him all of my coins and gave him pins, decals, patches and other mementos," he said. "At the end of day I asked him what was the best part of the day and without hesitation Connor said getting the coin."
Caufield sent kudos to Sergeant Howe and Munitions Flight.
Another part of his legacy was starting the Western Ammo Bowl Softball Tournament in 1985. It is a slow-pitch tournament exclusively for ammo and endures to this day.
In all, Caufield has left his mark of hard work and dedication on the munitions field, Luke Air Force Base and the Air Force.