Luke Air Force Base, Ariz., has earned the Platinum Healthy Arizona Worksite Program award for their implementation of programs that help promote healthy lifestyles and worksites.
Arizona Department of Health Services presented the award to 130 corporations state-wide, Luke won two Platinum awards back-to-back. Corporations and businesses that have worksite wellness programs in place are eligible for the award.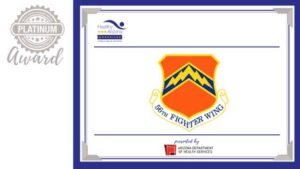 "When we apply for the award, we complete the Centers for Disease Control Worksite Health Scorecard that assesses how evidence-based health promotion strategies are implemented at a worksite," said Esther Bustamante, 56th Operational Medical Readiness Squadron health promotion dietitian. "In our case, the worksite is Luke as a whole because our programs touch everyone base-wide."
The strategies include health-promoting programs, policies, environmental supports, health plan benefits and other worksite programs shown to be effective in improving health and well-being, said Bustamante.
Luke AFB was graded on organizational support, tobacco control, nutrition control, stress management, physical activity and more.
Based on the score earned, Luke qualified for the Gold award, but set itself apart by working with Project Search for a community wellness project and earned the Platinum award — two years in a row.
Luke earned the Gold award in 2017 and the Platinum award in 2018 and 2019.
"It's a positive reflection on our community," said Tech Sgt. Michael Price, 56th OMRS force health management element noncommissioned officer in charge. "Winning three years in a row shows our continued efforts working with Airmen across Luke AFB and improving programs based on areas that need more focus. It also shows that our most important asset is our people and we are providing programs to continuously support them."
The health programs in place aim to affect Luke AFB members in a positive way.
"Our health promotion programs provide knowledge, insight and useful tools for our Airmen to improve healthy living and lifestyle choices," said Price. "This directly translates to a healthier Airman being able to produce at a higher level in the work center and towards the mission."
Luke is an example of how healthy worksites produce healthy environments.
"We're just continuing the health programs that have been in place," said Bustamante. "We're going to continue to strive for this and see where we can make some improvements, because you can always improve."