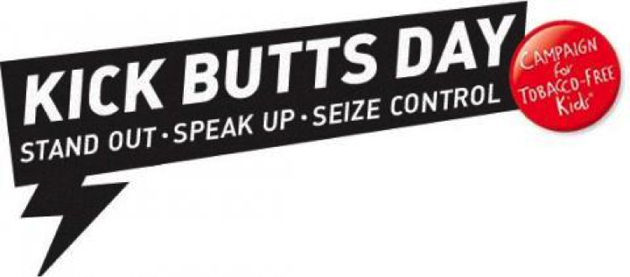 FALLS CHURCH, Va. — Young people nationwide stand out, speak up and seize control against Big Tobacco on Kick Butts Day, a national day of youth activism. Advocates, teachers and community leaders organize events on Kick Butts Day that empower youth to spread word about tobacco use, the leading cause of preventable death in the United States that kills nearly half a million Americans each year. This year's Kick Butts Day will be held on March 16, 2016, and marks the 21st year for this annual day of activism.
More than 1,000 events took place across the United States and on military bases last year, with 182 registered military events.  In 2015, the Coast Guard hosted 60 events at Coast Guard Exchanges in 22 different states over the course of Kick Butts Day week in which active duty and retired members of the Coast Guard and their families signed a pledge card to "Quit or Commit not to use Tobacco." They then received a coupon for $5 off a purchase of $20 or more for use at their local Coast Guard Exchange. The signed pledge cards were posted inside the CGX store to create a pledge wall. Photos of the wall of signed pledge cards were posted to the CGX Facebook page. 
To help make this year's Kick Butts Day even bigger by hosting more events, visit the Kick Butts Day Activities Database at http://www.kickbuttsday.org/search-activities and search for "easy and quick events" to plan an easy, fun and engaging Kick Butts Day celebration. 
New this year to Kick Butts Day is the #iKickButts campaign. Tobacco control advocates and youth nationwide are asked to tell why and how they're helping to end the tobacco epidemic and make the next generation tobacco-free. Whether it's advocating for an increase in a state's cigarette tax, working on a local smoke-free law, encouraging a loved one to quit smoking or educating others on the deadly consequences of tobacco use, everyone has a story. Participants can use the #iKickButts generator to create a statement visualizing why they "kick butts" and share their story on Twitter, Facebook and Instagram with the hashtag #iKickButts.   
Kick Butts Day is a welcome addition to Operation Live Well (OLW) and Quit Tobacco – UCanQuit2.org's anti-tobacco efforts, https://ucanquit2.org, which have included the Great American Spit Out, https://ucanquit2.org/Events/2016/GASPO.aspx, World No Tobacco Day, https://ucanquit2.org/Events/2015/WNTD.aspx, the Great American Smoke Out, https://ucanquit2.org/Events/2015/GASO15.aspx, Fight the Enemy anti-tobacco video contest for teens, http://health.mil/fighttheenemy, and tXtobacco texting trivia contest.
Operation Live Well, which supports the National Prevention Strategy, promotes the health, resiliency, and readiness of Service members and their families. 
Quit Tobacco – UCanQuit2.org is an educational campaign for the U.S. military that provides tobacco cessation support.  Their comprehensive website provides many resources and tools to help smokers quit, including support to create a personalized quit plan and live chat support.
If you're interested in planning a Kick Butts Day event, get started at http://www.kickbuttsday.org.