FORT IRWIN, Calif. ­— The 11th Armored Cavalry Regiment takes pride in replicating emerging trends and technologies that our near peer adversaries employ on the battlefield in order to better prepare Brigade Combat Teams for combat.
The latest in these efforts is the Regiment's drone program. The Regiment has the capability to launch a swarm of 50 drones capable of carrying an eight-pound payload, conduct reconnaissance and deploy chemical munitions. The Blackhorse Drone Program's purpose in the Regimental Headquarters and Headquarters Troop, Regimental Support Squadron, 11th ACR, is to replicate a near-peer threat to provide each Rotational Training Unit experience against enemy drone tactics, techniques and procedures before engaging drones on future battlefields.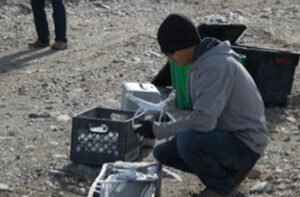 The drone devices used in the program are state-of-the-art devices that have about 28 minutes of flight time, along with relaying live footage back to the user during the mission.
The program has three different courses: intermediate, advanced and master. The intermediate course is the first course where Troopers in training fly the drones for ten test hours and earn their certification for flying. The advanced course is for certified pilots to get more experience by logging ten more test flight hours. The master course is for pilots who have completed the intermediate and advanced courses, flown drones for over thirty flight hours outside of a classroom setting. This course allows them to coach others through the previous courses. These courses take place in various locations throughout the National Training Center.
Although there are other units who have accessibility to these drones, most units have devices known as "Drone Busters" an electronic warfare system that allows the Rotational Training Unit to successfully deter the Blackhorse drone reconnaissance efforts.
As of December 2019, the 11th ACR Drone Team has successfully eliminated more than 70, tracked vehicles and over 200 rotational training unite (RTU) soldiers during their missions against the rotational training units throughout the National Training Center. This program is designed to take a Trooper with no drone experience and to build up their experience through the various course to produce a drone pilot that is able to fly against the rotational training units as they maneuver through the National Training Center.