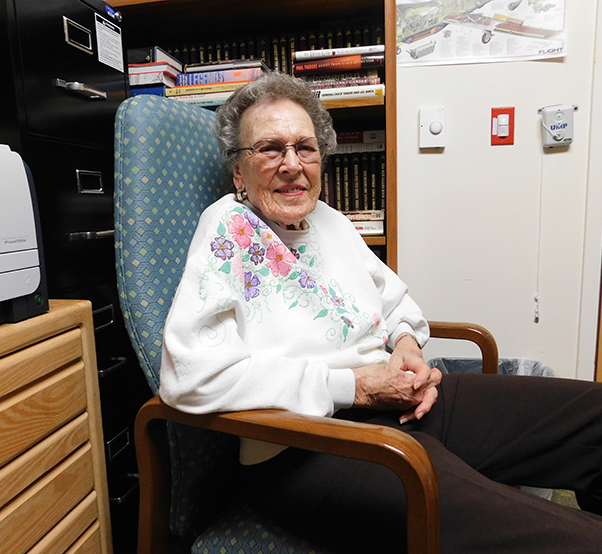 Born and raised in a small border town back in the late 1920s, life in San Ysidro, Calif., didn't offer much excitement for someone young and filled with a spirit of adventure, so Syble Josephine Prather-Winn did what any adventuresome young woman would, she packed her dreams of world travel and joined the U.S. Air Force.
It was 1951, North Korea had invaded South Korea the year before and that war was raging on, but destiny had other plans for Winn.
"I was sent to Kelly Air Force Base in San Antonio, Texas, for basic training," she recalls. At 24, Winn (then Josephine Prather), who prefers to be addressed as "Jo" had her first taste of travel.
"It was nice," she says about the base and the new surroundings so far from home. Though not much on words, the sparkle in Jo's eyes spoke volumes of the joy she felt for what the Air Force life was about to offer.
Jo found that most of the women in her outfit were younger, "Many of them joined right after high school," she said. Jo excelled in basic training and attributes that to being older. "Most of the young girls didn't even know how to make a bed," she smiles and says many of them suffered strong bouts of homesickness.
But not Jo, she looked forward to exploring the new surroundings and experiencing what was to come next.
Kelly, she says, was a base for training pilots, however, learning to fly was not Jo's goal, "No I'm just a pencil pusher," she grins.
So Jo began her military life by signing up for a comptroller course and thus began a career in finance.
After basic training Jo was sent to tech school in Denver, Colo., and from there on to Bolling Air Force Base in Washington, D.C.
Then one day as she was packing her duffel bag for a flight to Germany, her dreams of travel had become a reality beyond her grandest expectations. "I was about to see Europe and places that normally I would have only dreamed of."
Jo was shipped to Erding Air Base, a supply base in Erding, Germany. She worked there in accounting keeping books, and says her fondest memory of Europe is that is where she met the love of her life and later married.
"His name was Russell Winn Jr. and he was my supervisor." That, however, caused a problem for the young couple, military rules would not allow a husband and wife team in the same outfit, and so after two years and eight months, Airman 1st Class Syble Josephine Winn became a civilian.
Her husband stayed in the Air Force and went on to serve another 24 years on active duty. Once stationed permanently in the States the couple started their family.
"I have a daughter, Dorothy, who lives in Virginia, a son Russell, III who lives in Oregon and my son Henry lives here in town. Jo's husband passed away in 1990.
Jo is the newest resident at the William J "Pete" Knight Veterans Home in Lancaster, Calif., having moved in only 2 months ago.
"I waited about a year for an opening and I'm finally here," she said.
Jo is enjoying her stay at the veterans' home and says she's not been there long enough to have found her "BFF," but says she has met some enjoyable acquaintances and raves about the staff.
"They [staff] can't do enough for you, they're very polite," she says. She says the home offers a wide variety of things to do and places to go and she intends to take part in most of it.
Syble Josephine Prather Winn will be celebrating her 90th birthday come December and the staff at Aerotech News and Review wish her a happiest of birthdays and a very Merry Christmas.