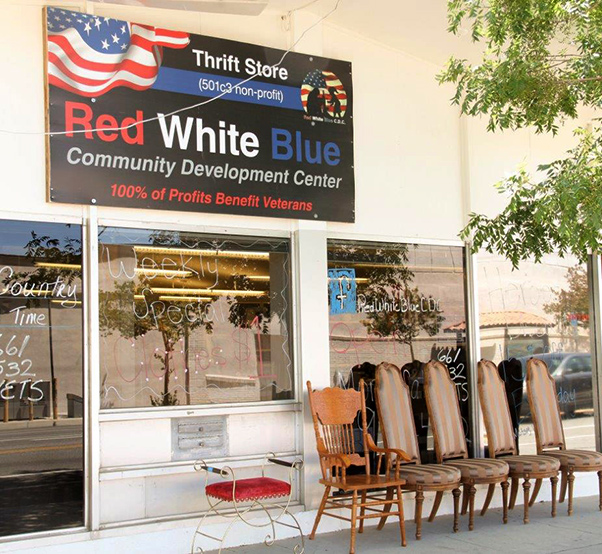 It may be a little easier to go through your home and garage when you know you are donating your haven't-really-needed-that-in-a-while treasures to benefit veterans. How many lamps, coats and blankets do you really need in a closet? Red White Blue Community Development Center Thrift Store is always accepting donations.
Jessica Baptiste enjoyed treasure hunting at the store and noticed they needed help, so she became a volunteer and is now a manager.
"It's a great place to work, it's like a big family here," said Baptiste. "I meet very cool people every day who donate and buy nice things at crazy, thrift store prices. It's fun to see them find something special."
All veterans, firemen and police receive a 15 percent discount, plus 100 percent of the proceeds help to provide practical needs for veterans and their families.
The store opened eight years ago but recently relocated to 42018 50th St. West, Quartz Hill — just north of Avenue M.
Owned by a wounded warrior who wanted to start a business to help other veterans, the shop tries to hire veterans and help in practical ways.
"We have specials every day, it's a fun place to shop and the bigger the turnover, the more people we can help," said Baptiste.
The store also gives out holiday gift baskets to veterans in need and can help shop for that special someone for any occasion. Currently, they are helping a veteran and his family with hotel vouchers while they are looking for a home and several other veterans with utility bills. "Sometimes people just need a little help to make it through a rough patch — that is why we are here."
Friends Terri and Kristi look mostly for plates to make glass garden flowers. Terri also likes to shop for clothes because at her age, she said she doesn't need furniture but appreciates a bargain on nice clothes.
"I really don't need anything at a mall, I can find everything right here," she says while picking out a blouse and a few small stainless steel containers to build an outdoor robot. A definite score for the retired NASA graphic artist whose husband served in Vietnam. "It is nice to come to a place like this because you know it is helping our veterans."