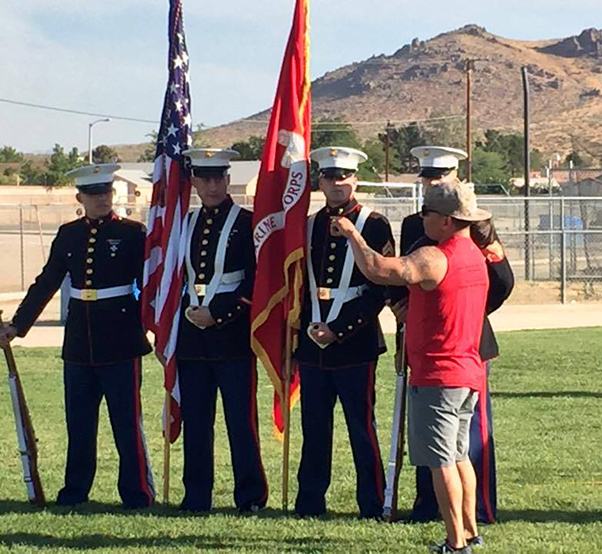 Joseph was born Joseph Lopez, but people who loved him knew him as Joey.
Since early childhood, Joey recognized his "step" family, as his authentic family, and that is how he came to be known as Joey Lopez-Pratti. Arthur Pratti Jr. became his real brother, and Art Pratti Sr. became his dad, a real dad.
Tracy Pratti was always his mom, and remains his mom today.
The young man had an unnervingly bright smile. Pure joy, with just the least hint of boyish mischief. In the Marines, the dreaded "boot photo," usually in dress blues, requires a grim expression. All of Joey's other photos displayed that winning grin.
His last message, through Art Pratti, the guy he knew as dad, was to his mom, via text.
It went like this: "Hey dad, I'm flying out of Leatherneck tonight to my area of operation, so this is the last time I'll be texting you.
"I have been reading the Bible every day, and talking to God every day, and it's been helping me a lot, so far. If for some reason something happens to me and I don't come home, make sure mom understands I have a relationship with God now, and I'm OK. I love you dad."
Then, Lance Cpl. Joey Lopez-Pratti, aged 26, was gone.
Joey was one of 25 Marines from the 3rd Battalion, 5th Marines — known as the "Darkhorse Regiment" — who were killed in a deployment to Afghanistan in 2010-2011.
That deployment was just about the highest-casualty tour of combat duty for Marines of the Afghan war that has now been running for nearly 16 years. It got so bloody that Marine veteran author, correspondent and combat commander Bing West wrote a heartbreaking book about it called "A Million Steps."
At 26, Joey was a few years the elder of many of the Marines who deployed with 3/5, and was considered a little more mature, and a steady hand with a heavy weapon, the M-240 Squad Automatic Weapon. He was a "SAW gunner," an essential in an infantry unit.
Joey volunteered for the infantry, as his brother noted, because he was a kind "blue collar guy" who liked to get things done. The Marines was the place where he found his niche.
On June 3, the Joey Lopez-Pratti 5K event re-emerged, like Brigadoon, in the hill country above the Mojave Desert suburban town of Rosamond.
The event is dedicated to the memory of Joey and his friends from "Darkhorse." It was the 6th annual running of what has become an annual event in Rosamond, the Joey Lopez-Pratti Memorial 5K, run in the foothills above the desert bedroom community near Edwards Air Force Base, Calif.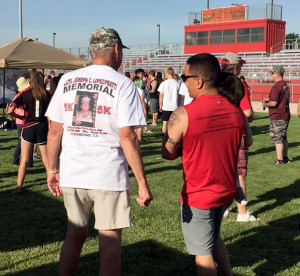 "We are still doing it, and it gets better, and we keep making it better every year," said Joey's dad, Art Pratti Sr., who raised Joey from childhood, and well into his 50s, makes the run with the determined effort of a man in his 50s.
A Marine honor guard from Edwards Air Force Base presented the colors, before a gathering of hundreds of runners in shorts, and spandex. Many wore the memorial t-shirts of the event, and branch of service ball caps were dotted in the crowd.
Joey's brother and father shared the motto of the 5th Marine Regiment, a storied unit that earned its colors, and global renown, from Belleau Wood in World War I France, through Vietnam, up to the present moment.
The unit's motto is "Get Some!" Brother Marines, veterans and Marines from Joey's unit at Camp Pendleton show up annually for the run.
Some were teenagers when they deployed, and some now are entering their early 30s, having walked millions of steps since that fatal deployment, which was an effort to pacify a Taliban-infested region of the mountainous nation that once hosted Osama Bin Laden during the planning phases of the Sept. 11 attacks on America and the world.
Pastor Charlie Wallis was Joey's youth minister, and was instrumental in starting the Memorial 5K that bear's Joey's name. He also is an Army veteran a cheerleader at the beginning of the race, urging everyone to shout out a throaty "Get Some!" and is at the finish line encouraging runners – or walkers – as they run for their times.
Whether you come in at a huffing, panting competitive run – or a leisurely stride – Wallis is there, "Good job! Finish strong! Good effort!"
"He has been such a blessing to our family," Arthur Pratti said of Pastor Wallis. "We would never be able to do this without him. Jin Hur and Pastor Charlie are amazing people who do so much."
Strong finish, flowing from a strong start, with many of the runners repeating the experience as an annual ritual.
At the end of the race, volunteers from Antelope Valley's Crazy Otto's are grilling breakfast burritos to raise funds. In recent years, the fundraising has gone to Youth For Christ, which was Joey's youth group. Also, to raise funds for a project called the Darkhorse Lodge, a non-profit formed by family of Lance Cpl. Alec E. Catherwood, who like Joey, was killed in the lethal ambush of Oct. 14, 2010.
Catherwood's family, who reside in Paris, Tenn., aspire to build a 25-cabin lakeside resort with each cabin named for one of the 25 Marines killed from 3/5, the "Darkhorse Lodge" a place for "men and women to gather and talk with others "who have walked in ther boots."
On Oct. 14, 2010, Joey's unit was heavily engaged in a nightmarish enfilade of automatic weapons fire interspersed with the detonations of Improvised Explosive Devices set by the Taliban fighters that dominated Helmand Province in Afghanistan.
Diner owner Jin Hur's son, Marine Cpl. Richard Hur, served with Joey in the 3/5 during the bloody "Million Steps" deployment, so named because the unit took a million steps on foot, fighting in the brutally contested Helmand Province.
Jin Hur, a marathon runner, and his friend, Army paratrooper veteran Juan Blanco, were out working the grill again on Saturday with volunteers from Crazy Otto's.
The strains of the Star Spangled Banner rippled across the tide of a couple of hundred participants.
The battle cry "Get Some!" shuttled through the crowd at the start line behind Rosamond High School, and hundreds were off and running toward the foothills that Joey Lopez-Pratti loved to run in, humping a ruck sack, in preparation for his entry into the Marine Corps in March 2009.
Walking or running in the Joey Lopez 5K can be something of a spiritual experience. I have run the race, and walked it. I have been passed by younger — and older — runners. I have walked the course with a Vietnam veteran brother, and been left in the dust panting by Marine veteran Dalia Sanchez, who went on to be a National Guard company commander in Afghanistan and now counsels veterans with mental health issues.
It is always beautiful to see everyone gathering by the flags, and pennants, and honor guard, early on a Saturday morning before the heat rises, and the sun is bouncing its rays of the pinks and browns of the soil and rock formations above Rosamond, the foothills where a fine young man ran, preparing for the challenge of his lifetime.
Joey's ordeal, his fate, and his rendezvous with destiny, are memorialized on State Highway 14, that portion of the Antelope Valley Freeway that threads past the hills of Rosamond. Erected with volunteer funds and authorized by legislation, the big highway sign commemorates the Joey Lopez-Pratti Memorial Highway and his brothers of the 3/5 Darkhorse Regiment who were killed in Helmand Province in America's longest war.
The spirit of Joey is alive and running still in the brown and pink foothills above Rosamond.