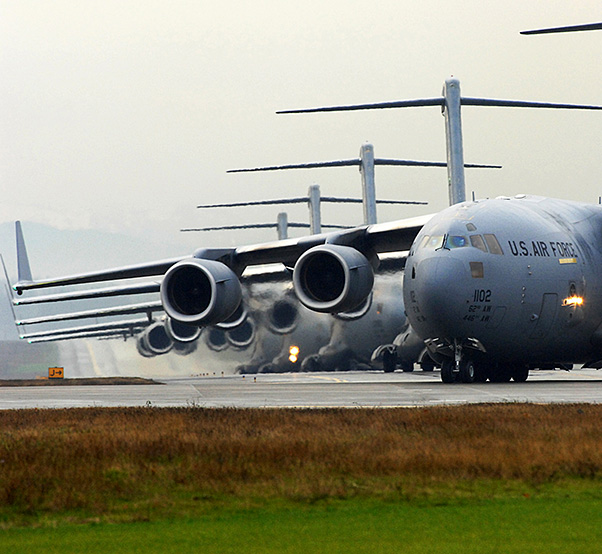 Personnel from the 305th Air Mobility Wing, U.S. Air Force leaders and Boeing representatives hosted the C-17 Globemaster III Enterprise Home Station Check Lean Event at Joint Base McGuire-Dix-Lakehurst, N.J., June 18.
The Air Force-wide enterprise event brought together everyone affiliated with the C-17 missions and worked to minimize the time frame for the aircraft's home station check process, which is a required scheduled inspection. All participants who attended worked to streamline and lean out productivity issues.
"The C-17 is important as it focuses on humanitarian missions, as well as contingency response or training missions for other partners in the reserve units as well as active duty, and of course, the combative posture and presidential support it provides," said Air Force Staff Sgt. Peter Gonzalez, 305th Maintenance Group representative. "It's important that we make sure that there is no room for error and that the aircraft meets its requirements for the missions."
Showcasing the C-17's global reach, the event also consisted of global aviation partners from the United Kingdom, Australia, Canada and Hungary.
"We usually only see what we do instead of what others do, but after attending this event and meeting different units, everyone has come to a final consensus with an action plan that works for all," said Royal Canadian air force warrant officer Scott Savage, 429th Transport Squadron crew chief. "The impact this event is making is huge, it has created connections with our global partners, and now if there is a certain issue we run into, we can contact other units we met here to see if they can help."
During the event, there were 68 process improvements identified. With the planned streamline, the process at JB MDL went from 96 hours to 41 hours, a 42.7 percent improvement. 
"When you're doing an event this size with global aviation partners the pay off, in my opinion, is huge because where else can you go to find better business practices?" said Chief Master Sgt. John Elstrom, 305th Maintenance Group superintendent. "We're looking for the best ideas from across the entire global fleet and that can come from our global partners, and vice versa."
Participants presented their research and data to the 305th AMW leadership in order to address all issues associated with the C-17's HSC process. With a decrease in the number of maintainers and aircraft Air Force-wide, the event is expected to help create better ways to use its limited resources and push it to its maximum capability.
"Whenever you can return the aircraft quicker by reducing its downtime to become available to the warfighter, for whatever those needs are, it is always a good deal," said Elstrom. "Anytime we can make the U.S. Air Force become more efficient and align with global aviation, it's a good business practice to put into play, and events like this do that."